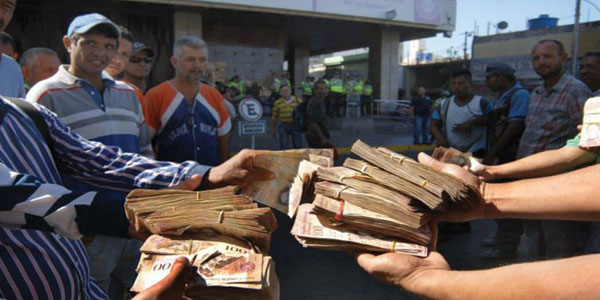 By Katherine Diaz
The cash crisis in Venezuela continues to run rampant, media outlets are reporting.
Millions of civilians are being affected by the South American country's inflation. Moreover, most Venezuelans find it nearly impossible to withdraw money from banks.
Venezuela's economic crisis is years in the making, dating back to when the late Hugo Chavez was in office, Stefano Pozzebon stated in a first-person account of his efforts to withdraw money from a bank, posted on Jan. 17 on CNN Money's website. To close the gap between the nation's rich and poor, Chavez increased government spending to aid those most in need. The drawbacks of this was that the spending was essentially "unsustainable," according to economists.
Chavez's successor, Nicolas Maduro, maintained Chavez's socialist ideologies, further plunging the country into an economic downfall. The Venezuelan government tried but failed to stabilize the economy. Thus, the nation is experiencing the worst cash crisis in its modern history. Today, "one dollar fetches about 191,000 bolivars, according to the black market exchange rate that everyone uses," Pozzebon wrote.
Pozzebon also wrote that he has had extreme difficulty withdrawing money from his bank, as many other Venezuelans have. The reason for this, it's been speculated, is that banks have run out of money.
---
La crisis de efectivo en Venezuela continúa desenfrenada
Los medios de comunicación informan que a crisis de efectivo en Venezuela continúa desenfrenada.
Millones de civiles se están viendo afectados por la inflación del país sudamericano. Además, a la mayoría de los venezolanos les resulta casi imposible retirar dinero de los bancos.
La crisis económica venezolana que se ha generado por años, desde el momento en que Hugo Chávez asumió el cargo, Stefano Pozzebon declaró en una cuenta en primera persona sus esfuerzos por retirar dinero de un banco, publicado el 17 de enero en el sitio web de CNN Money. Para cerrar la brecha entre los ricos y los pobres de la nación, Chávez aumentó el gasto del gobierno para ayudar a los más necesitados. Según los economistas, los inconvenientes de esto era que el gasto era básicamente "insostenible".
El sucesor de Chávez, Nicolás Maduro, mantuvo las ideologías socialistas de Chávez, sumiendo aún más al país en una caída económica. El gobierno venezolano intentó pero no logró estabilizar la economía. Por lo tanto, la nación está experimentando la peor crisis de efectivo en su historia moderna. Hoy, "un dólar obtiene aproximadamente 191,000 bolívares, de acuerdo con el tipo de cambio del mercado negro que todos usan", escribió Pozzebon.
Pozzebon también escribió que tuvo grandes dificultades para retirar dinero de su banco, como muchos otros venezolanos. La razón de esto, se ha especulado, es que los bancos se han quedado sin dinero.