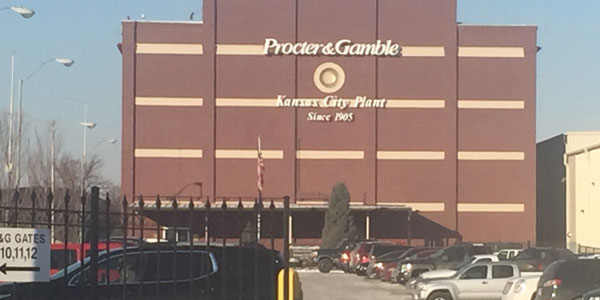 By Eulogio JP
Manufacturing giant Procter & Gamble (P&G) has announced the closing of its Kansas City, Kan., plant.
On Feb. 7, Procter & Gamble's area employees heard the news for the first time. Company leaders, including CEO David Taylor, are aggressively trying to cut manufacturing costs to help Procter & Gamble become more profitable and competitive.
Established in 1905, the Kansas City plant produces dish soap. Its production will slowly move to a new site in Tabler Station, W.Va. Relocation is expected to be completed by 2020. As a result, 280 local employees will be out of work.
Procter & Gamble is the second major employer to recently announce that it's closing its doors in the area. A week before Procter & Gamble's announcement, Harley-Davidson announced it would close its Kansas City, Mo., plant.
Frank Lenk, Mid-America Regional Council director, expects 800 jobs will be lost in the area with the two closings. That could translate to "millions of dollars of income lost to the region," Lenk said. 
Over the past few decades, the area has attracted manufacturing companies. But Lenk is afraid that might be changing.
"We're good at 20th-century products — cars, motorcycles, consumer products," he said. "But are we good at producing 21st-century products? We'll see."
Proctor & Gamble expressed empathy for the area in a recent statement.
"Decisions like this are never easy," the statement read.
Procter & Gamble also said that, to help employees plan for their futures, management decided it was better to communicate to them "this decision more than two years in advance." The statement also assured that the company plans to "negotiate with the local labor union regarding support to help employees transition to (other) opportunities, whether that be transfers to other P&G sites or beyond P&G."
The changes the area is experiencing are among many changes Procter & Gamble has made the past several years, with more expected. In 2016, after a $10 billion cost-cutting drive that began in 2012, Taylor announced a second campaign to cut another $10 billion in operating costs.
_________________________________________________________________________________________
Procter & Gamble cierra la planta de KCK
La gigante fábrica Procter & Gamble (P & G) anunció el cierre de su planta de Kansas City, Kansas.
El 7 de febrero, los empleados del área de Procter & Gamble escucharon las noticias por primera vez. Los líderes de la compañía, incluido el gerente general, David Taylor, están tratando agresivamente de reducir los costos de fabricación para ayudar a Procter & Gamble a ser más rentable y competitiva.
Establecida en 1905, la planta de Kansas City produce jabón para lavar platos. Su producción se trasladará lentamente a un nuevo sitio en Tabler Station, W.Va. Se espera que la reubicación se complete para 2020. Como resultado, 280 empleados locales quedaran sin trabajo.
Procter & Gamble es el segundo empleador importante en anunciar recientemente que está cerrando sus puertas en el área. Una semana antes del anuncio de Procter & Gamble, Harley-Davidson anunció que cerraría su planta de Kansas City, Missouri.
Frank Lenk, director del Consejo Regional de Mid-America, espera que se pierdan 800 empleos en el área con los dos cierres. Eso podría traducirse en "millones de dólares de ingresos perdidos en la región", dijo Lenk.
En las últimas décadas, el área ha atraído a las empresas de fabricación. Pero Lenk teme que pueda estar cambiando.
"Somos buenos en productos del siglo XX: automóviles, motocicletas, productos de consumo", dijo. "¿Pero somos buenos produciendo productos del siglo XXI? Ya veremos."
Procter & Gamble expresó su empatía por el área en una declaración reciente.
"Decisiones como ésta nunca son fáciles", decía la declaración.
Procter & Gamble también dijo que, para ayudar a los empleados a planificar su futuro, la gerencia decidió que era mejor comunicarles "esta decisión con más de dos años de anticipación". La declaración también aseguró que la compañía planea "negociar con la mano de obra local". unión con respecto al apoyo para ayudar a los empleados a hacer la transición a (otras) oportunidades, ya sean transferencias a otros sitios de P & G o más allá de P & G ".
Los cambios que está experimentando el área de Kansas City se encuentran entre los muchos cambios que Procter & Gamble ha realizado en los últimos años, con más cambios por llegar. En 2016, después de una campaña de reducción de costos de $ 10 mil millones que comenzó en 2012, Taylor anunció una segunda campaña para reducir otros $ 10 mil millones en costos operativos.