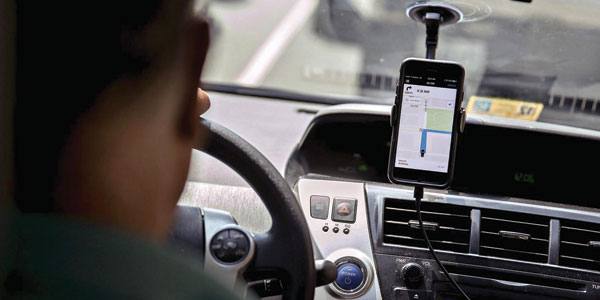 By Katherine Diaz
Uber has reached a settlement with the family of a woman who died recently after being struck by one of the company's self-driving cars, according to multiple news agencies.
The terms of the settlement haven't been revealed, according to Fortune. However, the family's lawyer announced that "the matter has been resolved."
On March 18, Elaine Herzberg was hit by the self-driving vehicle when crossing a street with her bicycle in Tempe, Ariz. The Uber car had a human driver as a precautionary measure. But at the time of the accident, the car had been "operating in autonomous mode," as described in various news reports. The driver also had been "looking down" seconds before the vehicle struck Herzberg.
Uber had been testing various self-driving cars in multiple states as a possible future business venture. Immediately after the accident, however, the company put a hold on all testing of its self-driving vehicles.
Herzberg's fatal accident has raised nationwide concerns of how big businesses are trying to innovate their transportation services and what potential threats those services might pose to the public.
---
Uber llega a un acuerdo con la familia de la víctima de un accidente automovilístico
Uber llegó a un acuerdo con la familia de una mujer que murió recientemente después de haber sido golpeada por uno de los autos sin conductor de la compañía, de acuerdo con varios medios de comunicación.
Los términos del acuerdo no han sido revelados, según Fortune. Sin embargo, el abogado de la familia anunció que "el asunto se ha resuelto".
El 18 de marzo, Elaine Herzberg fue atropellada por el vehículo sin conductor al cruzar una calle con su bicicleta en Tempe, Arizona. El automóvil de Uber tenía un conductor humano como medida de precaución. Pero en el momento del accidente, el automóvil había estado "operando en modo autónomo", como se describe en varios informes de prensa. El conductor también había estado "mirando hacia abajo" segundos antes de que el vehículo golpeara a Herzberg.
Uber había estado probando varios autos sin conductor en varios estados como una posible ruta empresarial comercial para el futuro. Sin embargo, inmediatamente después del accidente, la compañía suspendió todas las pruebas de sus vehículos autónomos.
El accidente fatal de Herzberg ha provocado inquietudes en todo el país sobre cómo las grandes empresas están tratando de innovar sus servicios de transporte y qué amenazas potenciales podrían representar para el público.