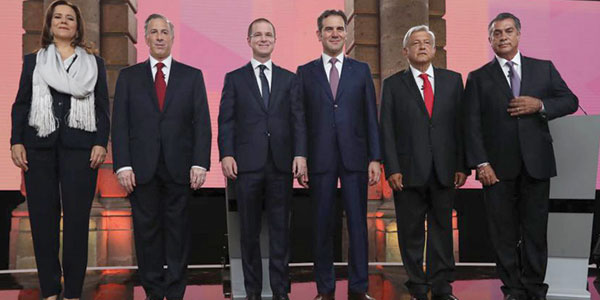 Analysis by Tere Siqueira
On Sunday night (April 22), Mexico City hosted the first debate in the campaign for Mexico's upcoming presidential election. Many Mexicans who followed the debate will probably remember it for the concentrated efforts made by candidates in attacking the controversial proposals of frontrunner Andres Manuel Lopez Obrador.
There was more to the debate than that.
Here are some of the highlights – and a look at the five Mexican presidential candidates:
*Obrador: The candidate represents the National Regeneration Movement (MORENA), which he founded. Obrador, 64, was attacked repeatedly by his contenders, with special focus given to his proposal to offer amnesty to criminals to help improve public safety.
"Amnesty does not mean impunity," Obrador stated in his defense. "We have to attend to the original problems that led to the issue."
This is Obrador's third bid for the presidency. The former Mexico City mayor has been leading in the opinion polls.
*Ricardo Anaya: Anaya, 39, represents For Mexico to the Front, a coalition formed between the National Action Party and the Party of the Democratic Revolution. Although he has been identified as the only other candidate who could defeat Obrador, Anaya has struggled to erase accusations of money laundering and other forms of corruption.
During the debate, Anaya proposed to create an independent attorney general's office to deal with political corruption. In addition, he attacked his counterparts by using posters and photographs. He directed special attacks toward Obrador.
"I respected you," Anaya told him. "You are not the same anymore. I don't know if it's because of your obsession with power or you're just getting tired."
*Jaime Rodriguez Calderon: An independent candidate better known as "El Bronco," the former governor caused a stir with his controversial proposal that "thieves should have their hands chopped off." In addition, Calderon made his telephone number public to help him stay in contact with voters.
*Jose Antonio Meade: The 49-year-old represents the ruling Institutional Revolutionary Party – a party that has developed a bad reputation because of its history of corruption. As with Obrador, Meade presented proposals to help improve public safety in Mexico. They included "a unique criminal code" and creating "a specialized investigation agency."
"I will take care of the safety of your family," Meade assured.
*Margarita Zavala: The former first lady is running as an independent candidate. Zavala, 50, has been criticized for her lack of public speaking skills, which showed during the debate. She also faced criticism for decisions made by her husband, ex-President Felipe Calderon.
The next debate will take place on May 20 in Tijuana. The last one will take place on June 12 in Merida. The presidential election will be held on July 2.
_______________________________________________________________________________________________
Conozca a los candidatos: la presidencia mexicana y el primer debate
El domingo por la noche (22 de abril), la ciudad de México fue sede del primer debate en la campaña para las próximas elecciones presidenciales de México. Muchos mexicanos que siguieron el debate probablemente lo recordarán por los esfuerzos realizados por los candidatos que se concentraron en atacar las controvertidas propuestas del candidato favorito Andrés Manuel López Obrador.
Pero hubo más en el debate que eso.
Éstos son algunos de los aspectos más destacados y una mirada a los cinco candidatos presidenciales mexicanos:
* Obrador: El candidato representa el Movimiento Nacional de Regeneración (MORENA), que él fundó. Obrador, de 64 años, fue atacado repetidamente por sus contendientes, con especial atención a su propuesta de ofrecer amnistía a los delincuentes para ayudar a mejorar la seguridad pública. "Amnistía no significa impunidad", declaró Obrador en su defensa. "Tenemos que atender los problemas originales que ocasionaron estas situaciones".
Esta es la tercera apuesta de Obrador por la presidencia. El ex gobernador de la Ciudad de México ha sido líder en las encuestas de opinión.
* Ricardo Anaya: Anaya, de 39 años, representa Por México al Frente, una coalición formada entre el Partido Acción Nacional y el Partido de la Revolución Democrática. Aunque ha sido identificado como el único otro candidato que podría derrotar a Obrador, Anaya ha luchado por borrar las acusaciones de lavado de dinero y otras formas de corrupción.
Durante el debate, Anaya propuso crear una oficina con un fiscal general independiente para lidiar con la corrupción política. Además, atacó a sus contrapartes mediante carteles y fotografías. Dirigió ataques especiales hacia Obrador. "Te respeté", le dijo Anaya. "Ya no eres el mismo. No sé si es por tu obsesión con el poder o simplemente te estás cansando ".
* Jaime Rodríguez Calderón: Un candidato independiente más conocido como "El Bronco", el ex gobernador causó revuelo con su controvertida propuesta de que "a los ladrones les mochen las manos". Además, Calderón hizo público su número de teléfono para ayudarlo a estar en contacto con los votantes.
* José Antonio Meade: El hombre de 49 años representa al gobernante Partido Revolucionario Institucional, un partido que ha desarrollado una mala reputación debido a su historial de corrupción. Al igual que con Obrador, Meade presentó propuestas para ayudar a mejorar la seguridad pública en México. Incluyeron "un código criminal único" y crearon "una agencia de investigación especializada".
"Me ocuparé de la seguridad de su familia", aseguró Meade.
* Margarita Zavala: La ex primera dama se postula como candidata independiente. Zavala, de 50 años, ha sido criticada por su falta de habilidades para hablar en público, lo que se pudo observar durante el debate. También enfrentó críticas por decisiones tomadas por su esposo, el ex presidente Felipe Calderón.
El próximo debate tendrá lugar el 20 de mayo en Tijuana. El último será el 12 de junio en Mérida. Las elecciones presidenciales se llevarán a cabo el 2 de julio.