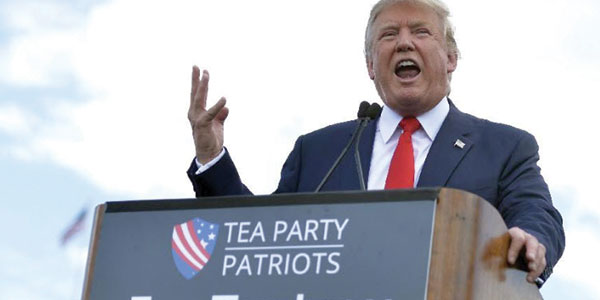 Commentary by Eulogio JP
On May 1, the United States ended its commitment to the Joint Comprehensive Plan of Action negotiated among Iran, the European Union, the United States, Russia, China, France, Great Britain and Germany that former President Obama co-signed in 2015.
In other words, President Trump pulled the United States out of what media outlets refer to as "the Iran deal." Pulling the United States out of this deal is being considered by experts as the most reckless move of Trump's presidency.
The decision to pull the United States out of the Iran deal is not only reckless; it's also incomprehensible.
The deal – which Iran and European countries were trying to salvage at press time – allowed Iran to trade with other countries in exchange for following strict conditions to restrict its nuclear capabilities. It set limits on Iran's amount of uranium, an element used to make nuclear weapons, until 2031. It also limits on the number of centrifuges that can be installed to enrich uranium until 2026. And it obligated Iran to modify a heavy-water facility so it couldn't produce plutonium suitable for a bomb.
Trump's decision has already had one grave consequence. A top nuclear expert has resigned from the U.S. State Department – Richard Johnson, who worked for the Office of Nuclear Implementation. Although Johnson didn't give an exact reason for his resignation, it's likely that Trump's decision influenced it. After all, he had been involved in failed negotiations involving Great Britain, France and Germany to save the deal after Trump had begun threatening to pull out of it. Moreover, an email written by him claimed that the 2015 agreement with Iran had proved to be successful, making it clear where he stood on it.
Laura Kennedy, a former ambassador and a board member of the Centre for Arms Control and Non-Proliferation, understands why Johnson's resignation is a serious loss. Recently, Kennedy published the following statement on social media:
"Richard Johnson is among the best and the brightest. His departure from the (U.S. government) is part of the huge, worldwide collateral damage that is being wrought by Trump's violation of the Iran deal. Feels like 2003 all over again."
Obviously, the full consequences of exiting the Iran deal remain to be seen. However, it's easy to predict that America's already damaged relationship with some of its strongest allies will deteriorate further – all because of Trump's reckless, incomprehensible action.
---
El acuerdo con Irán: la acción imprudente e incomprensible de Trump
El 1 de mayo, Estados Unidos terminó su compromiso con el Plan de Acción Integral conjunto negociado entre Irán, la Unión Europea, los Estados Unidos, Rusia, China, Francia, Gran Bretaña y Alemania que el ex presidente Obama firmó en conjunto en 2015.
En otras palabras, el presidente Trump sacó a los Estados Unidos de lo que los medios llaman "el acuerdo con Irán". Sacar a los Estados Unidos de este acuerdo es considerado por los expertos como el movimiento más imprudente de la presidencia de Trump.
La decisión de sacar a Estados Unidos del acuerdo con Irán no es sólo imprudente; también es incomprensible
El acuerdo, que Irán y los países europeos intentaban salvar en el momento de la publicación, permitió a Irán comerciar con otros países a cambio de seguir estrictas condiciones para restringir sus capacidades nucleares. Estableció límites a la cantidad de uranio de Irán, un elemento utilizado para fabricar armas nucleares, hasta el año 2031. También limita la cantidad de centrifugadoras que se pueden instalar para enriquecer uranio hasta 2026. Y obligó a Irán a modificar una instalación de agua pesada para que no pueda producir plutonio adecuado para una bomba.
La decisión de Trump ya tuvo una grave consecuencia. Un importante experto nuclear renunció al Departamento de Estado de EE. UU. – Richard Johnson, que trabajó para la Oficina de Implementación Nuclear. Aunque Johnson no dio una razón exacta por su renuncia, es probable que la decisión de Trump lo haya influido. Después de todo, él había estado involucrado en negociaciones fallidas que involucraban a Gran Bretaña, Francia y Alemania para salvar el trato después de que Trump había comenzado a amenazar con retirarse. Además, un correo electrónico escrito por él afirmaba que el acuerdo de 2015 con Irán había demostrado ser exitoso, dejando en claro su opinión.
Laura Kennedy, ex embajadora y miembro de la junta del Centro para el Control de Armas y la No Proliferación, entiende por qué la renuncia de Johnson es una pérdida grave. Recientemente, Kennedy publicó la siguiente declaración en las redes sociales:
"Richard Johnson está entre los mejores y más brillantes. Su salida del (gobierno de EE. UU.) Es parte del enorme daño colateral mundial que está siendo forjado por la violación de Trump del trato con Irán. Se siente como 2003 una vez más ".
Obviamente, las consecuencias de salir del acuerdo con Irán aún están por verse. Sin embargo, es fácil predecir que la relación ya dañada de Estados Unidos con algunos de sus aliados más fuertes se deteriorará aún más, todo debido a la acción imprudente e incomprensible de Trump.