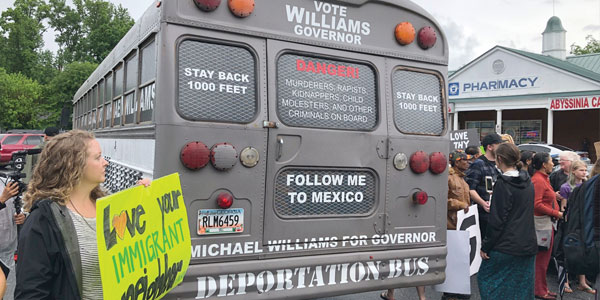 When everything is "normal"
Commentary by Eulogio JP
On May 15, Georgia gubernatorial candidate and state Sen. Michael Williams made a disturbing announcement.
That day, Williams announced in a video posted on Facebook that he plans to drive across Georgia in his self-proclaimed "deportation bus."
The gray school bus reads on the back, "Danger! Murderers, rapists, kidnappers, child molesters and other criminals on board" and "Follow me to Mexico." The side of the bus reads, "Fill this bus with illegals."
"We're not just going to track them and watch them roam around the state," Williams declares in his video. "We're going to put them on this bus and send them home."
Fortunately, on Sunday (May 20), some Georgia residents made it clear they're not O.K. with this message. Multiple news outlets reported that, while trying to make a stop at Forsyth Park in Savannah, the "deportation bus" was greeted by about 50 protesters, who blocked it while chanting and telling Williams to go home. Protesters reportedly surrounded the vehicle for nearly an hour, until the police escorted the bus away from the crowd.
The incident revealed something else: Williams is a coward.
According to news reports, Williams was traveling through Savannah in a different bus. And not once did the Republican state senator and gubernatorial candidate step off his campaign bus in Savannah.
It was the second bus-related incident that this disgrace of a senator had experienced on the campaign trail in less than a week. The first took place on May 17 after the "deportation bus" broke down on the side of a road. Unsurprisingly, Williams didn't take responsibility for the breakdown. Instead, he insinuated the "left," meaning Democrats, had probably done something to the bus.
All of this makes me wonder if anything is fair game in America. When actions like Williams' are considered normal, that's when America has touched bottom as a society. When politicians make disturbing announcements like Williams did and campaign with so-called deportation buses, I'm scared.
_____________________________________________________________________________________
Cuando todo es "normal"
El 15 de mayo, el candidato a gobernador de Georgia, el senador estatal Michael Williams hizo un anuncio inquietante.
Ese día, Williams anunció en un video publicado en Facebook que planea conducir a través de Georgia en su autoproclamado "autobús de deportación".
El autobús escolar gris dice en la parte de atrás, "¡Peligro! Asesinos, violadores, secuestradores, abusadores de menores y otros delincuentes a bordo "y" Síganos en México ". El lado del autobús dice:" Llene este autobús con ilegales ".
"No sólo vamos a rastrearlos y verlos deambular por el estado", declara Williams en su video. "Vamos a ponerlos en este autobús y enviarlos a casa".
Afortunadamente, el domingo (20 de mayo), algunos residentes de Georgia dejaron en claro que no comparten este mensaje. Además, varios medios informativos informaron que, mientras intentaban hacer una parada en Forsyth Park en Savannah, el "autobús de deportación" fue recibido por unos 50 manifestantes, que lo bloquearon mientras cantaban y le decían a Williams que se fuera a casa. Según los informes, los manifestantes rodearon el vehículo durante casi una hora, hasta que la policía escoltó al autobús lejos de la multitud.
El incidente reveló algo más: Williams es un cobarde.
Según informes de noticias, Williams viajaba por Savannah en un autobús diferente. Y ni una sola vez el senador republicano y candidato a gobernador bajó de su autobús de campaña en Savannah.
Este fue el segundo incidente relacionado con el autobús que esta desgracia de senador había experimentado en la campaña en menos de una semana. La primera tuvo lugar el 17 de mayo después de que el "autobús de deportación" se descompuso al costado de una carretera. Como era de esperar, Williams no se responsabilizó por el colapso. En cambio, insinuó que la "izquierda", es decir, los demócratas, probablemente había hecho algo al autobús.
Todo esto me hace preguntarme si todo es considerado juego limpio en Estados Unidos. Cuando acciones como la Williams se consideran normales, es cuando Estados Unidos toca fondo como sociedad. Cuando los políticos hacen anuncios inquietantes como Williams y hacen campaña con los llamados autobuses de deportación, tengo miedo.