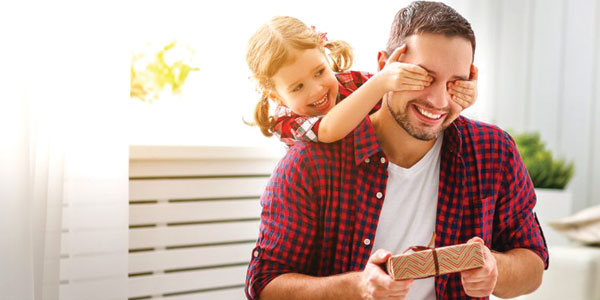 A recent social media post by a New Hampshire man that went viral is making national news and stirring a worldwide conversation.
"I'm getting pretty sick of having to change my daughter on a disgusting floor because the only changing table in the place is located in the women's bathroom," Chris Mau posted on Facebook on May 26. Alongside his grievance was a photo of his eight-month-old daughter. She was lying on a clean towel on the filthy floor.
According to an article about Mau's post in the June 8 edition of USA Today, it "struck a nerve." Mau is hearing from parents across the world "thanking and congratulating" him for bringing attention to the problematic absence of changing tables in men's restrooms everywhere.
"It's a ridiculous problem to have in today's world," they assert.
They have a point. Dads change diapers, too.
A "father" may be just a figurehead, a sperm donor or a physically or emotionally detached income producer. But a father who is a dad is none of those. A dad is part caregiver, part breadwinner; a disciplinarian; a guide; a cheerleader; a protector; a steadfast, loving, reassuring presence; a teacher; a role model.
"A good father is one of the most unsung, unpraised, unnoticed, and yet one of the most valuable assets in our society," the late Rev. Billy Graham once observed.
We all inherited something from our male biological parent besides genetic traits. As a matter of fact, our relationship with our father influences in varying degrees for a lifetime, our interactions with others, our behavioral qualities and patterns, and our self-confidence, according to child psychologist Gail Gross.
Children who are well-bonded and nurtured by involved dads tend to have fewer behavioral problems and are less vulnerable to substance abuse and addiction, research shows. And dads share equal importance with moms as "models for social and emotional behavior."
"It is impossible to overestimate the importance of dad," Gross wrote on her blog on June 12, 2014.
Society has dedicated an annual holiday – Father's Day — to celebrate and honor the importance and influence of good, loving dads and father figures. So this Sunday, we'll toast those positive paternal bonds and honor those praiseworthy men. They're role models for boys and young men who aspire to fatherhood.

_____________________________________________________________________________________
Padres como papás
Una reciente publicación en las redes sociales de un hombre de New Hampshire que se volvió viral está llegando a las noticias nacionales y provocando una conversación en todo el mundo.
"Estoy harto de tener que cambiar a mi hija en un piso repugnante porque la única mesa para cambiar pañales en el lugar se encuentra en el baño de mujeres", publicó Chris Mau en Facebook el 26 de mayo. Junto a su agravio había una foto de él y su hija de ocho meses. Ella yacía sobre una toalla limpia en el sucio piso.
Según un artículo sobre la publicación de Mau en la edición del 8 de junio de USA Today, "dio en el blanco". Mau escucha a padres de todo el mundo "agradeciéndole y felicitándolo" por llamar la atención sobre la problemática ausencia de cambiadores en los baños masculinos en todos lados.
"Es ridículo tener este problema en el mundo de hoy", afirman.
Ellos tienen un punto. Los papás también cambian los pañales.
Un "padre" puede ser simplemente un figura, un donante de esperma o un productor de ingresos separados físicamente o emocionalmente. Pero un padre que es padre no es ninguno de esos. Un papá es parte cuidador, parte sostén de la familia, un disciplinario, un guía, un animador, un protector, una presencia firme, amorosa y tranquilizadora; un profesor y un modelo a seguir.
"Un buen padre es uno de los activos más olvidados, no divulgados, desapercibidos y sin embargo, uno de los más valiosos de nuestra sociedad", mencionó una vez el reverendo Billy Graham.
Todos heredamos algo de nuestro padre biológico además de los rasgos genéticos. De hecho, nuestra relación con nuestro padre influye en diversos grados durante toda la vida, nuestras interacciones con los demás, nuestras cualidades y patrones de comportamiento y nuestra confianza en nosotros mismos, según la psicóloga infantil Gail Gross.
Según muestran los estudios los niños que están bien vinculados y alimentados por padres involucrados tienden a tener menos problemas de comportamiento y son menos vulnerables al abuso de sustancias y la adicción. Y los papás comparten la misma importancia con las madres como "modelos de comportamiento social y emocional".
"Es imposible sobreestimar la importancia de papá", escribió Gross en su blog el 12 de junio del 2014.
La sociedad ha dedicado un día de fiesta anual, el Día del Padre, para celebrar y honrar la importancia e influencia de los padres buenos, amables y paternos. Así que este domingo brindaremos esos lazos paternos positivos y honraremos a esos hombres dignos de alabanza. Son modelos a seguir para niños y hombres jóvenes que aspiran a la paternidad.