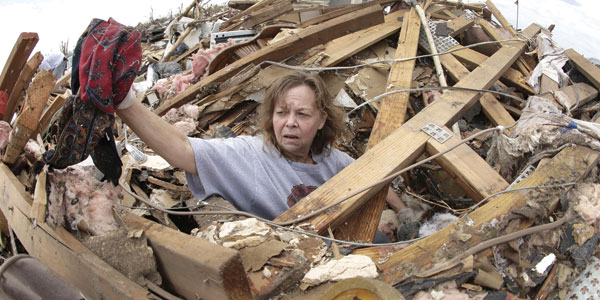 Part IV of a Public Service Series
Springtime generally means warmer weather for the Kansas City area.
It also means tornado season is here.
Previous segments of this series have covered such topics as facts about tornadoes, preparing for a tornado and how to react if a tornado warning is issued for your area. This final segment provides the following tips for dealing with the aftermath of a tornado:
*If your home is without power, use flashlights or battery-powered lanterns, rather than candles to prevent accidental fires.
*Listen to local officials for updates and instructions.
*Check in with family and friends by texting or using social media.
*Stay out of damaged structures until local authorities indicate they're safe.
*Watch out for debris and downed power lines.
*If a tornado leaves you trapped by debris, don't move about or kick up dust. Tap on a pipe or wall or use a whistle, if you have one, so that rescuers can locate you.
*If you must clean up debris, use extreme caution. Don't attempt to remove heavy debris alone. Wear protective clothing, including a long-sleeved shirt, long pants, work gloves and sturdy, thick-soled shoes.
*Photograph the damage to your property to assist in filing an insurance claim.
*Do what you can to prevent further damage to your property, such as putting a tarp on a damaged roof, as insurance might not cover damage after the storm.
---
Temporada de tornados: Después de una tormenta
Parte IV de una serie de servicio público
La primavera generalmente significa un clima más cálido para el área de Kansas City.
Pero también significa que la temporada de tornados está aquí.
Segmentos anteriores de esta serie han cubierto temas tales como datos sobre tornados, preparación para uno y cómo reaccionar si se emite una advertencia de tornado para su área. Este segmento final proporciona los siguientes consejos para lidiar con las secuelas de un tornado:
* Si su hogar no tiene electricidad, use linternas o linternas alimentadas por baterías, en lugar de velas para evitar incendios accidentales.
* Escuche a los funcionarios locales para actualizaciones e instrucciones.
* Consulte con sus familiares y amigos mediante mensajes de texto o usando las redes sociales.
* Manténgase alejado de las estructuras dañadas hasta que las autoridades locales indiquen que están a salvo.
* Tenga cuidado con escombros y líneas eléctricas caídas.
* Si un tornado te deja atrapado por escombros, no te muevas ni te levante polvo. Toque una tubería o pared o use un silbato, si tiene uno, para que los rescatistas puedan ubicarlo.
* Si debe limpiar los desechos, tenga extrema precaución. No intente quitar los restos pesados ​​solos. Use ropa protectora, que incluya una camisa de manga larga, pantalones largos, guantes de trabajo y zapatos resistentes con suela gruesa.
* Fotografíe el daño a su propiedad para ayudar a presentar un reclamo al seguro.
* Haga lo que pueda para evitar más daños a su propiedad, como colocar una lona en el techo dañado, ya que es posible que el seguro no cubra daños después de la tormenta.