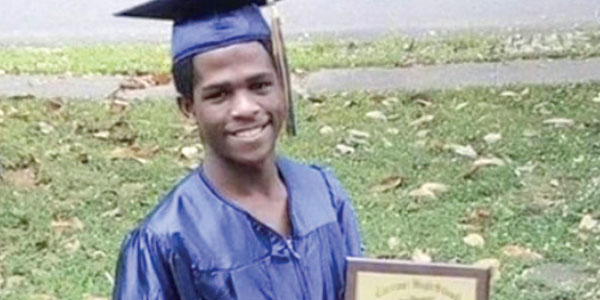 Corey Patrick got up early each day during his senior year to get to the bus stop at 4:30 a.m.
On the day of her graduation, the bus driver was so impressed to see him run to the vehicle in a cap and gown that he took some photos and published them on social networks, making him go viral.
"Corey got up at 4:30 in the morning and had to be at the bus stop at 5:41 in the morning," Patrick's mother, Felicia White, told reporters. "When he left school, he could not go back until 5:19 when the bus came back in. Then he would come back until 6:30 or 7:00 p.m."
However, the perseverance of the young African-American has been rewarded. Radio host Rickey Smiley and rappers Tyrese, Mike Epps and Da Brat raised money to give Patrick a new SUV.
Subsequently, a page on the GoFundme platform has raised more than 21,000 to support the studies of Patrick, who is planning to study at the University of Jacksonville in Florida.
---
Foto vuelve viral el esfuerzo de un joven graduado
Corey Patrick madrugó cada día durante su último año de preparatoria para estar en la parada de autobús a las 4:30 am.
El día de su graduación la conductora del autobús quedó tan impresionada por verlo correr hacia el vehículo en toga y birrete que le tomó unas fotos y las publicó en las redes sociales, volviéndolo viral.
"Corey se levantaba a las 4:30 de la mañana y tenía que estar en la parada de autobús a las 5:41 de la mañana," mencionó a la prensa la madre de Patrick, Felicia White. "Cuando salía de la escuela no podía volver hasta las 5:19 cuando el autobús volvía. Entonces regresaba hasta las 6:30 o 7 pm".
La perseverancia del joven afroamericano ha sido recompensada. El presentador de radio Rickey Smiley y los raperos Tyrese, Mike Epps y Da Brat juntaron dinero para obsequiarle a Patrick un nuevo SUV.
Posteriormente una página en la plataforma GoFundme ha recaudado más de 21,000 para apoyar los estudios de Patrick, quien planea estudiar en la Universidad de Jacksonville en Florida.