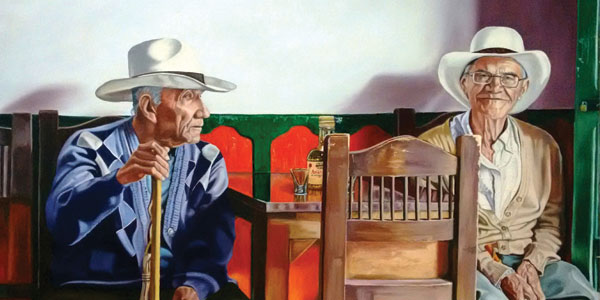 From June 3rd to 15th, it was possible to enjoy the incredible works of art by the master Carlos Valencia, who has devoted a large part of his life to highlighting the beauty of the people, landscapes, and customs of Colombia.
Visitors to this exhibition traveled to this magical country through the impeccable strokes and bright colors of his paintings.
Born in Manizales, Colombia in 1963, Carlos Valencia, a self-taught painter who dominates the oil on canvas. An economist who spent many years working for a multinational company, his passion has always been painting. Then, he devoted himself to studying and learning by using the Internet and all the available literature. He researched painting and drawing techniques, styles, color theory and the history of universal painting. He also learned from his favorite painters who guided his style until he found his own figurative and manners style (illustrating everyday life). In 2014, after thinking about it for so long, he decided to quit his work in foreign trade and follow his passion. Since then he has dedicated himself to creating beautiful paintings recreating the popular customs of his beautiful Colombia.
---
Llega a Kansas City el arte del maestro colombiano Carlos Valencia
Durante los días, 3 al 15 de de junio, se pudo disfrutar de increíbles obras de arte de el maestro Carlos Valencia, que ha dedicado gran parte de su vida a destacar la belleza de las gentes, paisajes y costumbres de Colombia.
Los visitantes a esta exposición viajaron a este país mágico a través de los trazos impecables y los colores vivos de sus pinturas.
Nacido en Manizales, Colombia en 1963, Carlos Valencia, pintor autodidacta que domina el óleo sobre lienzo. Economista de formación que pasó muchos años trabajando en una empresa multinacional, su pasión siempre ha sido la pintura. Entonces, se dedicó a estudiar y aprender usando Internet y toda la literatura disponible. Investigó técnicas de pintura y dibujo, estilos, teoría del color e historia de la pintura universal. También aprendió de sus pintores favoritos que guiaron su estilo hasta que encontró el suyo un estilo figurativo y costumbrista (que ilustra la vida cotidiana). En 2014, después de pensarlo durante tanto tiempo, decidió abandonar su trabajo en el comercio exterior y seguir su pasión. Desde entonces se ha dedicado a crear hermosas pinturas recreando las costumbres populares de su hermosa Colombia.