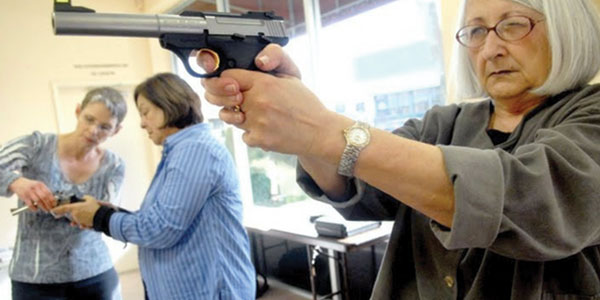 Federal, state, county and municipal law enforcement officers are trained to protect the public, public officials and public facilities and infrastructure; maintain order and keep the peace; enforce the law; investigate and prevent criminal activity; and operate correctional facilities. Their schooling – classroom instruction and field and range work — includes firearms training, which the courts have ordered to be "regular, relevant and realistic." Rookies don't just receive initial training; it's ongoing. With frequent regularity, they're tested and trained with their duty pistol throughout their career.
Firearms training sessions typically include low-light and judgmental shooting, shooting while moving to cover, one-handed firing, giving verbal challenges, firing and clearing malfunctions from various "officer-down" positions and engaging multiple targets, according to PoliceOne.com. The online resource for law enforcement recommends that range work in firearms training include clearing stoppages with either hand, drills that simulate malfunctions, emergency tactical reloading with either hand and manipulation of safeties and de-cocking levers with either hand. Most train earnestly, realizing that their own and others' lives depend on their proficiency with their duty pistol.
In order to qualify for a law enforcement career, U.S. citizens age 21 and over must have a high school diploma or G.E.D. and a valid driver's license. Candidates must pass a drug screening test and physical exam and be free of diversions from and convictions of a felony, misdemeanor, or domestic violence crime.
The tragic massacre at Stoneman Douglas High School in Florida in February revived public debate about arming classroom teachers. It's only intensified with each of the other 22 school shootings in cities in 16 states since Jan. 1.
Aren't there better ways to make our schools safer? Do we really want armed teachers in our nation's classrooms – individuals without benefit of the rigorous "regular, relevant and realistic" firearms testing and training required for law enforcement? Even highly trained police officers miss 70 percent of their shots, research shows, and that drops to 18 percent when suspects return fire, The Denver Post reported on Feb. 23.
A teacher's responsibility is teaching, not security. Surely there are alternatives to minimizing the risk of violence and ensuring school safety and security than requiring educators to become gunslingers. What about expanding mental health support in schools – increasing the number of trained counselors to listen to kids and help them resolve problems, monitor activity and watch closely for warning signs identifying youngsters at risk for suicide or committing some other violent act? How about instituting age-specific prevention programs to help students develop conflict-resolution skills, self-control and emotional- and self-awareness? And wouldn't it be better to make it more difficult through various means for armed intruders to access school buildings and grounds?
Shall we address the underlying causes of violence through establishing effective early-warning and prevention programs in schools and upgrading physical security features on campuses? Or shall we demand that educators become pistoleros too?
_________________________________________________________________________________________
¿Queremos francotiradores en las aulas?
Los oficiales del orden público federales, estatales, del condado y municipales están capacitados para proteger al público, los funcionarios públicos y las instalaciones y la infraestructura públicas; mantener el orden y mantener la paz; aplicar la ley; investigar y prevenir actividad criminal y operar instalaciones correccionales. Su escolarización – instrucción en el aula, trabajo de campo y alcance – incluye capacitación sobre armas de fuego, que los tribunales han ordenado que sean "regulares, relevantes y realistas". No sólo los novatos reciben capacitación inicial; ésta es continua. Con regularidad frecuencia, son probados y entrenados con su pistola de servicio durante toda su carrera.
Las sesiones de entrenamiento de armas de fuego suelen incluir disparos con poca luz y juicios, disparos mientras se cubren, disparos con una sola mano, desafíos verbales, disparos y despejes de varias posiciones de "oficiales abajo" y objetivos múltiples, según PoliceOne.com. El recurso en línea para la aplicación de la ley recomienda que el trabajo de alcance en el entrenamiento de armas de fuego incluya paros de limpieza con cualquier mano, ejercicios que simulen mal funcionamiento, recarga táctica de emergencia con cualquier mano y manipulación de dispositivos de seguridad y palancas de desembalaje con cualquier mano. La mayoría se entrena seriamente, al darse cuenta de que su propia vida y la de los demás dependen de su competencia con su pistola de servicio.
Para calificar para una carrera en la policía, los ciudadanos de EE. UU. mayores de 21 años deben tener un diploma de preparatoria o G.E.D. y una licencia de conducir válida. Los candidatos deben pasar una prueba de detección de drogas y un examen físico y no tener desvíos y condenas por un delito grave, delito menor o delito de violencia doméstica.
La trágica matanza de Stoneman Douglas High School en Florida en febrero revivió el debate público sobre armar a los maestros en las clases. Sólo se intensificó con cada uno de los otros 22 tiroteos escolares en ciudades de 16 estados desde el 1 de enero.
¿No hay mejor manera de hacer que nuestras escuelas sean más seguras? ¿Realmente queremos maestros armados en las aulas de nuestra nación, individuos sin el beneficio de las rigurosas pruebas de armas de fuego "regulares, relevantes y realistas" requeridas para los policías? Investigaciones muestran que incluso los agentes de policía altamente entrenados fallan el 70 por ciento de sus disparos, y eso cae al 18 por ciento cuando los sospechosos disparan de regreso, reportó The Denver Post el 23 de febrero.
La responsabilidad de un maestro es la enseñanza, no la seguridad. Seguramente hay alternativas para minimizar el riesgo de violencia y garantizar la seguridad escolar que exigir que los educadores se conviertan en francotiradores. ¿Qué hay sobre ampliar el apoyo de salud mental en las escuelas? ¿Aumentar el número de consejeros capacitados para escuchar a los niños y ayudarlos a resolver problemas, monitorear la actividad y vigilar de cerca las señales de advertencia que identifican a jóvenes en riesgo de suicidio o cometen algún otro acto violento? ¿Qué hay de instituir programas de prevención específicos para cada edad que identifiquen a los estudiantes a desarrollar habilidades de resolución de conflictos, autocontrol y conciencia emocional y de autoconocimiento? ¿Y no sería mejor dificultar, por diversos medios, el acceso de intrusos armados a los edificios y terrenos escolares?
¿Debemos abordar las causas subyacentes de la violencia mediante el establecimiento de programas efectivos de alerta temprana y prevención en las escuelas y la actualización de las características de seguridad física en los campus? ¿O exigiremos que los educadores también se conviertan en francotiradores?