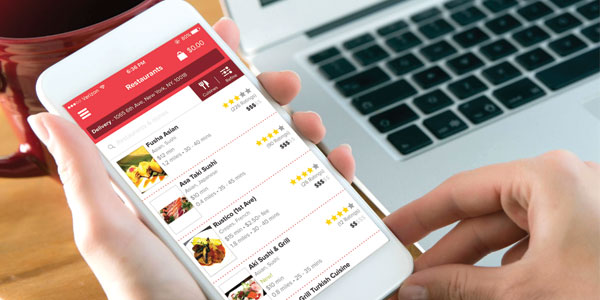 By Katherine Diaz
Food delivery apps have become must-haves for those consumers who want quick, hearty meals brought to their homes.
In recent years, food delivery apps have grown in popularity. Several major food chains have noticed the positive reactions from customers and jumped on board to provide service via mobile apps.
According to Gia Liu's article "The best food-delivery apps that bring deliciousness to you," posted recently online at Digital Trends.com, the following apps are some that consumers should consider downloading on their smartphones:
*Seamless: This app is available in more than 600 cities in the United States and provides customers with thousands of restaurant menus.
*Grubhub: One of the more popular food delivery apps is available in more than 900 U.S. cities. Within the app, customers can search for restaurants within their locations and save important locations, including work or home.
*UberEats: Uber, which established itself by providing transportation services, has expanded and joined the food app delivery service. The UberEats App is available in various cities and has similar features to that of Uber's transportation app. This app charges a $5 delivery fee.
*Yelp Eat 24: Yelp has often been the go-to site for customers to see peer restaurant reviews and choose their meals based on those ratings. Now, individuals can order in and receive their food at home, courtesy of the Yelp Eat 24 app.
________________________________________________________________________________________
Las aplicaciones de entrega de alimentos crecen en popularidad
Las aplicaciones de entrega de alimentos se han convertido en imprescindibles para los consumidores que desean recibir comidas rápidas y abundantes a sus hogares.
En los últimos años, las aplicaciones de entrega de alimentos han crecido en popularidad. Varias cadenas alimentarias importantes han notado las reacciones positivas de los clientes y se han unido para brindar servicios a través de aplicaciones móviles.
De acuerdo con el artículo de Gia Liu "Las mejores aplicaciones de entrega de alimentos que te dan delicias", publicado recientemente en línea en Digital Trends.com, las siguientes aplicaciones son algunas de las que los consumidores deberían considerar descargar en sus teléfonos inteligentes:
* Sin inconvenientes: esta aplicación está disponible en más de 600 ciudades en los Estados Unidos y ofrece a los clientes miles de menús de restaurantes.
* Grubhub: una de las aplicaciones de entrega de alimentos más populares está disponible en más de 900 ciudades de EE. UU. Dentro de la aplicación, los clientes pueden buscar restaurantes dentro de sus ubicaciones y guardar ubicaciones importantes, incluyendo el trabajo o el hogar.
* UberEats: Uber, que se estableció al proporcionar servicios de transporte, se ha expandido y se ha unido a las aplicaciones de servicio de entrega de alimentos. La aplicación UberEats está disponible en varias ciudades y tiene características similares a la de la aplicación de transporte de Uber. Esta aplicación cobra una tarifa de envío de $5.
* Yelp Eat 24: Yelp a menudo ha sido el sitio de referencia para que los clientes vean reseñas de restaurantes de colegas y elijan sus comidas en función de esas calificaciones. Ahora, las personas pueden ordenar y recibir su comida en casa, cortesía de la aplicación Yelp Eat 24.