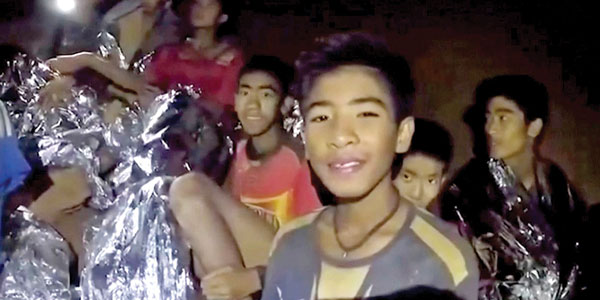 By Eulogio JP
For almost three weeks, the story of a Thai youth soccer team that was trapped in a flooded cave made news headlines worldwide.
That story is over. All 12 boys and their soccer coach have been rescued.
The Wild Boars became trapped on June 23, when rising floodwaters trapped them deep inside one of the hundreds of caves in Thailand. On Sunday and Monday (July 8 and 9), eight players were rescued. On Tuesday evening (July 10), the last four boys and their 25-year-old coach were rescued.
"We are not sure if this is a miracle, a (feat of) science or what," a Thai SEAL told the press. "(But) everyone is safe."
However, there was one fatality. An experienced diver died while taking oxygen tanks to the kids.
To remove the boys (ages 11-16) from the cave, two experienced divers guided each boy through an intricate three-day diving operation. Many people might've considered that a virtually impossible task, considering that every boy was inexperienced at diving.
The boys and their coach are being closely monitored for health reasons. All are reportedly in stable condition.
After finding out the players and coach had been rescued, FIFA, the international soccer federation, invited the boys to attend the World Cup final this Sunday (July 15) in Russia. However, doctors treating the boys said it would be too soon for them to make the trip.
________________________________________________________________________________________
Equipo de fútbol y entrenador rescatado
Durante casi tres semanas, la historia de un equipo de fútbol juvenil tailandés atrapado en una cueva inundada fue noticia en todo el mundo.
Esa horrible historia ha terminado. Los 12 niños y su entrenador de fútbol han sido rescatados.
Los Wild Boars quedaron atrapados el 23 de junio, cuando las inundaciones los atrapó profundamente en una de los cientos de cuevas en Tailandia. El domingo y lunes (8 y 9 de julio), ocho jugadores fueron rescatados. El martes por la noche (10 de julio), los últimos cuatro niños y su entrenador de 25 años fueron rescatados.
"No estamos seguros de si esto es un milagro, una (hazaña) de ciencia o qué", dijo un SEAL tailandés a la prensa. "(Pero) todos están a salvo".
Sin embargo, hubo una muerte. Un buzo experimentado murió mientras transportaba tanques de oxígeno para los niños.
Para sacar a los niños (edades 11-16) de la cueva, dos buceadores experimentados guiaron a cada niño a través de una intrincada operación de buceo de tres días. Mucha gente podría haber considerado que una tarea prácticamente imposible, teniendo en cuenta que todos los niños no tenían experiencia en el buceo.
Los niños y su entrenador están siendo monitoreados de cerca por razones de salud. Todos están en condición estable.
Después de descubrir que los jugadores y el entrenador habían sido rescatados, la FIFA, la federación internacional de fútbol, ​​invitó a los muchachos a asistir a la final de la Copa Mundial este domingo (15 de julio) en Rusia. Sin embargo, los médicos que tratan a los niños dijeron que sería demasiado pronto para hacer el viaje.