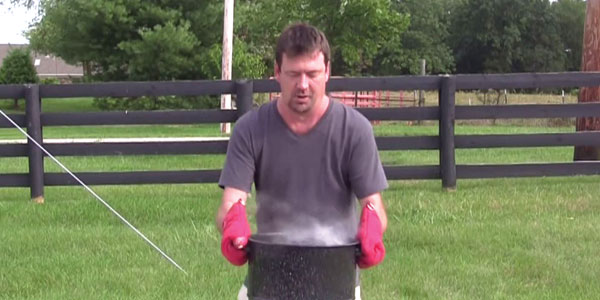 Commentary by Eulogio JP
Unfortunately, a few times each year, parents must be warned of a new danger their kids might face.
This is one of those times.
Occasionally, word spreads of a new YouTube challenge. Sometimes, the challenges are fun, innocent and provide good family entertainment. But other times, they're dangerous and barbaric.     
The newest challenge young people are playing has taken at least one life already – and it has caused many children to suffer enormous amounts of physical and emotional pain. In some cases, it has caused serious burns.  
The "Hot Water Challenge" is its name. It consists of pouring boiling water on an unsuspecting friend or on yourself. Yes, sadly, today's children might be so removed from reality, mostly because of phones and social media, that they don't understand the consequences of pouring boiling water on someone's skin.
Often, the challenges take place during sleepovers. For instance, recently in the Bronx, N.Y., friends poured boiling water on a little girl's face while she slept, causing serious burns. 
In July, two incidents were widely reported. In North Carolina, a 10-year-old boy suffered severe burns after he and his stepbrother attempted the challenge. An 8-year-old Florida girl died after her cousin had dared her to drink boiling water through a straw. 
Parents, please warn your kids against this dangerous challenge. Explain to them the consequences they might face. Tell them they could face criminal charges if they cause harm to someone else. 
Additionally, meet with the parents of your kids' friends before letting them spend the night at their home. Talk to the parents and share your concerns. Feel free to ask questions. If they get offended for trying to protect your child from something as barbaric as the "Hot Water Challenge," then your child shouldn't spend time with them.
________________________________________________________________________________________
Padres, tengan cuidado: hay otro "desafío" de YouTube
Lamentablemente, algunas veces al año, los padres deben ser advertidos de un nuevo peligro que sus hijos podrían enfrentar.
Éste es uno de esos momentos.
Ocasionalmente, se corre la voz de un nuevo desafío de YouTube. A veces, los desafíos son divertidos, inocentes y proporcionan un buen entretenimiento familiar. Pero otras veces, son peligrosos.
El desafío más nuevo que están jugando los jóvenes ya ha tomado al menos una vida, y ha causado que muchos niños sufran enormes cantidades de dolor físico y emocional. En algunos casos, ha causado quemaduras graves.
El "Desafío de agua hirviendo" es su nombre. Consiste en tirar agua hirviendo a un amigo o a ti mismo. Sí, lamentablemente, los niños de hoy pueden estar tan alejados de la realidad, principalmente por los teléfonos y las redes sociales, que no comprenden las consecuencias de verter agua hirviendo en la piel de alguien.
A menudo, los desafíos tienen lugar durante las pijamadas. Por ejemplo, recientemente en el Bronx, N.Y., amigos vertieron agua hirviendo en la cara de una niña pequeña mientras ella dormía, causando quemaduras graves.
En julio, dos incidentes fueron ampliamente reportados. En Carolina del Norte, un niño de 10 años sufrió quemaduras graves después de que él y su hermanastro intentaran el desafío. Una niña de 8 años de Florida murió después de que su primo la desafiara a beber agua hirviendo a través de un sorbete.
Padres, por favor, adviertan a sus hijos contra este peligroso desafío. Explíqueles las consecuencias que podrían enfrentar. Dígales que podrían enfrentar cargos criminales si causan daño a otra persona.
Además, reúnete con los padres de los amigos de tus hijos antes de dejarlos pasar la noche en su casa. Habla con los padres y comparte tus preocupaciones. No dude en hacer preguntas. Si se ofenden por tratar de proteger a su hijo, entonces tu hijo no debería pasar tiempo con ellos.