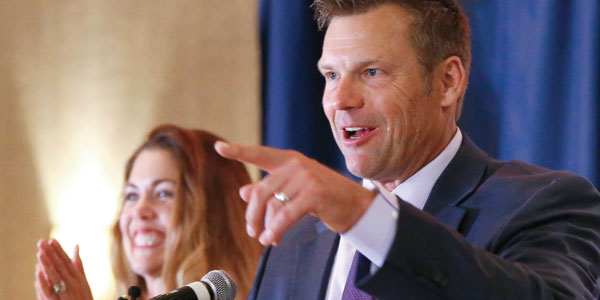 Commentary by Eulogio JP
The primary and special elections that took place on Tuesday (Aug. 7) in multiple states produced many surprises.
In Ohio, for instance, the Democrats nearly won a special election for a U.S. House of Representatives seat. Democratic candidate Danny O'Connor wasn't expected to even come close to challenging Republican candidate Troy Balderson. If moral victories mean anything (and they should), then the Democrats won and lost simultaneously.
Many experts have stated that if the Democrats can (almost) win in Ohio, they can win in many other states. They'll need to win 24 seats to retake the House of Representatives. They could win some of them in states such as Ohio, Michigan and Kansas.
Another welcoming surprise was that a Muslim woman was elected in a district near Detroit to replace a now-resigned lawmaker accused of sexual misconduct.
In other election news from around the country, Ohio voters rejected a GOP-passed right-to-work law. Republican voters might need to ask themselves if the GOP still represents their needs and wants – or if the GOP is working for America's richest people.
In Missouri and Kansas news, the deep-red state of Missouri rejected a right-to-work law. The General Assembly had passed a right-to-work law, but voters blocked it by a 2-to-1 ratio on Tuesday. Considering the poll numbers before the vote, this wasn't a huge surprise.
At press time, the results in the GOP primary race for governor of Kansas were so close that a winner hadn't been declared. As of 6 a.m. Wednesday (Aug. 8), only 541 votes separated Gov. Jeff Colyer and challenger/current Secretary of State Kris Kobach. Much of the delay was related to significant problems in Johnson County's ability to count votes.
The outcome holds significant national implications. A Kobach loss would embarrass President Trump, who endorsed his informal adviser the day before polls closed.
If you voted on Tuesday, thanks. If you didn't have a chance to vote or aren't registered to vote, remember that one of America's most important midterm elections is coming up in November and you still have time to register.
Please register so that your voice can be heard – and maybe provide a few more pleasant surprises.
_________________________________________________________________________________________
Las elecciones proporcionaron resultados sorprendentes
Las elecciones primarias y especiales que tuvieron lugar el martes (7 de agosto) en varios estados produjeron muchas sorpresas.
En Ohio, por ejemplo, los demócratas casi ganaron una elección especial para un escaño de la Cámara de Representantes de Estados Unidos. No se esperaba que el candidato demócrata Danny O'Connor siquiera se acercara al desafiante candidato republicano Troy Balderson. Si las victorias morales significan algo (y deberían), entonces los demócratas ganaron y perdieron al mismo tiempo.
Muchos expertos han declarado que si los demócratas pueden (casi) ganar en Ohio, pueden ganar en muchos otros estados. Tendrán que ganar 24 escaños para volver a tomar la Cámara de Representantes. Podrían ganar algunos de ellos en estados como Ohio, Michigan y Kansas.
Otra sorpresa que fue bienvenida fue que una mujer musulmana fue elegida en un distrito cerca de Detroit para reemplazar a un legislador ahora resignado acusado de conducta sexual inapropiada.
En otras noticias electorales de todo el país, los votantes de Ohio rechazaron una ley de derecho a trabajar aprobada por los republicanos. Los votantes republicanos deberían preguntarse si el Partido Republicano aún representa sus necesidades y deseos, o si el Partido Republicano está trabajando para las personas más ricas de Estados Unidos.
En las noticias de Missouri y Kansas, el estado rojo oscuro de Missouri rechazó una ley de derecho al trabajo. La Asamblea General aprobó una ley de derecho al trabajo, pero los votantes la bloquearon en una proporción de 2 a 1 el martes. Teniendo en cuenta los números de las encuestas antes de la votación, esto no fue una gran sorpresa.
En el momento de la publicación, los resultados en la carrera primaria del Partido Republicano para el gobernador de Kansas estaban tan cerca que no se había declarado un ganador. A partir de las 6 a.m. del miércoles (8 de agosto), solo 541 votos separaron al gobernador Jeff Colyer y al retador / actual Secretario de Estado Kris Kobach. Gran parte de la demora estuvo relacionada con problemas significativos en la capacidad del Condado de Johnson para contar los votos.
El resultado tiene importantes implicaciones nacionales. Una pérdida de Kobach avergonzaría al presidente Trump, quien respaldó a su asesor informal el día anterior al cierre de las urnas.
Si votaste el martes, gracias. Si no tuvo la oportunidad de votar o no está registrado para votar, recuerde que una de las elecciones de mitad de período más importantes de Estados Unidos se realizará en noviembre y todavía tiene tiempo para registrarse.
Regístrese para que su voz se escuche y, tal vez, brinde algunas sorpresas más agradables.