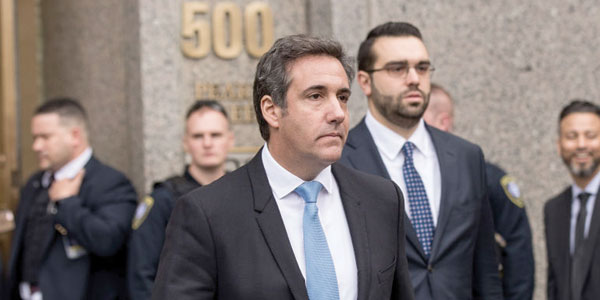 Analysis by Tere Siqueira
Michael D. Cohen, President Trump's former lawyer, has turned on his former boss.
As multiple news sources have reported, Cohen recently pleaded guilty in federal court to eight criminal counts, including tax fraud, false statements to a bank and campaign finance violations tied to his work for Trump. After stating in court that Trump had directed him to pay hush money to adult film star Stormy Daniels, Cohen was granted a plea deal that includes the possibility of spending up to five years in prison.
Some of the key facts to help understand why Cohen turned on President Trump include the following:
*In April, the FBI raided Cohen's office. The lawyer became a target in special counsel Robert Mueller's investigation of interference in the 2016 presidential election by the Russian government. Initially, Trump defended Cohen.
"Most people will flip if the government lets them out of trouble, even if it means lying or making up stories," Trump tweeted back in April. "Sorry, I don't see Michael doing that, despite the horrible witch hunt and the dishonest media!"
The lawyer was known for being Trump's fixer and biggest defender. But once the investigation focused on Cohen, he began changing his position.
*In July, Cohen released audio from a conversation with Trump, which he had secretly recorded in September 2016. In the audio, the two appear to be discussing payments to a former Playboy model, who had allegedly had an affair with Trump years earlier.
After releasing the audio to CNN, relations between Trump and Cohen begin to fall apart.
"What kind of a lawyer would tape a client? So sad!" Trump tweeted in response. "Why was the tape so abruptly terminated (cut) while I was presumably saying positive things? I hear there are other clients and many reporters."
*On Aug. 21, Cohen pleaded guilty to violating federal campaign finance laws and said that President Trump had directed him to make payments to two women during the 2016 campaign to avoid a potential sex scandal.
"If anyone is looking for a good lawyer, I would strongly suggest that you don't retain the services of Michael Cohen!" Trump tweeted in response.
*The Cohen-Trump relationship might soon change again. On Monday (Aug. 27), multiple news agencies reported that Lanny Davis, Cohen's legal counsel, is dialing back on allegations that Cohen knew Trump was aware the Russian government was trying to meddle in the election.
---
¿Cómo Cohen se puso en contra de Trump?
Michael D. Cohen, ex abogado del presidente Trump, se ha puesto en contra de su antiguo jefe.
Como han informado recientemente varios medios de comunicación, Cohen se declaró culpable en el tribunal federal de ocho cargos criminales, incluido fraude fiscal, declaraciones falsas a un banco y violaciones de financiación de campaña relacionadas con su trabajo para Trump. Después de afirmar en el tribunal que Trump le había ordenado que pagara dinero a la estrella de cine para adultos Stormy Daniels, se le concedió a Cohen un acuerdo con la fiscalía que incluye la posibilidad de pasar hasta cinco años en prisión.
Algunos de los hechos clave para ayudar a entender por qué Cohen se puso en contra del presidente Trump incluyen los siguientes:
* En abril, el FBI allanó la oficina de Cohen. El abogado se convirtió en blanco de la investigación del abogado especial Robert Mueller sobre la interferencia en las elecciones presidenciales del 2016 del gobierno ruso. Inicialmente, Trump defendió a Cohen.
"La mayoría de la gente cambiará de parecer si el gobierno les permite salir de problemas, incluso si eso significa mentir o inventar historias", twitteó Trump en abril. "Lo siento, ¡no veo a Michael haciendo eso, a pesar de la horrible caza de brujas y los medios deshonestos!"
El abogado era conocido por ser el mayor defensor y mediador de problemas para Trump. Pero una vez que la investigación se centró en Cohen, comenzó a cambiar su posición.
* En julio, Cohen filtró el audio de una conversación con Trump, que había grabado en secreto en septiembre del 2016. En el audio, los dos parecen estar discutiendo los pagos a una ex modelo de Playboy, que supuestamente tuvo una aventura con Trump años antes.
Después de lanzar el audio a CNN, la relación entre Trump y Cohen comienza a desmoronarse.
"¿Qué tipo de abogado grabaría a un cliente? ¡Tan triste! "Trump twitteó en respuesta. "¿Por qué la cinta se cortó tan abruptamente mientras presuntamente decía cosas positivas? He oído que hay otros clientes y muchos periodistas".
* El 21 de agosto, Cohen se declaró culpable de violar las leyes federales de financiamiento de campaña y dijo que el presidente Trump le había ordenado hacer pagos a dos mujeres durante la campaña del 2016 para evitar un posible escándalo sexual.
"Si alguien está buscando un buen abogado, le sugiero encarecidamente que no contrate los servicios de Michael Cohen". Trump twitteó en respuesta.
* La relación Cohen-Trump podría cambiar pronto de nuevo. El lunes (27 de agosto), varios medios de comunicación informaron que Lanny Davis, el asesor legal de Cohen, está respondiendo a las acusaciones de que Cohen tenía conocimiento sobre que Trump sabía que el gobierno ruso intentaba inmiscuirse en las elecciones.