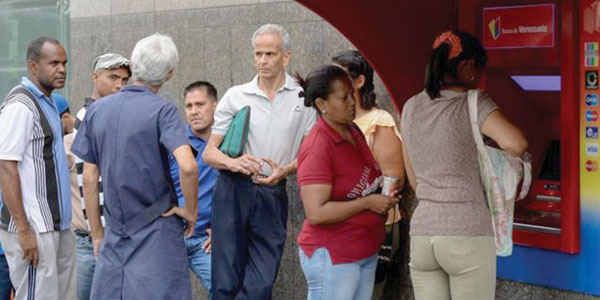 By Angie Baldelomar
With the situation in Venezuela seemingly worsening each day, thousands of Venezuelans continue their efforts to leave the South American country.
Since 2014, more than 2 million people have fled Venezuela as its economic crisis has deepened. The biggest problem is the hyperinflation that has led to severe shortages of food and medicine, and has turned basic services such as running water and electricity into luxuries.
Venezuelans were rushing to enter Peru before Aug. 25, when the rules to enter Peru were expected to change. By that point, Venezuelans had been able to enter with just their IDs. As of Aug. 25, however, they need to present valid passports.
Many do not carry a passport and have waited for one for years. Venezuelan authorities have blamed "mafias" inside the registry services for the delays, which can take up to 2 years, according to some sources.
Peruvian Prime Minister Cesar Villanueva said the Venezuelan ID cards did not provide enough information and could be easily forged, as was reported by the British Broadcasting Corp. Requiring them to show a passport was not meant to be a sign that Peru was "closing the door" on Venezuelan migrants, Villanueva said.
Ecuador implemented a similar measure on Aug. 18.
Meanwhile, those who stay in Venezuela continue to suffer to get food and basic services. In Maracaibo, for example, residents are reportedly lining up to buy spoiled meat as refrigerators fail amid nine months of rolling power outages that recently started getting worse. Some people get sick because of the beef. But at bargain prices, it's the only way they can afford protein as the country's crisis hits bottom.
To combat hyperinflation, President Nicolas Maduro introduced a new currency, the "sovereign bolivar," on Aug. 20. By doing so, the government knocked five zeroes off the value.
However, citizens struggled to get their hands on the new money. Many businesses closed the day after the new currency was introduced, unsure of what to charge customers.
The International Monetary Fund estimates that Venezuela's rate of inflation might reach 1 million percent this year.
---
Venezolanos huyen mientras la crisis se profundiza y Maduro lanza una nueva moneda
Con la situación en Venezuela aparentemente empeorando cada día, miles de venezolanos continúan sus esfuerzos por dejar el país sudamericano.
Desde 2014, más de 2 millones de personas han escapado de Venezuela a medida que se profundiza la crisis económica. El mayor problema es la hiperinflación que ha provocado una grave escasez de alimentos y medicamentos, y ha transformado servicios básicos, como el agua corriente y la electricidad, en lujos.
Los venezolanos se apresuraron a ingresar a Perú antes del 25 de agosto, cuando se esperaba que las reglas para ingresar a Perú cambiaran. Hasta ese momento, los venezolanos habían podido ingresar sólo con sus identificaciones. A partir del 25 de agosto, sin embargo, deben presentar pasaportes válidos.
Muchos no llevan pasaporte y han esperado años por uno. Las autoridades venezolanas han culpado a las "mafias" dentro de los servicios de registro por las demoras, que pueden tardar hasta 2 años, de acuerdo con algunas fuentes.
El primer ministro de Perú, César Villanueva, dijo que las tarjetas de identificación venezolanas no daban suficiente información y podían ser fácilmente falsificadas, como fue reportado por la cadena de noticias British Broadcasting Corp. (más conocida como BBC). Exigirles que muestren un pasaporte no debería ser una señal de que Perú está «cerrando la puerta» a los migrantes venezolanos, dijo Villanueva.
Ecuador puso en marcha una medida similar el 18 de agosto.
Mientras tanto, los que se quedan en Venezuela continúan sufriendo por acceder a alimentos y servicios básicos. En Maracaibo, por ejemplo, los residentes hacen fila para comprar carne estropeada mientras los refrigeradores fallan en medio de nueve meses de cortes de energía que recientemente comenzaron a empeorar. Algunas personas se enferman por la carne. Pero a precios de ganga, es la única forma en que pueden comprar proteínas a medida que la crisis del país toca fondo.
Para combatir la hiperinflación, el presidente Nicolás Maduro presentó una nueva moneda, el "bolívar soberano", el 20 de agosto. Al hacer eso, el gobierno quitó cinco ceros del valor original.
Sin embargo, los ciudadanos tuvieron problemas obteniendo la nueva moneda. Muchos negocios cerraron el día después de que la nueva moneda fue introducida, sin saber qué cobrarles a los clientes.
El Fondo Monetario Internacional estima que la tasa de inflación en Venezuela alcanzará un millón por ciento este año.