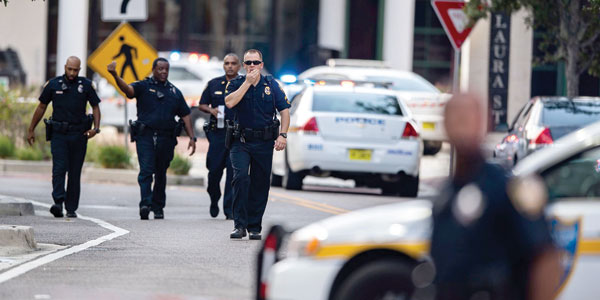 By Chara
A shooting in Jacksonville, Florida, has left three people dead and 11 people injured.
The shooting took place on Sunday (Aug. 26) in a shopping center where a Madden NFL '19 videogame tournament was being held. The competitors were looking to move on to the next round and eventually go to Las Vegas, Nevada, to win more prizes.
That didn't happen.
According to multiple news sources, tournament participants were sitting outside a restaurant when the suspect, David Katz, opened fire on them and then killed himself. Taylor Robertson and Eli Clayton were killed. The 11 gamers who were wounded are being treated for wounds and recovering in Jacksonville area hospitals. They are reportedly in stable condition.
Katz, a 24-year-old from Maryland, used one gun during the shooting. The University of Maryland student was reportedly "well-known" among gamers by his nickname, "Bread." A 2017 Madden tournament champion, he was recognized for his victory by the Buffalo Bills, who tweeted a picture congratulating Katz. However, other players described him as "weird" and as someone who didn't like to talk.
A motive hasn't been determined. The Jacksonville Sheriff's Office is working with the FBI and the ATF in an ongoing investigation.
Leaders in the sports and political communities have commented on the tragedy. Jacksonville Jaguars owner Shad Khan issued a statement on Twitter, saying:
"It is impossible to comprehend today's news. I'm heartbroken for the families and friends of the victims and can only express my deepest condolences as we try to understand why and how this can happen, not only here, but anywhere. What I can say is I know today what lifelong Jacksonville residents have known forever – we are resilient, compassionate and remarkably supportive of our neighbors and friends, particularly in the most trying occasions. This tragedy will ask the best of all of us, but I know we will respond."
In response to the shooting, Florida Gov. Rick Scott said he had spoken with the Trump administration, which offered federal resources. Scott also traveled to Jacksonville to meet with the victims and see how the government could assist them.
---
Tiroteo en Florida deja tres muertos
Un tiroteo en Jacksonville, Florida, ha dejado tres personas muertas y 11 heridos.
El tiroteo ocurrió el domingo (26 de agosto) en un centro de compras donde se celebraba un torneo de videojuegos Madden NFL' 19. Los competidores estaban buscando pasar a la siguiente ronda y eventualmente ir a Las Vegas, Nevada a ganar más premios.
Eso no sucedió.
Según múltiples medios de noticias, los participantes del torneo estaban sentados afuera del restaurante cuando el sospechoso, David Katz, abrió fuego contra ellos y luego se suicidó. Taylor Robertson y Eli Clayton fueron asesinados. Los 11 jugadores que fueron heridos están siendo tratados y recuperándose en hospitales del área en Jacksonville. Según se reporta, están en condiciones estables.
Katz, un joven de 24 años de Maryland, usó un arma en el tiroteo. Según los informes, el estudiante de la Universidad de Maryland era "bien conocido" entre los jugadores por su apodo, "Pan". Campeón del torneo Madden 2017, fue reconocido por su victoria por los Buffalo Bills, quienes tuitearon una foto felicitando a Katz. Sin embargo, otros jugadores lo describieron como "raro" y como alguien a quien no le gustaba hablar.
Un motivo no ha sido determinado. La Oficina del Sheriff de Jacksonville está trabajando con el FBI y la ATF en una investigación en curso.
Líderes en las comunidades deportivas y políticas han comentado sobre la tragedia. El dueño de los Jacksonville Jaguars Shad Khan sacó un comunicado en Twitter diciendo:
"Es imposible comprender las noticias de hoy. Estoy desconsolado por las familias y los amigos de las víctimas y sólo puedo expresar mis más profundas condolencias a medida que tratamos de comprender por qué y cómo puede suceder esto, no sólo aquí, sino en cualquier parte. Lo que puedo decir es que hoy sé lo que los residentes de Jacksonville han sabido por siempre: somos resistentes, compasivos y apoyamos notablemente a nuestros vecinos y amigos, especialmente en las ocasiones más difíciles. Esta tragedia nos pedirá lo mejor de todos nosotros, pero sé que responderemos".
En respuesta al tiroteo, el gobernador de Florida Rick Scott dijo que había hablado con la administración de Trump, que ofreció recursos federales. Scott también viajó a Jacksonville para reunirse con las víctimas y ver cómo el gobierno los puede asistir.