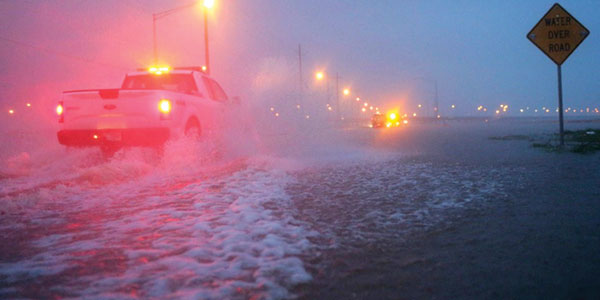 Hurricane season is here.
The latest tropical storm, Gordon, was forecasted to become a hurricane when it hit the Gulf Coast on Tuesday night (Sept. 4). By Tuesday morning, authorities from Louisiana, Mississippi and Alabama had declared states of emergency.
"Nobody should panic, but everybody should take this seriously," Louisiana Gov. John Bel Edwards said during a news conference Monday (Sept. 3).
The storm reached land late Tuesday night near the Alabama-Mississippi border, with near-hurricane level winds of 70 mph, according to the National Hurricane Center. The tropical storm weakened to a tropical depression on Wednesday morning (Sept. 5).
The storm claimed one victim as it reached land. A child died in the storm after a tree fell on a trailer home near Pensacola, Florida.
In Alabama, about 10,000 power outages have been reported.
The National Hurricane Center said Gordon is expected to bring additional rain and potential flooding, producing from 4 to 8 inches over parts of the Florida panhandle, Alabama, Mississippi, Louisiana, Arkansas, Missouri, and even southern Iowa and Illinois through early Saturday. Flash flood warnings are in effect in the western Florida panhandle and southern Alabama.
---
La tormenta tropical alcanza tierra, cobra su primera víctima
La temporada de huracanes está aquí.
Se pronosticaba que la tormenta tropical más reciente, Gordon se convertiría en huracán cuando llegara a la costa del Golfo el martes por la noche (4 de septiembre). El martes por la mañana, las autoridades de Luisiana, Mississippi y Alabama ya habían declarado estados de emergencia.
"Nadie debería entrar en pánico, pero todos deberían tomar esto en serio", dijo el gobernador de Luisiana, John Bel Edwards, durante una conferencia de prensa el lunes (3 de septiembre).
La tormenta llegó a tierra el martes por la noche cerca de la frontera entre Alabama y Mississippi, con vientos de casi 70 mph (112 km/h), según el Centro Nacional de Huracanes. La tormenta tropical se debilitó a una depresión tropical el miércoles por la mañana (5 de septiembre).
La tormenta cobró una víctima cuando tocó tierra. Un niño murió en la tormenta luego de que un árbol cayera en una casa rodante cerca de Pensacola, Florida.
En Alabama, se informaron alrededor de 10,000 cortes de energía.
El Centro Nacional de Huracanes dijo que se espera que Gordon provoque lluvia adicional y posibles inundaciones, produciendo de 4 a 8 pulgadas (10 a 20 cm) en partes de Florida, Alabama, Mississippi, Luisiana, Arkansas, Missouri e incluso el sur de Iowa e Illinois hasta la madrugada del sábado. Las advertencias de inundación repentina están vigentes en la península occidental de Florida y en el sur de Alabama.