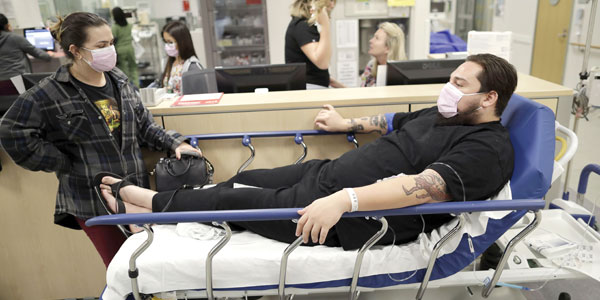 By Chara
Number of flu-related deaths in 2017 has CDC emphasizing vaccinations
Last year was considered the deadliest flu season in more than 40 years, according to the U.S. Centers for Disease Control and Prevention (CDC).
Around 80,000 people in the United States died because of the flu, the CDC estimated. No doubt, because of that statistic and flu-related deaths from other years, the CDC is stressing that Americans get flu vaccinations to reduce the risk of getting sick.
The CDC claims there's enough evidence that vaccines reduce the risk of serious flu outcomes, including hospitalization. The effectiveness of the flu vaccine is 40 percent.
For this year, flu vaccines have been updated to fight the circulating viruses. The most common virus strains that are included in the flu vaccine this season are H1N1, H3N2 and Victoria lineage.
The recommended flu vaccines for this season include standard flu shots that are given in a muscle and a nasal spray for people who see that as the most suitable option.
Anyone who is planning to get vaccinated is advised to do so before there's a community virus outbreak. Research suggests that a flu vaccine takes around two weeks to develop the antibodies to protect the human body from the virus.
Flu season in the United States starts in October and November. The peaks months are December-February. In some parts of the country, flu season can last until May.
To protect yourself and your family from the flu, the CDC advises that anyone 6 months and older get vaccinated. In addition, people are advised to try to stay away from sick people and wash their hands after going to public places or using the bathroom. Anyone who gets sick with the flu is advised to avoid going to school or work to prevent spreading the virus.
_____________________________________________________________________________________________
Cantidad de muertes relacionadas con la gripe en 2017 hace que CDC enfatice las vacunas
El último año se consideró la temporada de gripe más mortal en más de 40 años, según los Centros para el Control y la Prevención de Enfermedades (CDC) de EE.UU.
Alrededor de 80,000 personas en los Estados Unidos murieron a causa de la gripe, según estimó el CDC. Sin duda, debido a las estadísticas y las muertes relacionadas con la gripe de otros años, el CDC insiste en que los estadounidenses se vacunen contra la gripe para reducir el riesgo de enfermarse.
El CDC afirman que hay pruebas suficientes de que las vacunas reducen el riesgo de resultados graves de la gripe, incluida la hospitalización. La efectividad de la vacuna contra la gripe es del 40 por ciento.
Para este año, las vacunas contra la gripe se han actualizado para combatir los virus circulantes. Las cepas de virus más comunes que se incluyen en la vacuna contra la gripe en esta temporada son el linaje H1N1, H3N2 y Victoria.
Las vacunas contra la gripe recomendadas para esta temporada incluyen vacunas estándar contra la gripe que se administran en un músculo y un aerosol nasal para las personas que lo consideran la opción más adecuada.
Se recomienda a cualquier persona que esté planeando vacunarse que lo haga antes de que ocurra un brote de virus en la comunidad. La investigación sugiere que una vacuna contra la gripe tarda aproximadamente dos semanas en desarrollar los anticuerpos para proteger el cuerpo humano del virus.
La temporada de gripe en los Estados Unidos comienza en octubre y noviembre. Los meses pico son diciembre-febrero. En algunas partes del país, la temporada de gripe puede durar hasta mayo.
Para protegerse y proteger a su familia de la gripe, el CDC recomienda que todas las personas de 6 meses o más se vacunen. Además, se aconseja a las personas que intenten mantenerse alejados de las personas enfermas y lavarse las manos después de ir a lugares públicos o usar el baño. Se recomienda a las personas que se enferman de gripe que eviten ir a la escuela o al trabajo para evitar la propagación del virus.