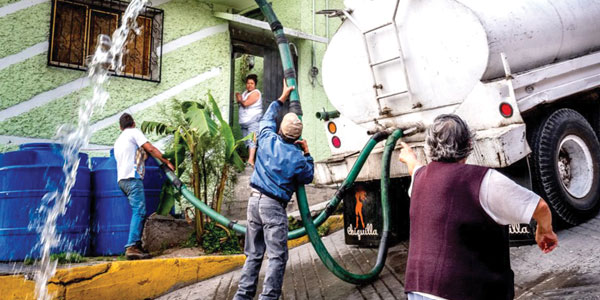 By Angie Baldelomar
Mexico City is experiencing a water crisis.
For five months of the year, many of the metropolis' 21 million residents don't have enough water to drink. About 40 percent of the drinking water is lost as it goes through cracked pipes because of a crumbling infrastructure.
By the time water reaches Mexico City's suburbs, water pressure has almost dropped to a drip. Because the pipes are prone to breaks, fixing them is a never-ending job for repair workers.
The poorest residents are the worst affected, with some relying on buying water per liter. That's the most expensive way to access water, Arnoldo Matus Kramer, Mexico City's chief resilience officer, explained in an interview with the British Broadcasting Corp. (BBC).
"We need to understand that access to water is a human right," Kramer said.
Heavy rainfall also has affected the crisis. The wet season, between June and September, brings frequent flash floods that cause many problems, including the overflow of the sewage system and bursting of sewage pipes that fill houses with dirty water.
Fresh water reservoirs are deep underground below Mexico City. The natural aquifers should be replenished by the rainfall, but the shortage of water means that the natural water reserves are being emptied at a faster rate than they can be filled.
"We are exploiting our local aquifers at a very high rate. At the same time, we haven't invested enough resources to have a robust monitoring system," Kramer told the BBC.
Because the aquifers are not being filled with water enough to support the ground above, some parts of the city are sinking at about 12 inches per year. The sinking, in turn, affects the city's infrastructure by damaging water pipes.
With the population expected to reach 30 million by 2030, Mexico City's natural water reserves could be dried out as soon as 30 years, according to experts.
---
Múltiples factores contribuyen a la crisis del agua en la Ciudad de México
La Ciudad de México está experimentando una crisis del agua.
Durante cinco meses del año, muchos de los 21 millones de residentes de la metrópoli no tienen suficiente agua para tomar. Cerca del 40 por ciento del agua potable se pierde a través de las tuberías agrietadas debido a una infraestructura que se está desmoronando.
Para el tiempo que el agua llega a los suburbios de la Ciudad de México, la presión del agua casi se reduce a un goteo. Debido a que las tuberías son propensas a las roturas, arreglarlas es un trabajo interminable para los trabajadores de reparación.
Los residentes más pobres son los más afectados, y algunos dependen de comprar agua por litro. Esa es la forma más costosa de acceder al agua, explicó Arnoldo Matus Kramer, el director general de la agencia de resiliencia de Ciudad de México, en una entrevista con la British Broadcasting Corp. (BBC).
"Necesitamos entender que el acceso al agua es un derecho humano", Kramer dijo.
Lluvias fuertes también han afectado la crisis. La temporada de lluvias, entre junio y septiembre, ocasiona frecuentes inundaciones repentinas que causan muchos problemas, incluido el desbordamiento del sistema de alcantarillado y el estallido de las tuberías de aguas residuales que llenan las casas con agua sucia.
Las reservas de agua dulce están bajo tierra debajo de la Ciudad de México. Los acuíferos naturales deberían reponerse con la lluvia, pero la escasez de agua significa que las reservas naturales de agua se están vaciando a un ritmo más rápido de lo que se pueden llenar.
"Estamos explotando nuestros acuíferos locales a un ritmo muy alto. Al mismo tiempo, no hemos invertido los suficientes recursos como para tener un sistema de monitoreo robusto", Kramer le dijo a la BBC.
Debido a que los acuíferos no se llenan con suficiente agua como para soportar el terreno de arriba, algunas partes de la ciudad se hunden aproximadamente 12 pulgadas (30 cm) al año. El hundimiento, a su vez, afecta a la infraestructura de la ciudad al dañar las tuberías de agua.
Con la población que se espera que alcance los 30 millones para el año 2030, las reservas naturales de agua podrían secarse en 30 años, según los expertos.