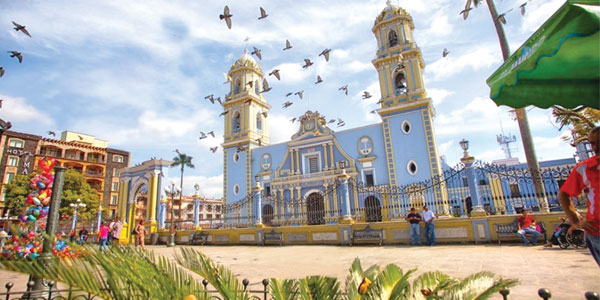 Welcome tourists! In this edition, we will talk about the city of our neighboring country Mexico, where the most important commercial seaport of the country is located and which is also known as the 4 times heroic area. We are talking about Veracruz, Mexico. The city of Veracruz was founded by Hernán Cortés in 1519, with a population of just over half a million and in its metropolitan area is close to one million citizens.
The port of Veracruz was named by presidential decree as the 4 times heroic, this is because since the Independence of Mexico the country has been attacked on 4 occasions by foreigners. The first time shortly after Independence by the Spaniards themselves, the second time by the French in the well-known "War of the cakes", and the last 2 occasions by the American troops. The citizens in the area overcame all the battles and won that well-known nickname in 1948.
Round flights from Kansas to Veracruz have an average price of $500, with 1 or 2 layovers. As a recommendation, if you are going to move around the city and plan to visit other nearby cities, you can rent a car. Although public transport is cheap ($.5 per passenger), it's also somewhat neglected. Another option is to take a taxi, but I advise you to pay\before going up, so they do not charge you exaggerated and unexpected fees. The accommodation in Veracruz is quite economical for the beauty of the city, the average price of a 3-star room is $25 per night, while in a 5-star hotel it is $80 per night. Almost half of the average cost of other cities that we have presented. If we talk about food, the city of Veracruz stands out for its excellent cuisine. Some dishes that you should not miss are the veracruzana fish: a red snapper with butter dipped in a tomato sauce and peppers, seasoned with various spices and served with white rice. The coconut shrimp: stuffed with cream cheese and fried with ground bread and coconut, accompanied with a mango sauce, white wine, and cream cheese, and garnished with a salad or a little white rice. Or the volovanes: puff pastry stuffed with tuna, cheese, ham, and pineapple, they sell them practically in every corner. A full meal can be found for $7 or at an exclusive seafood restaurant at about $20.
Then I talk about some of the sites that you should not miss in your next visit to the port of Veracruz:
San Juan de Ulúa is the name of a small island where a fortress of the same name is located, and that is just opposite to the port of Veracruz. This site was built in 1535 by order of the Viceroy of New Spain, Antonio Mendoza. This in order to protect the boats that came from Spain and to keep the gold, so the fort was well protected by cannons. Pirate attacks were very common in those times. In this place, the foreign navies attacked the city. Here you can visit the first lighthouse in Mexico. Also for a time, it was one of the most feared prisons in the country, where some of the characters who participated in the Mexican Independence as well as in the Mexican Revolution were held, some of the historical figures that stand out are Fray Servando Teresa de Mier and the former President Benito Juárez. One of the most famous legends is the "Chucho el Roto", a thief who robbed the rich to give to the poor and who on more than one occasion managed to escape from this fearsome prison. Here several films have been filmed and it has also been the inspiration for several books. The entrance fee is $3, but you must also hire a guide, which you will find it right at the entrance of the fortress. The price of the guide will depend on the group of people who enter, but it's around $5 per person.
Cancuncito is a mound of sand in the open sea, located a short distance from the Isla de Sacrificios. You can take a tour that will take you to see the fauna of this place, this is because both places are in the Reserva Reef from the center of Veracruz, so swimming and snorkeling is ideal in this area. You can enjoy a variety of colorful fish, starfish, sea urchins, octopus and more. The best time to visit is from January to May, the tide is much lower and you can enjoy this small beach in the middle of the sea. If you visit it from September to December will be almost impossible to appreciate. You can also go down where the sand mound is and the water will reach your knees. The tours have an average price of $10 and are sold in the aquarium.
Malecón, a place where you can undoubtedly enjoy a beautiful night walk. You will see many tourists and locals enjoying with their family the beauty of the place. Also here you can buy some souvenirs for family and friends.
Carnival of Veracruz is the most famous carnival in Mexico and one of the most important in the world. It starts 9 days before Ash Wednesday, here parades are full of color, flooded with an atmosphere of music and dance. Each day has its specific activities, all accompanied by harps, marimbas, and guitars, with floats, batucadas, dance and dance groups. If you plan to come to the carnival, consider booking your hotel with time as the city is filled to capacity.
_____________________________________________________________________________________________
Conoce Veracruz
Bienvenidos turistas, en esta edición nos toca hablar de la ciudad de nuestro país vecino México en donde se encuentra el puerto marítimo comercial más importante del país y que además es conocido como el 4 veces heroico. Nos referimos a Veracruz, México. La ciudad de Veracruz fue fundada por Hernán Cortés en el año 1519, cumpliendo así 500 años el año próximo, con una población apenas superior al medio millón de habitantes y que en su zona metropolitana se acerca al millón de habitantes.
El puerto de Veracruz fue nombrado por decreto presidencial como el 4 veces heroico, esto se debe a que desde la Independencia de México el país ha sido asediado en 4 ocasiones por extranjeros, la primera vez poco después de la Independencia por los mismos españoles, la segunda ocasión por los franceses en la conocida "Guerra de los pasteles", y las 2 últimas ocasiones por las tropas norteamericanas, habiendo superado todas las batallas y ganando ese reconocido mote en el año 1948.
Los vuelos redondos de Kansas a Veracruz tienen un costo promedio de $500, contando con 1 o 2 escalas. Como recomendación lo más ideal es que si vas a moverte por toda la ciudad y piensas visitar otras ciudades cercanas es que rentes un automóvil, ya que el transporte público aunque es económico $.5 por pasaje está algo descuidado, otra opción es tomar taxi, si esa es tu opción a tomar te recomiendo pactes cuanto te va a cobrar a tu destino antes de subirte, así no te cobran tarifas exageradas y sorpresivas. El hospedaje en Veracruz es bastante económico para la belleza de la ciudad, el costo promedio de una habitación 3 estrellas es de $25 la noche, mientras que en un hotel 5 estrellas es de $80 la noche, casi por mitad del costo promedio de otras ciudades que hemos presentado. Si hablamos de alimentación, la ciudad de Veracruz destaca por su excelente gastronomía, algunos platillos que no deberás perderte son el pescado a la veracruzana: un huachinango dorado con mantequilla bañado en una salsa de tomate y chiles pimiento, sazonado con diversas especias y servido con arroz blanco; los camarones al coco: rellenos de queso crema y fritos con pan molido y coco, acompañados con una salsa de mango, vino blanco y queso crema, y de guarnición una ensalada o un poco de arroz blanco; o bien los volovanes: pan de hojaldre relleno de atún, queso, jamón y piña, los venden prácticamente en cada esquina. Una comida completa la podrás encontrar en $7 o si es en un restaurante exclusivo de mariscos en unos $20.
A continuación te platico de algunos de los sitios que no deberás perderte en tu próxima visita al puerto de Veracruz:
San Juan de Ulúa, es el nombre de una pequeña isla en donde se ubica una fortaleza del mismo nombre, y que está justo enfrente del puerto de Veracruz. Este sitio fue construido a partir del año 1535 por encargo del virrey de la Nueva España Antonio Mendoza. Esto con el fin de proteger las embarcaciones que venían desde España, aquí se guardaba también el oro por lo que la fortaleza estaba bien protegida por cañones, los ataques de piratas eran muy comunes en esos tiempos. En este sitio se refugiaron las armadas extranjeras que atacaron a la ciudad y por las cuales fue 4 veces heroico el puerto de Veracruz. Aquí podrás conocer el primer faro de México. Además por un tiempo fue una de las prisiones más temidas del país, aquí estuvieron algunos de los personajes que participaron en la Independencia de México así como en la Revolución Mexicana, algunos de los personajes históricos que destacan son Fray Servando Teresa de Mier y el ex presidente Benito Juárez. Una de las leyendas más famosas es la de "chucho el roto" un ladrón que robaba a los ricos para darle a los pobres y que en más de una ocasión logró escapar de esta temible prisión. Aquí se han filmado varias películas y además ha sido inspiración de varios libros. El costo de entrada es de $3, pero además se debe contratar un guía, el cual lo encontrarás justo en la entrada de la fortaleza, el costo del guía dependerá del grupo de personas que vayan a entrar, pero ronda los $5 por persona.
Cancuncito, es un montículo de arena en mar abierto, se encuentra a poca distancia de la Isla de Sacrificios, podrás tomar un tour que te llevará a ver la fauna de este lugar, esto se debe a que ambos lugares se encuentran en la Reserva Arrecifal del centro de Veracruz, por lo que el nadar y hacer snorkel es ideal en esta zona, podrás disfrutar de una gran variedad de peces de colores, estrellas de mar, erizos, pulpos y más. La mejor época para visitarlo es de enero a mayo, que la marea es mucho más baja y podrás disfrutar de esta pequeña playa en medio del mar. Si la visitas de septiembre a diciembre será casi imposible que la aprecies, de igual manera podrás bajar donde se encuentra el montículo de arena y te llegará el agua a las rodillas. Los tours tiene un costo promedio de $10 y se venden en la plaza acuario.
Malecón, un lugar en el que sin duda podrás disfrutar de una bella caminata nocturna, verás a muchos turistas y lugareños disfrutando con su familia de la belleza del lugar. Además aquí podrás comprar algunos recuerdos para la familia y amigos.
Carnaval de Veracruz, es el carnaval más famoso de México y uno de los más importantes a nivel mundial, empieza 9 días antes del miércoles de ceniza, aquí se realizan desfiles llenos de color, inundados con un ambiente de música y baile. Cada día tiene sus determinadas actividades, todas ellas acompañadas de arpas, marimbas y guitarras, con carros alegóricos, batucadas, grupos de baile y danza. Si planeas venir al carnaval ten en consideración reservar tu hotel con buena anticipación ya que la ciudad se llena a su máxima capacidad.