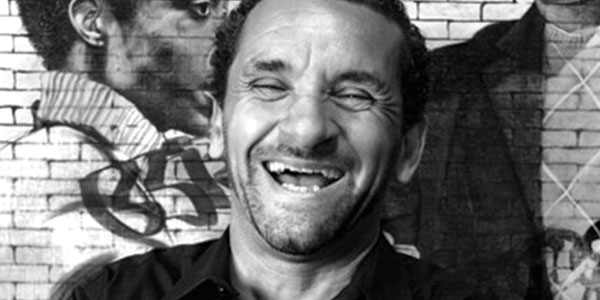 By Angie Baldelomar
A longtime interest in creating art has led a longtime New Yorker to the Kansas City area.
His name is Lee Quinones (Quiñones in Spanish). Quinones started drawing and painting at age 5, he said in an interview with Dos Mundos.
"The passion (to create) was there," Quinones said. "The passion of curiosity."
Born in Puerto Rico and raised on New York City's Lower East Side, Quinones' passion has always been painting.
"The act of painting goes along with the act of urgency," he said.
Quinones started painting during the 1970s on New York City's streets and subway cars. Over the next decade, he would cover more than 100 subway cars before finally shifting to a largely studio-based practice.
At first, Quinones didn't consider his work to be art. The group he was part of that painted trains didn't call themselves artists.
"They called themselves writers," he said.
Then, their graffiti became more popular. Ultimately, that recognition led to their works being considered art.
Quinones joins a plethora of artists participating in Open Spaces 2018, a nine-week arts experience in Kansas City, Missouri. Open Spaces curator Dan Cameron, who has known Quinones since 1982, invited Quinones to participate.
"He asked me to come out here," Quinones recalled. "Once here, I was looking for a space for the mural – and I remember going to the zoo and thinking that that wall needed something, that it needed a message."
Quinones' work for Open Spaces 2018, "Skin Deep," began with the premise of how to look beyond the surface. That concept led him to transform one of the outer walls of the Kansas City Zoo into a mural depicting the animal and human kingdoms.
"When it comes to skin, color is the one thing human beings have struggled with," Quinones said. "We are not judged by our character, but by our skin color."
The title is perhaps the most important part of the piece, said Quinones, who loves words and sayings. Perhaps his favorite saying is "Every culture will create the art it deserves." Quinones hopes he has done that with his work for Open Spaces.
Quinones' painting is on display at the IMAX Wall at the Kansas City Zoo. Open Spaces 2018 will run through Oct. 28.
______________________________________________________________________________________________
Quiñones quiere que su mural haga que la gente vea más allá de lo superficial
Un interés de mucho tiempo en la creación de arte ha traído a un neoyorquino al área de Kansas City.
Su nombre es Lee Quiñones, quien comenzó a dibujar y pintar cuando tenía cinco años, según contó en una entrevista con Dos Mundos.
"La pasión (de crear) estaba ahí", dijo. "La pasión de la curiosidad".
Nacido en Puerto Rico y criado en el Lower East Side de la ciudad de Nueva York, la pasión de Quiñones siempre ha sido pintar.
"El acto de pintar acompaña al acto de urgencia", explicó.
Quiñones comenzó a pintar durante la década de 1970 en las calles y los vagones del metro de la ciudad de Nueva York. Durante la siguiente década, cubriría más de 100 vagones del metro antes de cambiar finalmente a una práctica en gran parte basada en un estudio.
Al principio, Quiño-nes no consideraba su trabajo arte. El grupo del que era parte que pintaban los vagones no se llamaban artistas.
"Se llamaban escri-tores", dijo.
Fue entonces que el graffiti se volvió más popular. Ese reconocimiento llevó a que sus trabajos se consideraran arte.
Quiñones se une a una plétora de artistas que participan de Open Spaces 2018, una experiencia artística de nueve semanas en Kansas City, Missouri. Dan Cameron, curador de Open Spaces y quien conoce a Quiñones desde 1982, lo invitó a participar.
"Me pidió que viniera acá", Quiñones recuerda. "Una vez aquí, estaba buscando por un espacio para el mural – y recuerdo ir al zoológico y pensar que una de las paredes necesitaba algo, que necesitaba un mensaje".
El trabajo de Quiñones para Open Spaces 2018, "Superficial", comenzó con la premisa de cómo mirar más allá de lo superficial. Ese concepto lo llevó a transformar una de las paredes exteriores del Zoológico de Kansas City en un mural que representa los reinos animales y humanos.
"Cuando se trata de piel, el color es la cosa que los humanos han tenido problemas", Quiñones dijo. "No somos juzgados por nuestro carácter sino por nuestro color de piel".
El título de la pieza es quizás lo más importante, explicó Quiñones, quien ama las palabras y los dichos. Su dicho favorito es quizás: "Cada cultura creará el arte que se merece". Quiñones espera haber logrado eso con su trabajo para Open Spaces.
Su trabajo, "Superficial", está en exposición en la IMAX Wall en el zoológico de Kansas City. Open Spaces 2018 estará abierto al público hasta el 28 de octubre.