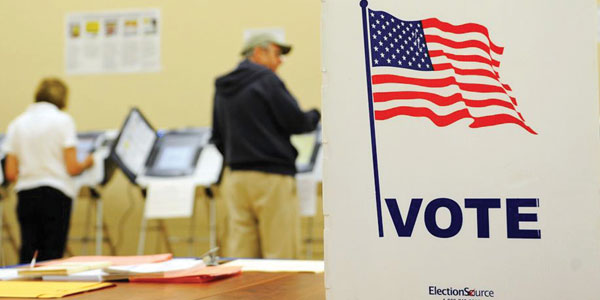 By Eulogio JP
In Missouri, registered voters may vote via absentee ballot if they expect to be unable to visit their polling location on Election Day.
Absentee voting in Missouri begins six weeks before an election. This year's midterm elections are on Nov. 6.
The Missouri secretary of state website states that voters must provide one of the following reasons for being an absentee voter: 1) inability to be in the election authority jurisdiction where one is a registered voter; 2) illness or physical disabilities causing incapacitation or confinement; 3) religious reasons; 4) election authority employment or membership at a different location than one's voting jurisdiction; 5) imprisonment, if the qualifications to vote are met.
Missourians may request absentee ballots from their local election authority in person, or by mail or fax. To find election authority contact information, use the following internet link: https://www.sos.mo.gov/elections/govotemissouri/localelectionauthority.
Mailed or faxed absentee ballot requests must be received by the election authority no later than 5 p.m. on the Wednesday before the election. For the midterm elections, the request deadline is Oct. 31.
According to the secretary of state website, a voter's spouse, parent or child may fill out an absentee ballot on the absentee voter's behalf. 
Absentee voters may vote in their local election authority office until 5 p.m. Nov. 5.
---
Missouri ofrece la opción de votar en ausencia para las elecciones de medio término
En Missouri, los votantes registrados pueden votar a través de una boleta de votación en ausencia si esperan no poder visitar su lugar de votación el día de las elecciones.
La votación en ausencia en Missouri comienza seis semanas antes de una elección. Las elecciones de medio año de este año son el 6 de noviembre.
El sitio web del secretario de estado de Missouri indica que los votantes deben proporcionar una de las siguientes razones para ser un votante ausente: 1) incapacidad para estar en la jurisdicción de la autoridad electoral donde uno es un votante registrado; 2) enfermedad o discapacidades físicas que causen incapacidad o confinamiento; 3) razones religiosas; 4) empleo o membresía de la autoridad electoral en un lugar diferente al de la jurisdicción con derecho a voto; 5) encarcelamiento, si se cumplen los requisitos para votar.
Los votantes de Missouri pueden solicitar boletas de voto en ausencia de su autoridad electoral local en persona o por correo o fax. Para encontrar la información de contacto de la autoridad electoral, use el siguiente enlace de Internet: https://www.sos.mo.gov/elections/govotemissouri/localelectionauthority.
Las solicitudes de boletas de votación en ausencia enviadas por correo o por fax deben ser recibidas por la autoridad electoral a más tardar a las 5 p.m. El miércoles antes de las elecciones. Para las elecciones de medio término, el plazo de solicitud es el 31 de octubre.
De acuerdo con el sitio web de la secretaria de estado, el cónyuge, el padre o el hijo de un votante pueden llenar una boleta de votante ausente en nombre del votante ausente.
Los votantes ausentes pueden votar en la oficina de la autoridad electoral local hasta las 5 p.m. 5 de noviembre.