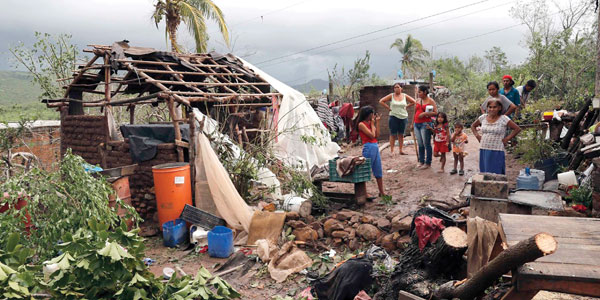 By Angie Baldelomar
Mexico's Pacific coast was hit by Hurricane Willa late Tuesday (Oct. 23) with 120 mph winds, hitting an area of beach towns, fishing villages and farms, as was reported by the Associated Press.
The Category 3 hurricane made landfall near Isla del Bosque in the Mexican state of Sinaloa, according to the U.S. National Hurricane Center. Federal officials said there were early reports of power blackouts in some places and damage to flimsy structures.
Because of power outages and disrupted communication, damage assessments updates were limited, with more extensive information expected in the morning.
Emergency officials reported they had evacuated more than 4,250 people in coastal towns and set up 58 shelters ahead of the dangerous storm, which started with torrential rains Tuesday afternoon.
Hurricane Willa briefly reached Category 5 status on Monday (Oct. 22). The storm was beginning to lose power as it continued inland, weakening from a Category 5 to a Category 3 by Tuesday morning.
"While gradual weakening is forecast (Tuesday), Willa is expected to be a dangerous major hurricane when it reaches the coast of Mexico," the hurricane center had said, as reported by CNN.
Forecasters expect the hurricane to bring 6 to 12 inches of rain, with up to 18 inches in some places, to parts of the states of Jalisco, Nayarit and Sinaloa. Flash flooding and landslide warnings have been issued.
Farther south, Mexico is recovering from Vicente, a tropical storm that brought heavy rain that caused deadly flooding and mudslides. Federal officials said 11 people died as a result of Vicente.
Hurricane Willa also is expected to affect the United States. Willa is forecast to dump up to 4 inches of rain in parts of Texas. Then, it's expected to drop 1 to 2 inches of rain in the Southeast, particularly around the Gulf Coast. After that, it might cause the season's first nor'easter.
---
Huracán Willa golpea la costa del Pacifico de México
La costa del Pacifico de México fue azotada por el huracán Willa el martes, 23 de octubre, por la noche con vientos de 193 km/h (120 mph), afectando a un área de pueblos de playa, aldeas de pescadores y granjas, como lo informó Associated Press.
El huracán de Categoría 3 tocó tierra cerca de Isla del Bosque en el estado mexicano de Sinaloa, según el Centro Nacional de Huracanes de Estados Unidos. Funcionarios federales dijeron que hubo informes tempranos de apagones en algunos lugares y daños a estructuras endebles.
Debido a las interrupciones del suministro eléctrico y la comunicación interrumpida, las actualizaciones de las evaluaciones de daños fueron limitadas, y se esperaba una información más extensa en la mañana.
Los oficiales de emergencia informaron que habían evacuado a más de 4,250 personas en las ciudades costeras y que habían establecido 58 refugios antes de la peligrosa tormenta, que comenzó con lluvias torrenciales el martes por la tarde.
El huracán Willa alcanzó brevemente el estatus de Categoría 5 el lunes (22 de octubre). La tormenta estaba empezando a perder intensidad a medida que avanzaba hacia tierra, debilitándose de una Categoría 5 a una Categoría 3 el martes por la mañana.
"Si bien se prevé un debilitamiento gradual (el martes), se espera que Willa sea un huracán importante y peligroso cuando llegue a la costa de México", informaba el centro de huracanes.
Los pronosticadores esperan que el huracán traiga de 6 a 12 pulgadas (15 a 30 cm) de lluvia, con hasta 18 pulgadas (45 cm) en algunos lugares, a partes de los estados de Jalisco, Nayarit y Sinaloa. Se han emitido avisos de inundaciones repentinas y deslizamientos de tierra.
Más al sur, México se está recuperando de Vicente, una tormenta tropical que trajo fuertes lluvias que causaron inundaciones mortales y avalanchas de lodos. Funcionarios federales dijeron que 11 personas murieron como resultado de Vicente.
También se espera que el huracán Willa afecte a los Estados Unidos. Se pronostica que Willa arrojará hasta 4 pulgadas (10 cm) de lluvia en partes de Texas. Entonces, se espera que caiga de 1 a 2 pulgadas (2.5 a 5 cm) de lluvia en el sureste, particularmente alrededor de la costa del Golfo. Después de eso, podría causar la primera nor'easter de la temporada.