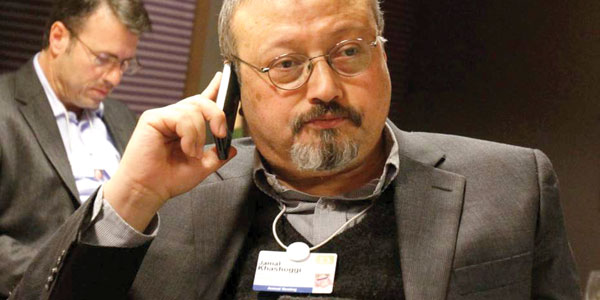 By Angie Baldelomar
The outrage over the killing of a Washington Post correspondent in a Saudi consulate continues as new evidence surfaces connecting the Saudi government with the killing.
A few weeks ago, the news of the death of Jamal Khashoggi, a Saudi Washington Post columnist who lived in the United States, made headlines worldwide. He was last seen on Oct. 2 entering the Saudi consulate in Istanbul, Turkey. Khashoggi was a vocal critic of the Saudi government and Crown Prince Mohammed bin Salman.
Turkish officials alleged that 15 Saudi agents murdered Kashoggi, 59, inside the Saudi consulate soon after he entered it three weeks ago. After denying any involvement in Kashoggi's disappearance and claiming he had left the consulate, the Saudi government admitted on Oct. 20 that Kashoggi was "accidentally" killed while in the consulate after an altercation had gotten out of control.
President Trump and other U.S. government officials have been adamant in believing every new explanation the Saudi government has given. During that first week, Trump left open the idea that "rogue killers" were behind the attack.
Countries such as France, Great Britain and Germany have condemned the attack and called for a full investigation to hold those responsible accountable. Germany also has suspended arms sale to the kingdom.
However, recent developments might contradict the version that denies the killing was premeditated. On Monday (Oct. 22), a video surfaced showing a body double for Khashoggi walking around the city and wearing his clothes, possibly as part of a coverup. This would suggest a premeditated plot to kill the journalist.
"We are faced with a situation in which it was a brutally planned (killing) and efforts were made to cover it up," Omer Celik, a spokesman for Turkey's ruling Justice and Development Party, told the Associated Press. "God willing, the results will be brought into the open, those responsible will be punished and no one will dare think of carrying out such a thing again."
Saudi Arabia is a key U.S. ally, a status that has been emphasized by the Trump administration amid the investigation and a possible reason for the administration's lack of condemnation for the killing.
On Oct. 25, Saudi Arabia's attorney general, Shaikh Suood bin Abdullah Al Mo'jab said the killing of Khashoggi was premeditated, although officials are saying the Crown Prince had no knowledge of it. This is the latest change in the Saudis' official statement regarding the murder of the Saudi journalist.
---
Nueva evidencia sugiere Saudís participaron en el asesinato de periodista
La indignación por el asesinato de un corresponsal del Washington Post en un consulado saudí continúa a medida que surgen nuevas pruebas que conectan al gobierno saudí con el asesinato.
Hace unas semanas, la noticia de la muerte de Jamal Khashoggi, un columnista saudí del Washington Post que vivía en Estados Unidos, apareció en los titulares alrededor del mundo. Fue visto por última vez entrando al consulado saudí en Estambul, Turquía, el 2 de octubre. Khashoggi fue un crítico vocal del gobierno saudí y del príncipe heredero Mohammed bin Salman.
Funcionarios turcos alegaron que 15 agentes sauditas asesinaron a Kashoggi, 59, en el interior del consulado saudí poco después de que ingresara hace tres semanas. Después de negar cualquier participación en la desaparición de Kashoggi y afirmar que había dejado el consulado, el gobierno saudí admitió el 20 de octubre que Kashoggi fue asesinado "accidentalmente" mientras estaba en el consulado después de que un altercado se hubiera salido de control.
El presidente Trump y otros funcionarios del gobierno estadounidense se han mostrado firmes en creer cada nueva explicación que el gobierno saudí ha dado. Durante la primera semana, Trump dejó abierta la idea de que «asesinos rebeldes» estaban detrás del ataque.
Países como Francia, Gran Bretana y Alemania han condenado el ataque y han pedido una investigación completa para castigar a los responsables. Alemania también ha suspendido la venta de armamento al reino.
Sin embargo, desarrollos recientes podrían contradecir la versión que niega que el asesinato fue premeditado. El lunes, 22 de octubre, apareció un video que mostraba un doble de Kashoggi caminando por la ciudad y vistiendo su ropa, posiblemente como parte de un encubrimiento. Esto sugeriría un complot premeditado para matar al periodista.
"Nos enfrentamos a una situación en la que un asesinato fue brutalmente planeado y se hicieron esfuerzos para encubrirlo", dijo Omer Celik, portavoz del gobernante Partido de Justicia y Desarrollo de Turquía, a la Associated Press. "Dios mediante, los resultados se harán públicos, los responsables serán castigados y nadie se atreverá a pensar en llevar a cabo tal cosa de nuevo".
Arabia Saudita es un aliado clave de Estados Unidos, un estatus que ha sido enfatizado por el gobierno de Trump en medio de la investigación y una posible razón por la que el gobierno de Trump no ha condenado al país saudí por el asesinato.
El 25 de octubre, el fiscal general de Arabia Saudita, Shaikh Suood bin Abdullah Al Mo'jab, dijo que el asesinato de Khashoggi fue premeditado, aunque funcionarios están diciendo que el príncipe heredero no tenía conocimiento del hecho. Este es el último cambio en la declaración oficial de los saudíes sobre el asesinato del periodista saudí.