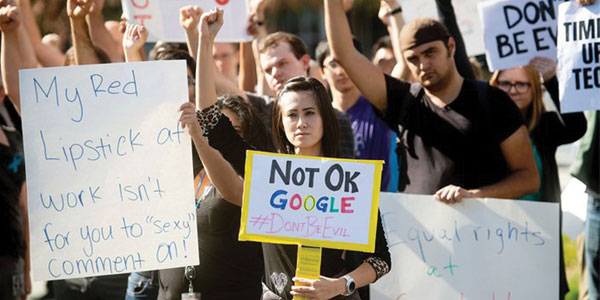 On Nov. 1, thousands of Google workers around the world left their desks to protest their leadership's mishandling of sexual harassment allegations directed at top company executives.
Major news outlets covered the event. It also drew coverage on social media, as photos and videos of the protesters were spread around Facebook and Twitter.
More than 20 percent of company employees participated in the walkout. The protest took place at multiple Google offices, including those in Dublin, Ireland; San Francisco; Berlin; Zurich, Switzerland; London; Chicago; Seattle; and New York.
As part of the walkout, the employees made several key demands. They included an end to forced arbitration in cases of harassment and discrimination; a commitment toward ending pay and opportunity inequality; a publicly disclosed sexual harassment transparency report; and a clear, uniform and globally inclusive process for reporting sexual misconduct safely and anonymously.
In addition, the employees asked that Google's chief diversity officer answer directly to the chief executive officer (CEO) and make recommendations directly to the board of directors. They also requested fair employee representation on the board.
The walkout was sparked by an investigation by The New York Times, which reported on a $90-million severance package offered in 2014 to Andy Rubin, the creator of Google's Android software. The exit package was reportedly paid after the company had learned about credible sexual misconduct allegations against Rubin.
However, Rubin wasn't the only one who was compensated. Google allegedly paid millions of dollars in exit packages to executives accused of misconduct.
But Google CEO Sundar Pichai claimed the company had fired 48 employees accused of sexual harassment in recent years and that none had received an exit package. Pichai never discussed the allegations about Rubin.
On the other hand, Pichai apologized for Google's past actions in an email directed to company employees. In addition, the CEO agreed to review a plan that would address the workers' demands.
---
Trabajadores de Google salen a protestar contra el acoso sexual
El 1 de noviembre, miles de trabajadores de Google en todo el mundo dejaron sus escritorios para protestar por el mal manejo de las acusaciones de acoso sexual dirigidas a los principales ejecutivos de la compañía.
Los principales medios de comunicación cubrieron el evento. Pero también hubo cobertura en las redes sociales, ya que las fotos y los videos de los manifestantes se difundieron por Facebook y Twitter.
Más del 20 por ciento de los empleados de la compañía participaron en la huelga. La protesta tuvo lugar en varias oficinas de Google, incluidas las de Dublín, Irlanda, San Francisco, Berlin, Zurich, Suiza, Londres, Chicago, Seattle y Nueva York.
Como parte de la huelga, los empleados hicieron varias demandas clave. Entre ellas incluyeron el fin de la mediación en casos de hostigamiento y discriminación, un compromiso para acabar con la desigualdad salarial y de oportunidades, un informe de acoso sexual que sea transparente y divulgado públicamente y un proceso claro, uniforme y aplicado a nivel mundial para poder denunciar la conducta sexual inapropiada de forma segura y anónima.
Además, los empleados solicitaron que el director de diversidad de Google respondiera directamente al director ejecutivo (CEO) y pudiera opinar en la junta directiva. También solicitaron una representación justa de los empleados en el consejo.
La huelga fue provocada por una investigación realizada por The New York Times, que informó sobre un paquete de indemnización por $90 millones de dólares ofrecido en 2014 a Andy Rubin, el creador del software Android de Google. Se informó que el paquete de salida se pagó después de que la compañía se enteró de las acusaciones creíbles de conducta sexual inapropiada contra Rubin.
Sin embargo, Rubin no fue el único que fue compensado. Google supuestamente pagó millones de dólares en paquetes de salida a ejecutivos acusados ​​de mala conducta.
Pero el CEO de Google, Sundar Pichai, afirmó que la compañía había despedido a 48 empleados acusados ​​de acoso sexual en los últimos años y que ninguno había recibido un paquete de salida. Pichai nunca discutió las acusaciones sobre Rubin.
Por otro lado, Pichai se disculpó por las acciones pasadas de Google en un correo electrónico dirigido a los empleados de la empresa. Además, el CEO acordó revisar un plan que abordaría las demandas de los trabajadores.