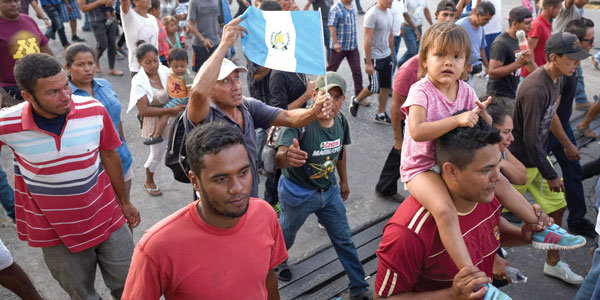 By Angie Baldelomar
On Nov. 9, before leaving for Paris, President Trump signed a presidential proclamation to ban immigrants who cross into the United States illegally through the southern border from seeking asylum.
The proclamation suspends asylum rights for all immigrants who cross illegally into the country. Officials have said this change was put in place primarily to discourage migrants who are traveling north through Mexico in caravans.
"The continuing and threatened mass migration of aliens with no basis for admission into the United States through our southern border has precipitated a crisis and undermines the integrity of our borders," Trump wrote in the proclamation.
For decades, U.S. immigration law has allowed migrants who fear persecution in their home countries to seek asylum regardless of whether they entered the U.S. legally or illegally.
Under the new rule, however, officials said that all migrants who cross illegally would automatically be denied asylum, except for children arriving without parents or individuals who are deemed to have a higher "reasonable fear" standard under the international obligations of the Convention Against Torture.
The suspension of asylum rights would be in effect for at least 90 days, administration officials said, but could end sooner if Mexico's government would sign an agreement allowing the United States to return those who illegally cross the border from Mexico – which seems unlikely.
The new proclamation is expected to spark a legal battle, similar to the one that resulted from the travel ban Trump signed into law through an executive order in 2017.
________________________________________________________________________________________________
Trump ataca los derechos de asilo en nueva proclamación
El 9 de noviembre, antes de partir a París, el presidente Trump firmó una proclamación presidencial que prohíbe a los inmigrantes que cruzan ilegalmente a los Estados Unidos a través de la frontera sur solicitar asilo.
La proclamación suspende los derechos de asilo para todos los inmigrantes que ingresan ilegalmente al país. Las autoridades han dicho que este cambio se decidió implementar principalmente para desalentar a los inmigrantes que viajan hacia el norte en caravanas a través de México.
"La continua y amenazada migración masiva de extranjeros sin base para el ingreso a los Estados Unidos a través de nuestra frontera sur ha precipitado una crisis y socava la integridad de nuestras fronteras," Trump escribió en la proclamación.
Por décadas, la ley migratoria en los Estados Unidos ha permitido a los inmigrantes que temen ser perseguidos en sus países de origen solicitar asilo sin importar si ingresaron a los Estados Unidos legal o ilegalmente.
Bajo la nueva regla, sin embargo, las autoridades dijeron que a todos los inmigrantes que ingresen de forma ilegal se les negaría asilo automáticamente, a excepción de niños que lleguen sin padres o individuos que se considera que tienen un estándar más alto de «temor razonable» en virtud de las obligaciones internacionales de la Convención contra la Tortura.
La suspensión de derechos de asilo estaría vigente por al menos 90 días, como dijeron funcionarios de la administración, pero podría terminar antes si el gobierno mexicano firmara un acuerdo permitiendo a los Estados Unidos devolver a quienes cruzan ilegalmente la frontera de México, lo que parece poco probable.
Se espera que la nueva proclamación ocasione una batalla legal, similar a la que resultó de la prohibición de viaje que Trump convirtió en ley a través de una orden ejecutiva en 2017.