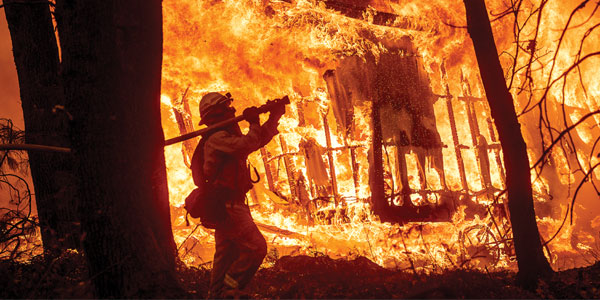 California wildfire death toll climbs to 50, many still missing
By Angie Baldelomar
The total number of people killed in wildfires in California has risen to 50, news agencies are reporting.
At press time, search teams continued scouring the devastated town of Paradise expecting to find more bodies after the deadliest wildfire in California history. The Camp Fire, as the blaze that destroyed Paradise is known, is reportedly only about 35 percent contained, has destroyed 7,600 homes and burned 130,000 acres.
The death toll from the Camp Fire alone is 48, with about 200 other people still missing.
"There are potentially over 100 people that were killed in Butte," said Thom Porter, a California fire chief, late Tuesday (Nov. 13) during a meeting for evacuees, as reported by The New York Times.
Porter was speaking about Butte County, north of Sacramento, where Paradise is located.
Butte County Sheriff Kory Honea said the search is a difficult process.
"There's certainly the unfortunate possibility that even after we search an area, once we get people back in there, it's possible that human remains can be found," Honea said.
Authorities have requested 100 National Guard troops to join cadaver dogs, mobile morgues and anthropology teams in the search and recovery of human remains.
Meanwhile, in Southern California, firefighters are still battling the Woolsey Fire, which has left two dead so far. The fire is burning west of Los Angeles and has swept through parts of Malibu. As of Wednesday morning (Nov. 14), the blaze was about 47 percent contained.
Firefighters also are fighting the Sierra Fire in San Bernardino County. It started late Tuesday about 50 miles east of Los Angeles. By Wednesday morning, it had burned 147 acres.
The causes of the fires remain under investigation, but they broke out around the time and place two utilities reported equipment problems. The Associated Press has reported that people who lost homes in the Camp Fire have sued Pacific Gas & Electric Co. Tuesday, accusing the utility company of negligence and blaming it for the fire.
________________________________________________________________________________________________
Número de muertos en incendios forestales en California aumenta a 50, muchos aún desaparecidos
El número total de personas muertas en incendios forestales en California ha aumentado a 50, según informan las agencias de noticias.
Al momento de la publicación, los equipos de búsqueda continuaban recorriendo la devastada ciudad de Paradise esperando encontrar más cuerpos después del incendio forestal más letal de la historia de California. Según se informa, el Camp Fire, como se conoce el incendio que destruyó Paradise, sólo ha sido contenido alrededor del 35 por ciento, destruido 7,600 casas y quemado 130,000 acres.
El número de muertos sólo en Camp Fire es 48, y otras 200 personas siguen desaparecidas.
"Hay potencialmente más de 100 personas que murieron en Buttle", dijo Thom Porter, jefe de bomberos de California, el martes (13 de noviembre) durante una reunión para evacuados, según informó The New York Times.
Porter estaba hablando del condado de Butte, al norte de Sacramento, donde se encuentra Paradise.
El sheriff del condado de Butte, Kory Honea, dijo que la búsqueda es un proceso difícil.
"Definitivamente hay la desafortunada posibilidad de que incluso después de buscar en un área, una vez que las personas regresen, es posible que se puedan encontrar restos humanos", Honea dijo.
Las autoridades han solicitado que 100 soldados de la Guardia Nacional se unan a los perros buscadores de cadáveres, morgues móviles y equipos de antropología en la búsqueda y recuperación de restos humanos.
Mientras tanto, al sur de California, los bomberos siguen luchando contra el Woolsey Fire, que ha dejado dos muertos hasta el momento. El incendio arde al oeste de Los Ángeles y ha barrido partes de Malibú. Hasta el miércoles por la mañana (14 de noviembre), el incendio había sido contenido en aproximadamente un 47 por ciento.
Los bomberos también están combatiendo el Sierra Fire en el condado de San Bernardino. Comenzó el martes por la noche a 50 millas hacia el este de Los Ángeles. Para el miércoles por la mañana, había quemado 147 acres.
Las causas de los incendios siguen bajo investigación, pero se desataron alrededor de la hora y lugar donde dos utilidades informaron problemas con el equipo. La Associated Press ha reportado que las personas que perdieron sus hogares en el Camp Fire han demandado a Pacific Gas & Electric Co. el martes, acusando a la compañía de servicios públicos de negligencia y acusándola por el incendio.