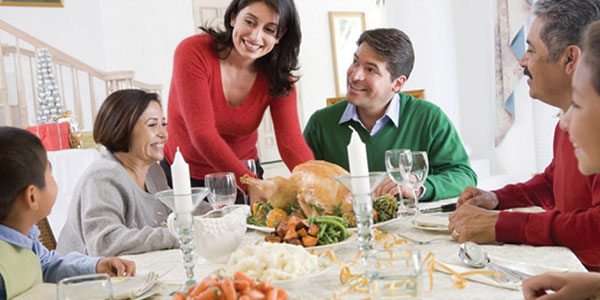 We've got a whole lot of people, strangers most of them and a few long gone to thank for their part in bringing our individual Thanksgiving feasts into being. Not to be overlooked for distant past, there's President Theodore Roosevelt. In 1906, he passed food safety laws so that our holiday repasts 112 years later are most likely to be free from salmonella and food poisoning.
Somewhere, poultry farmers and cattle ranchers raised the livestock crowning our meat platters. Farmers from all over grew the produce. Dairy farmers tended cows for the production of milk and other dairy products. Butchers, seafood processors and canners peeled, trimmed, cleaned and sliced, and froze, canned, preserved and packaged finished food stuffs. Truckers and train crews transported all these goods to local grocers and markets.
That's a whole lot of people to be thankful to this Thanksgiving. But our gratitude extends beyond those responsible for our feast. Across our metro, there are professionals at work today ensuring our safety and well-being. If we run low on gas or an emergency item, gas station and convenience store attendants are on duty. There are taxis operating in case partiers drink too much or experience a vehicle breakdown.
Of course, firefighters and law enforcement officers are busy today serving and protecting, as always. Ambulance and paramedic crews are out saving lives and aiding the sick and injured. Hospitals and emergency clinics are staffed to take care of hurt and ill people. Nursing home and hospice staffs are caring for their residents and patients and their families, respectively.
Prison guards and correctional officers are at work as are news anchors and reporters and meteorologists, as we might expect. Air traffic controllers at our country's airports are dependably directing air traffic, as usual. Around the globe, our armed forces are putting themselves in harm's way to protect America, even today. These folks won't enjoy sleeping in and spending quality time with their families today. They're looking out for us. For all of these dedicated professionals and more, we're grateful.
Today, the Dos Mundos family thanks you, our faithful readers and advertisers for your steadfast support. Happy Thanksgiving!  
__________________________________________________________________________________________________
Dando las gracias por el servicio
Tenemos un montón de personas, la mayoría extraños y unos pocos que ya se fueron, a los que agradecer por su parte en llevar a cabo nuestras fiestas individuales de Acción de Gracias. No se debe pasar por alto por un pasado lejano al presidente Theodore Roosevelt. En 1906, aprobó las leyes de seguridad alimentaria para que nuestros feriados festivos 112 años después tengan más probabilidades de estar libres de salmonella e intoxicación alimentaria.
En algún lugar, los avicultores y ganadores criaron el ganado que corona nuestros platos de carne. Agricultores de todas partes cultivaron el producto. Los granjeros lecheros cuidaron de sus vacas para la producción de leche y otros productos lácteos. Carniceros, procesadores de mariscos y enlatadores pelaron, recortaron, limpiaron y cortaron en rodajas, y congelaron, enlataron, preservaron y empaquetaron alimentos terminados. Los camioneros y las cuadrillas de trenes transportaron todos estos productos a los supermercados y mercados locales.
Eso es un montón de gente que agradecer este Día de Acción de Gracias. Pero nuestra gratitud se extiende más allá de aquellos responsables por nuestra fiesta. En nuestra área metro, hay profesionales en el trabajo hoy que garantizan nuestra seguridad y bienestar. Si tenemos poca gasolina o un artículo de emergencia, los empleados de las gasolineras y las tiendas de conveniencia están al servicio. Hay taxis operando en caso de que los fiesteros beban demasiado o experimenten una avería del vehículo.
Por supuesto, los bomberos y los agentes de la ley están ocupados hoy sirviendo y protegiendo, como siempre. Los equipos de ambulancia y paramédicos están salvando vidas y ayudando a los enfermos y heridos. El personal de los asilos de ancianos y los centros de cuidados paliativos están cuidando a sus residentes, pacientes y familiares, respectivamente.
Los guardias de las prisiones y oficiales correccionales están trabajando, al igual que los presentadores de noticias, reporteros y meteorólogos, como es de esperar. Los controladores de tráfico aéreo en los aeropuertos de nuestro país están dirigiendo de manera confiable el tráfico aéreo, como de costumbre. En todo el mundo, nuestras fuerzas armadas se están poniendo en peligro para proteger a los Estados Unidos, incluso hoy. Estas personas no disfrutarán durmiendo y pasando tiempo de calidad con sus familias hoy. Ellos nos están cuidando. Por todos estos profesionales dedicados y más, estamos agradecidos.
Hoy, la familia de Dos Mundos les agradece a ustedes, nuestros fieles lectores y anunciantes por su constante apoyo. ¡Feliz Día de Acción de Gracias!