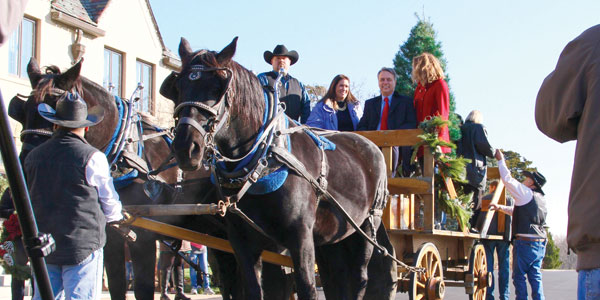 By Angie Baldelomar
On Nov. 20, Kansas Gov. Jeff Colyer and first lady Ruth Colyer received a Christmas tree at Cedar Crest, the governor's mansion.
The Austrian pine tree arrived at the Topeka mansion via horse-drawn carriage. Willy and Mary Goevert of 4C Tree Farm donated the tree, which was presented to the governor and the first lady by Celia Goering, Kansas Christmas Tree Growers Association president.
"The delivery of the Cedar Crest Christmas tree and wreath is a wonderful tradition, and we look forward to bringing these beautiful decorations into our home for all to enjoy during this holiday season," said the first lady, according to a press release.
From Cedar Crest, the governor and first lady were expected to travel to Perry High School, where the national Christmas tree and the Kansas Capitol tree were going to be presented later that day. The national Christmas tree was expected to continue to Washington, D.C. The Capitol tree was expected to be set up in the governor's ceremonial office inside the Statehouse.
"What a unique privilege for us to have the U.S. Capitol Christmas tree make a stop in Kansas," said Colyer.
---
Árbol de navidad entregado a la mansión del gobernador de Kansas
El 20 de noviembre el gobernador de Kansas Jeff Colyer y la primera dama Ruth Colyer recibieron un árbol de navidad en Cedar Crest, la mansión del gobernador.
El pino austriaco llegó a la mansión en Topeka en un carruaje tirado por caballos. Willy y Mary Goevert de 4C Tree Farm donaron el árbol, que fue presentado al gobernador y la primera dama por Celia Goering, presidenta de la Asociación de Cultivadores de Árboles de Navidad de Kansas.
"La entrega del árbol de navidad y la corona al Cedar Crest es una tradición maravillosa, y siempre esperamos traer estas hermosas decoraciones en nuestro hogar para que todos disfruten durante esta temporada festiva", dijo la primera dama, según un comunicado de prensa.
De Cedar Crest, se esperaba que el gobernador y la primera dama viajaran a Perry High School, donde el árbol de navidad nacional y el árbol del Capitolio de Kansas serían presentados más tarde ese mismo día. El árbol de navidad nacional continuará su camino a Washington, D.C. Se esperaba que el árbol del Capitolio fuera instalado en la oficina ceremonial del gobernador dentro de la Casa de Estado.
"Qué privilegio único para nosotros es que el árbol de Navidad del Capitolio de los Estados Unidos haga una parada en Kansas", Colyer dijo.