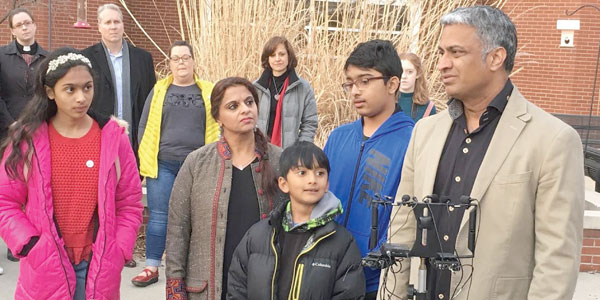 By Eulogio JP
A Kansas City area professor from Bangladesh has a few more years to stay in the United States, but could still face deportation.
Early this year, Syed Jamal was arrested and nearly deported because he had overstayed his visa. Jamal, whose arrest was covered by Dos Mundos and other media outlets, was a professor at Park University in Parkville, Missouri, when he was apprehended. Although his visas had expired, the professor had been authorized to stay under supervisory orders, meaning he had to report regularly to U.S. Immigrations and Customs Enforcement (ICE).
After his arrest, Jamal was in jail for nearly two months in Platte County, Missouri, and was on a plane to Hawaii when the Board of Immigration Appeals granted him a stay of removal. Later, a U.S. District Court judge ordered his release, pending a case review.
On Nov. 27, Jamal appeared in court for a hearing of his case. His hearing was postponed by a judge until April 2022.
Fox 4 News reported that the family considered the postponement to be "bittersweet." Although Jamal's wife and children have a few more years without fear of him being taken away, his immigration status will be up in the air again when the court hearing comes around.
And the hearing might not take place in 2022. As Jamal's attorney explained, the case could be extended – and if either party is uncomfortable with the ruling, an appeal process could take place.
Jamal must continue checking in with ICE until his hearing. Despite the uncertainty of his case and not being permitted to travel "it's always great to be able to be with your family," he told Fox 4.
---
Profesor de la zona todavía enfrenta deportación
Un profesor de la zona de Kansas City originario de Bangladesh tiene algunos años más para quedarse en los Estados Unidos, pero aún podría ser deportado.
A principios de este año, Syed Jamal fue arrestado y casi deportado porque había excedido el tiempo permitido por su visa. Jamal, cuya detención fue cubierta por Dos Mundos y otros medios de comunicación, fue profesor en Park University en Parkville, Missouri, cuando fue detenido. Aunque sus visas habían caducado, el profesor tenía la autorización a permanecer bajo órdenes de supervisión, lo que significaba que tenía que informar regularmente a Inmigración y Control de Aduanas de EE.UU. (ICE).
Después de su arresto, Jamal estuvo en la cárcel durante casi dos meses en el condado de Platte, Missouri, y se encontraba en un avión a Hawai cuando la Junta de Apelaciones de Inmigración le otorgó una suspensión de deportación. Más tarde, un juez del Tribunal de Distrito de EE. UU. ordenó su liberación, en espera de una revisión del caso.
El 27 de noviembre, Jamal atendió al tribunal para una audiencia de su caso. Su audiencia fue pospuesta por un juez hasta abril del año 2022.
Fox 4 News informó que la familia consideraba que el aplazamiento era "agridulce". Aunque la esposa y los hijos de Jamal tienen algunos años más sin temor a que se lo lleven, su estado de inmigración volverá a estar en el aire cuando se lleve a cabo la audiencia judicial en el 2022.
Y la audiencia podría no tener lugar en 2022. Como explicó el abogado de Jamal, el caso podría extenderse, y si cualquiera de las partes se siente incómoda con el fallo, podría llevarse a cabo un proceso de apelación.
Jamal debe continuar informándose con ICE hasta su audiencia. A pesar de la incertidumbre de su caso y no se le permite viajar, "siempre es bueno poder estar con su familia", le dijo a Fox 4.