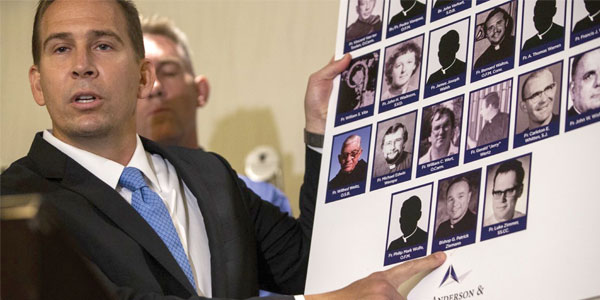 By Angie Baldelomar
Dozens more Catholic priests who served in Southern California have been accused of sexually abusing children, according to two reports issued on Dec. 6, as multiple news outlets reported.
For the first time in a decade, the Archdiocese of Los Angeles, which covers Los Angeles, Ventura and Santa Barbara counties, updated its list of clergy members accused of molesting children.
"We owe it to the victim-survivors to be fully transparent in listing the names of those who perpetrate this abuse," Archbishop Jose H. Gomez said in a statement in releasing the list of 54 names.
For almost two decades, the archdiocese has been haunted by allegations that church leaders mishandled priest abuse cases, sometimes moving accused priests to other parishes, rather than punishing them and informing law enforcement.
The total number of clerics accused in incidents like this in the Los Angeles archdiocese is 323. As the Los Angeles Times reported, most of the previously undisclosed names were clergy members accused before 2008 – the last time the list was updated. The archdiocese said it stopped adding names after that year because parishes and schools were announcing instances of abuse as they were discovered.
In Orange County, also located in the Los Angeles metro area, advocates for survivors of child sex abuse have compiled a list of 72 priests that, according to them, served in the Diocese of Orange and have been accused of abuse. In 2016, the diocese released a list with only 14 priests.
The news from California comes four months after a grand jury report in Pennsylvania revealed a decades-long coverup of child sex abuse involving more than 1,000 victims and hundreds of priests. After that, bishops across the United States have decided to disclose the names of priests accused of molesting children.
______________________________________________________________________________________________
Docenas de sacerdotes más acusados de abuso sexual infantil
Docenas de sacerdotes católicos más que sirvieron en el sur de California han sido acusados de abusar sexualmente de niños, según dos informes emitidos el 6 de diciembre, como varios medios de noticias reportaron.
Por primera vez en una década, la Arquidiócesis de Los Ángeles, que abarca los condados de Los Ángeles, Ventura y Santa Bárbara, actualizó su lista de miembros del clero acusados de abusar sexualmente de niños.
"Le debemos a las víctimas-sobrevivientes ser totalmente transparentes al dar una lista de nombres de aquellos que perpetraron este abuso", dijo el arzobispo José H. Gómez en un comunicado al publicar la lista de 54 nombres.
Por casi dos décadas, la arquidiócesis ha sido perseguida por las acusaciones de que los líderes de la iglesia manejaron mal los casos de abuso de sacerdotes, a veces moviendo a los sacerdotes acusados a otras parroquias en lugar de castigarlos e informar a las autoridades.
El número total de clérigos acusados en incidentes como este en la arquidiócesis de Los Ángeles es 323. Como lo informó el Los Ángeles Times, la mayoría de los nombres no nombrados previamente eran miembros del clero acusados antes del 2008, la última vez que la lista fue actualizada. La arquidiócesis dijo que dejó de agregar nombres después de ese año porque las parroquias y escuelas estaban anunciando casos de abuso cuando eran descubiertos.
En el Condado de Orange, también ubicado en el área metropolitana de Los Ángeles, defensores de los sobrevivientes de abuso sexual infantil han compilado una lista de 72 sacerdotes que, según ellos, trabajaron en la Diócesis de Orange y han sido acusados de abuso. En 2016, la diócesis publicó una lista con sólo 14 sacerdotes.
Las noticias de California vienen cuatro meses después de que un informe del gran jurado en Pennsylvania revelara un encubrimiento durante décadas de abuso sexual infantil que involucró a más de 1,000 víctimas y cientos de sacerdotes. Después de eso, obispos alrededor de Estados Unidos decidieron revelar los nombres de los sacerdotes acusados de abusar sexualmente de niños.