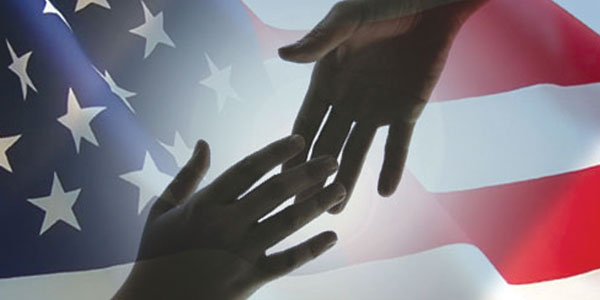 By Eulogio JP
According to a recent report published by Syracuse University's Transactional Records Access Clearinghouse, immigration judges rejected a record 65 percent of asylum applications during fiscal year 2018.
During the U.S. government's 2018 fiscal year, which ended on Sept. 30, more than 42,000 asylum cases were concluded, making 2018 the fiscal year with the largest number of asylum cases closed since the group began tracking the data in 2001.
This is not a new trend. Fiscal year 2018 was the sixth consecutive year with an increase in the number of denials.
The number of asylum applications is unlikely to decline. As of Sept. 30, there were more than 1 million backlogged immigration cases, including for those seeking asylum.
​Aaron Reichlin-Melnick, American Immigration Council policy analyst, ​shared his concerns with the current situation ​during a recent telephone interview with CBS News.
"People's claims are getting denied not because … (they weren't) valid, but because there just wasn't enough time to collect evidence and representation in an environment that's seeking speed," Reichlin-Melnick said.
Asylum is reserved exclusively for people of any nation who are fleeing persecution. To qualify, petitioners must prove they face "credible fear" in their home country. In most cases, asylum applicants may live in the United States while their cases are pending.
Despite being the leader of a nation that traditionally has prided itself on welcoming the weakest and the neediest, ​President Trump ​has expressed repeatedly that he believes the asylum system has been abused by migrants, calling the practice "catch and release." Trump also ha​s made​ multiple​ attempts to limit the system.
One controversial instance was when former Attorney General Jeff Sessions​ made a​​change​​ in immigration language. The change severely ​limited asylum-seekers' abilities to establish persecution based on domestic and gang-related violence, two forms of persecution that disproportionately impact migrants from Central America.
______________________________________________________________________________________________
El número de solicitudes de asilo y denegaciones está creciendo
Según un informe reciente publicado por el Centro de intercambio de información de acceso transaccional de la Universidad de Syracuse, los jueces de inmigración rechazaron un récord de asilo durante el año fiscal 2018 – el 65 por ciento de las solicitudes.
Durante el año fiscal 2018 del gobierno, que terminó el 30 de septiembre, se concluyeron más de 42,000 casos de asilo, lo que resulta siendo el año fiscal con el mayor número de casos de asilo cerrados desde que el grupo comenzó a rastrear los datos en 2001.
Esta no es una nueva tendencia. El año fiscal 2018 fue el sexto año consecutivo con aumentos en el número de denegaciones.
Es poco probable que el número de solicitudes de asilo disminuya. Al 30 de septiembre, había más de 1 millón de casos de inmigración atrasados, incluso para aquellos que buscaban asilo.
Aaron Reichlin-Melnick, analista de políticas del American Immigration Council, compartió sus inquietudes sobre la situación actual durante una reciente entrevista telefónica con CBS News.
"Las aplicaciones se rechazan no porque … (no fueron) válidas, sino porque simplemente no hubo tiempo suficiente para recopilar evidencia y representación en un entorno que busca velocidad", dijo Reichlin-Melnick.
El asilo está reservado exclusivamente para personas de cualquier nación que huyen de la persecución. Para calificar, los solicitantes deben probar que enfrentan "miedo creíble" en su país de origen. En la mayoría de los casos, los solicitantes de asilo pueden vivir en los Estados Unidos mientras sus casos están pendientes.
A pesar de ser el líder de una nación que tradicionalmente se ha enorgullecido de recibir a los más débiles y necesitados, el presidente Trump ha expresado en repetidas ocasiones que cree que los migrantes han abusado del sistema de asilo, calificando la práctica de "captura y liberación". El Presidente a tratado en múltiples ocasiones limitar el sistema.
Un caso fue cuando el ex fiscal general Jeff Sessions hizo un cambio en el idioma de inmigración. El cambio limitó severamente la capacidad de los solicitantes de asilo para establecer una persecución basada en la violencia doméstica y relacionada con pandillas, dos formas de persecución que impactan desproporcionadamente a los migrantes de América Central.