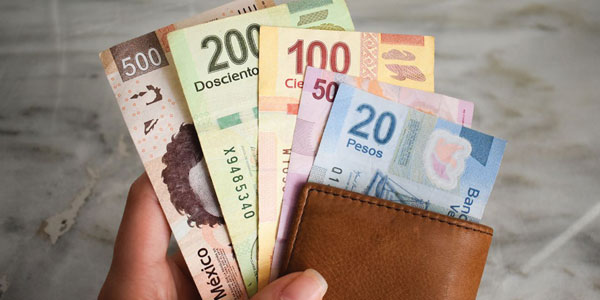 By Tere Siqueira
On Jan. 1, 2019, the Mexican government will offer a 16.2 percent boost in the country's minimum wage, multiple news agencies recently reported.
In general, the minimum wage will increase from 88.36 pesos to 102.68 pesos ($5.10 in U.S. currency) per day. In places along Mexico's northern border with the United States, however, it will be 176.72 pesos ($8.80).
The general increase comes as an effort to boost the economy by restoring the purchasing power of Mexico's lowest earners. A higher minimum wage along border communities is being implemented as an incentive to keep workers in Mexico.
Labor Minister Luisa Maria Alcalde said the increases come as the first part of an effort to change Mexico's wage policies.
"Mexico is one of the 15 most important economies worldwide," Alcalde told reporters. "But at the same time, it's one of the most unequal economies. Our population works more hours per day, and they also receive the lowest (wage) rates."
Many media outlets have reported, however, that the increase will not have a direct impact on most workers' wages. Government data shows that only a few workers earn the minimum wage. Millions of Mexican workers are paid somewhere between one and two times that amount.
On the other hand, the increases are expected to help address national and international issues. For the first time since 1995, the minimum wage will be in step with Mexico's poverty line, as established by the National Council for Social Development Policy.
In addition, the increases are expected to help address economic issues that were raised during the 2018 negotiations to redraw the North American Free Trade Agreement. During the negotiations, U.S. President Donald Trump blamed the lack of manufacturers in the United States to the ability to produce items in Mexico because of lower wages there.
---
México elevará el salario mínimo en el 2019
Diversos medios de comunicación informaron que el 1 de enero del 2019, el gobierno mexicano ofrecerá un aumento del 16.2% por ciento en el salario mínimo del país.
En general, el salario mínimo aumentará de 88.36 pesos a 102.68 pesos ($5.10 dólares) por día. Sin embargo en los lugares ubicados en la frontera norte de México con los Estados Unidos, será de 176.72 pesos ($8.80).
El aumento se presenta como un esfuerzo por impulsar la economía mediante la restauración del poder adquisitivo de las personas con menores ingresos en México. Se está implementando un salario mínimo más alto en las comunidades fronterizas como incentivo para mantener a los trabajadores en México.
La Secretaria de Trabajo, Luisa María Alcalde, dijo que los aumentos se producen como la primera parte de un esfuerzo por cambiar las políticas salariales de México.
"México es una de las 15 economías más importantes del mundo", Alcalde le dijo a los periodistas. "Pero al mismo tiempo, es una de las economías más desiguales. Nuestra población trabaja más horas por día y también recibe los salarios más bajos".
Sin embargo, muchos medios de comunicación han informado que el aumento no tendrá un impacto directo en la mayoría de los salarios de los trabajadores. Los datos del gobierno muestran que pocos trabajadores ganan el salario mínimo. A millones de trabajadores mexicanos se les paga entre una y dos veces esa cantidad.
Por otro lado, se espera que los aumentos ayuden a abordar los problemas nacionales e internacionales. Por primera vez desde 1995, el salario mínimo estará dentro de la línea de pobreza de México, según lo establecido por el Consejo Nacional para la Política de Desarrollo Social.
Además, se espera que los aumentos ayuden a abordar los problemas económicos que surgieron durante las negociaciones del 2018 para volver a redactar el Acuerdo de Libre Comercio de América del Norte. Durante las negociaciones, el presidente de los Estados Unidos, Donald Trump, culpó a la falta de fabricantes en los Estados Unidos por la capacidad de producir artículos en México con costos menores debido a los salarios más bajos.