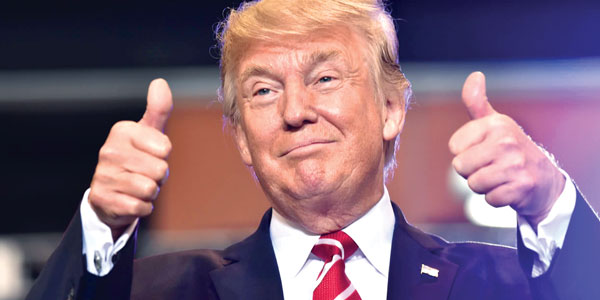 January
On Jan. 9, mudslides began hitting parts of Southern California. The mudslides were part of a series of disasters that hit the region, starting in late 2017 with wildfires, followed by flooding.
On Jan. 16, the Trump administration issued an 11-page report claiming to have evidence of a connection between immigration and terrorism. The report stated that most of those people convicted of international terrorism charges over the past 15 years in the United States were foreign-born. According to The New York Times, the report highlighted cases where immigrants were linked to terrorism plots after having been admitted to the country as part of the diversity visa lottery or because they were related to legal residents or American citizens.
Congress ended a government shutdown on Jan. 22. The resolution to lift the shutdown resulted from a deal reached after a bipartisan group of senators had pushed their leaders to come to terms. Senate Democrats agreed to support a bill to allow short-term spending to fund federal government operations. The bill Congress passed to end the shutdown included an agreement to extend funding for the Children's Health Insurance Program for six years.
Cartoonist Mort Walker – a native Kansan who spent a stretch of his early life in Kansas City, Missouri – died on Jan. 27. Walker drew several strips, including "Beetle Bailey."
February
On Feb. 14, multiple news agencies reported 17 people were killed in a mass shooting at a Miami area high school. The shooting was carried out by Nikolas Cruz, who had been expelled in 2017 from the school and was apprehended shortly after the shooting. In reaction to the tragedy, many public and private facilities flew their flags at half-mast, including Kansas City area facilities.
On Feb. 15, several media outlets reported that U.S. senators couldn't agree to advance on a bipartisan immigration deal focused on helping Deferred Action for Childhood Arrivals program students. The bipartisan deal was sponsored by seven Democrats, eight Republicans and one independent senator. According to The New York Times, the bill allocated $25 million for border security, including the construction of a U.S.-Mexico border wall over a 10-year period.
Internationally known minister Rev. Billy Graham died on Feb. 21. Graham's evangelism took him to such countries as Brazil, Mexico and Argentina.
March
Dos Mundos co-founder and publisher Manuel Agustin Reyes died peacefully on March 4 in the presence of his family. He succumbed to pancreatic cancer after a short illness.
Internationally known theoretical physicist and educator Stephen Hawking died on March 14.
On March 21, a reign of terror ended for millions of Texans, particularly residents of Austin, the state capital. Over 19 days, a serial bomber killed three people and detonated six explosions, including the explosion that caused his death. The bombing suspect committed suicide inside his car with an explosive device as a SWAT team closed in, the police said.
Business tycoon Charles Lazarus, known for launching the Toys R Us chain, died on March 22.
April
On April 6, an update was provided on the recovery process in Puerto Rico following Hurricane Maria, the 2017 storm that hit the island. Brock Long, a U.S. Federal Emergency Management Agency administrator, said his agency was working to make the island's roads, homes, bridges and electrical grid as strong as possible. However, it could take up to $50 billion to help rebuild Puerto Rico.
Former first lady Barbara Bush died on April 17. She was the longtime wife former U.S. President George H.W. Bush.
On April 20, a group of 50 migrants out of an original group of around 1,500 people reached the U.S.-Mexico border to request asylum in the United States. Several media outlets stated that most of the people in the caravan were from Honduras.
May
On May 8, a building near the intersection of Armour Road and Swift Street in North Kansas City, Missouri, was destroyed by a fire believed to have been caused by an improperly discarded cigarette. The Bureau of Alcohol, Tobacco, Firearms and Explosives declared on May 9 that the fire was an accident and that no criminal investigation would be conducted.
An unprecedented event took place on May 18 within the Catholic Church: Every bishop in Chile presented a written resignation to be considered by Pope Francis. The resignations were in response to Pope Francis meeting with the Chilean bishops the week prior to address a 2,300-page report released in March detailing alleged acts of sexual abuse by Chilean priests. The report additionally revealed how Catholic officials had destroyed evidence of abuse.
June
Celebrity chef, author and TV travel show host Anthony Bourdain died on June 8. Bourdain's travels included stops in Latin America.
President Trump described the U.S.-North Korea summit on June 12 in Singapore as a huge success. According to reports on the summit, North Korea agreed to begin working toward denuclearization. For North Korea to agree to that term, President Trump reportedly agreed to end joint military exercises with South Korea.
On June 21, first lady Melania Trump toured an immigrant children's shelter. As she boarded her plane at Andrews Air Force Base, she wore an olive-green jacket with a statement on the back: "I Really Don't Care. Do U?" The first lady's communications team insisted there was no hidden meaning behind the statement.
_____________________________________________________________________________________________
Recordando el 2018: de Enero a Junio
El año en noticias principales
Enero
El 9 de enero, deslizamientos comenzaron a golpear partes del sur de California. Los deslizamientos fueron parte de una serie de desastres que golpearon a la región, comenzando a finales de 2017 con incendios forestales seguidos de inundaciones.
El 16 de enero, el gobierno de Trump emitió un informe de 11 páginas que afirmaba tener evidencia de una conexión entre la inmigración y el terrorismo. El informe indicó que la mayoría de las personas condenadas por cargos de terrorismo internacional en los últimos 15 años en los Estados Unidos nacieron en el extranjero. Según The New York Times, el informe resaltó los casos en que los inmigrantes estaban vinculados a conspiraciones de terrorismo después de haber sido admitidos en el país como parte de la lotería de visas de diversidad o por estar relacionados con residentes legales o ciudadanos estadounidenses.
El Congreso terminó un cierre del gobierno el 22 de enero. La resolución de levantar el cierre se debió a un acuerdo alcanzado después que un grupo de senadores bipartidistas presionara a sus líderes para que llegaran a un acuerdo. Los senadores demócratas acordaron apoyar un proyecto de ley para permitir que los gastos a corto plazo financien las operaciones del gobierno federal. El proyecto de ley que el Congreso aprobó para finalizar el cierre incluyó un acuerdo para extender los fondos para el Programa de Seguro de Salud Infantil por seis años.
El dibujante Mort Walker, un nativo de Kansas que pasó una parte de su vida temprana en Kansas City, Missouri, murió el 27 de enero. Walker dibujó varias tiras, incluyendo "Beetle Bailey".
Febrero
El 14 de febrero, varias agencias de noticias informaron que 17 personas murieron en un tiroteo masivo en una escuela secundaria en el área de Miami. El tiroteo fue llevado a cabo por Nikolas Cruz, quien había sido expulsado de la escuela en 2017 y fue arrestado poco después del tiroteo. Como reacción a la tragedia, muchas instalaciones públicas y privadas izaron sus banderas a media asta, incluidas instalaciones en el área de Kansas City.
El 15 de febrero, varios medios de comunicación reportaron que los senadores no podían ponerse de acuerdo para avanzar en un acuerdo de inmigración bipartidista enfocado en ayudar a los estudiantes del programa de Acción Diferida para los Llegados en la Infancia (DACA, por sus siglas en inglés). El acuerdo bipartidista fue patrocinado por siete demócratas, ocho republicanos y un senador independiente. Según The New York Times, el proyecto de ley asignaba $25 millones para seguridad fronteriza, incluida la construcción de un muro en la frontera entre Estados Unidos y México durante un período de 10 años.
El ministro conocido internacionalmente, el reverendo Billy Graham, murió el 21 de febrero. El evangelismo de Graham lo llevó a países como Brasil, México y Argentina.
Marzo
El cofundador y editor de Dos Mundos, Manuel Agustín Reyes, murió en paz el 4 de marzo en presencia de su familia. Sucumbió al cáncer de páncreas después de una corta enfermedad.
El físico teórico y educador conocido mundialmente Stephen Hawking murió el 14 de marzo.
El 21 de marzo, un reinado de terror terminó para millones de tejanos, particularmente los residentes de Austin, la capital estatal. Durante 19 días, un bombardero en serie mató a tres personas y detonó seis explosiones, incluida la explosión que causó su muerte. El sospechoso del atentado se suicidó dentro de su automóvil con un artefacto explosivo cuando un equipo SWAT se acercó, dijo la policía.
El magnate de negocios Charles Lazarus, conocido por lanzar la cadena Toys R Us, murió el 22 de marzo.
Abril
El 6 de abril, se proporcionó una actualización en el proceso de recuperación en Puerto Rico después del Huracán María, la tormenta de 2017 que azotó la isla. Brock Long, administrador de la Agencia Federal para el Manejo de Emergencias de EE.UU., dijo que su agencia estaba trabajando para hacer que las carreteras, casas, puentes y la red eléctrica de la isla sean lo más fuertes posible. Sin embargo, podría tomar hasta $50 mil millones para ayudar a reconstruir Puerto Rico.
La ex primera dama Bárbara Bush murió el 17 de abril. Era la esposa del ex presidente George H.W. Bush.
El 20 de abril, un grupo de 50 inmigrantes de un grupo original de cerca de 1,500 personas llegó a la frontera de Estados Unidos y México para solicitar asilo en los Estados Unidos. Varios medios de comunicación indicaron que la mayoría de las personas en la caravana eran de Honduras.
Mayo
El 8 de mayo, un edificio cerca de la intersección de Armour Road y Swift Street en el norte de Kansas City, Missouri, fue destruido por un incendio que se cree fue causado por un cigarrillo desechado incorrectamente. La Oficina de Alcohol, Tabaco, Armas de Fuego y Explosivos declaró el 9 de mayo que el incendio fue un accidente y que no se realizaría ninguna investigación criminal.
Un evento sin precedentes tuvo lugar el 18 de mayo dentro de la Iglesia Católica: cada obispo en Chile presentó una renuncia por escrito para ser considerado por el papa Francisco. Las renuncias fueron en respuesta a una reunión con el Papa Francisco con obispos chilenos la semana anterior para abordar un informe de 2,300 páginas publicado en marzo que detalla los supuestos actos de abuso sexual por parte de sacerdotes chilenos. El informe también reveló cómo los funcionarios católicos habían destruido las pruebas de los abusos.
Junio
El famoso chef, autor y presentador de programas de televisión Anthony Bourdain murió el 8 de junio. Los viajes de Bourdain incluyeron paradas en América Latina.
El presidente Trump describió la cumbre de Estados Unidos y Corea del Norte del 12 de junio en Singapur como un éxito enorme. Según los reportes de la cumbre, Corea del Norte acordó comenzar a trabajar hacia la desnuclearización. Para que Corea del Norte acepte este término, el presidente Trump habría acordado poner fin a los ejercicios militares conjuntos con Corea del Sur.
El 21 de junio, la primera dama Melania Trump visitó un refugio para niños inmigrantes. Cuando abordaba su avión la Base de la Fuerza Aérea Andrews, vestía una chaqueta verde oliva con una declaración en la parte posterior: "Realmente no me importa. ¿Y a ti?". El equipo de comunicaciones de la primera dama insistió en que no había un significado oculto detrás de la declaración.