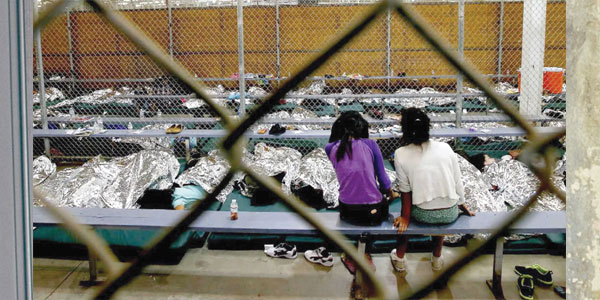 July
Leftist candidate Andres Manuel Lopez Obrador was declared the winner of Mexico's presidential election, held on July 1. According to the results reported by the Instituto Nacional Electoral, Obrador received 53 percent of the vote, followed by Ricardo Anaya with 22.5 percent, Jose Antonio Meade with 16.2 percent and Jaime Rodriguez Calderon with 5.2 percent.
Latino photojournalist Alan Diaz died on July 3. Diaz's work included covering the story of Elian Gonzalez, a Cuban boy who was found adrift at sea and brought to Florida before being seized by immigration authorities and taken back to his homeland.
On July 26, Augustina Ramirez-Arreola, a 62-year-old Mexican national, became the ninth person to die in U.S. Immigrations and Customs Enforcement custody during the fiscal year. At the time a press release was issued about her passing, the presumed cause of death was complications from surgery.
August
A grand jury report in Pennsylvania released on Aug. 14 revealed that bishops and other Catholic Church leaders in Pennsylvania had covered up child sexual abuse by more than 300 priests over 70 years. The report covered six of the eight Catholic dioceses in the state and found more than 1,000 identifiable victims. It also said there were likely thousands more victims who were too afraid to come forward or whose records were lost.
Internationally revered singer Aretha Franklin died on Aug. 16. Those who mourned her death included Latin singers Ricky Martin and Gloria Estefan.
U.S. Sen. John McCain died on Aug. 25. McCain also was known for having served as a combat pilot during the Vietnam War. He was held as a prisoner of war for more than five years in Vietnam. In addition, McCain was a presidential candidate twice.
September
Arthur Mitchell, a pioneering African American ballet dancer and choreographer who also was known for his role in launching the Dancing Through Barriers program for youngsters in urban core areas, died on Sept. 19.
On Sept. 26, the U.S. Immigration and Customs Enforcement (ICE) and multiple news outlets reported the arrest of 98 people in North Texas and Oklahoma during a 10-day operation to pursue undocumented criminal immigrants. According to a press release from ICE, those arrested were between 19 and 62 years old, and were citizens from such countries as Mexico, El Salvador, Honduras, the Marshall Islands, Pakistan and Peru. The people who were detained had criminal records. Their offenses included assault, burglary, domestic violence, drug trafficking, hit-and-run accidents, homicide, larceny and lascivious acts with a minor.
October
Juan Romero died on Oct. 1. A Mexican immigrant who was working at the Ambassador Hotel in 1968, Romero was known for holding presidential candidate Robert Kennedy as Kennedy died. His efforts to comfort the assassinated political leader were captured via still photography.
A mass shooting took place on Oct. 27 at a synagogue in Pittsburgh, leaving 11 dead and seven wounded. The shooter, who was apprehended, faces federal criminal charges.
November
America's midterm elections took place on Nov. 6. Winners included Democrat Laura Kelly, who defeated Republican candidate Kris Kobach in the Kansas governor's race; and Kansas Democrat Sharice Davids, who defeated Republican incumbent Kevin Yoder for a seat in the U.S. House of Representatives. Other winners included Missouri Republican Josh Hawley, who defeated incumbent Claire McCaskill for a U.S. Senate seat.
Stan Lee, the man behind such comic book heroes as The Avengers, X-Men and Spiderman, died on Nov. 12 at age 95. Lee was sick and was taken from his house in Los Angeles to Mount Sinai hospital, where he died.
On Nov. 13, the trial for Mexican drug lord Joaquin "El Chapo" Guzman Loera started in Brooklyn, New York. The U.S. government charged "El Chapo" with murder in Mexico, smuggling drugs into the United States and money laundering. Defense attorney Jeffrey Lichtman claimed "El Chapo" was the victim of a conspiracy and that Ismael Zambada Garcia, the drug lord's partner, was running the Sinaloa cartel associated with "El Chapo."
Starting in October, a migrant caravan marched from Honduras and Guatemala toward the United States to seek asylum, drawing international media attention. At one point, the caravan was as large as 7,000 people, according to The New York Times. On Nov. 23, caravan travelers reached the Mexican border city of Tijuana. On Nov. 25, fighting reportedly broke out between caravan travelers and Border Patrol agents, prompting President Trump to tweet on Nov. 26 that he would close America's border with Mexico if necessary.
The United States-Mexico-Canada Agreement was signed on Nov. 30 to replace the North American Free Trade Agreement.
Former U.S. President George H.W. Bush died on Nov. 30.
December
On Dec. 1, Andres Manuel Lopez Obrador (a.k.a., "AMLO") was sworn in as Mexico's president at the Palacio Legislativo San Lazaro in Mexico City. Many leaders from around the globe attended. The U.S. government sent Ivanka Trump, the daughter of President Donald Trump; and Vice President Mike Pence.
Dozens more Catholic priests who served in Southern California were accused of sexually abusing children, according to two reports issued on Dec. 6, as multiple news outlets reported. For the first time in a decade, the Archdiocese of Los Angeles, which covers Los Angeles, Ventura and Santa Barbara counties, updated its list of clergy members accused of molesting children.
The names of six Catholic priests and brothers with connections to Rockhurst High School and Rockhurst University in Kansas City, Missouri, appeared on a list of Jesuits with "credible accusations" of sexually abusing minors. On Dec. 7, a list issued by the Jesuits' U.S. Central and Southern Province included allegations against 42 former and current members of the province. It was compiled and released after an internal review of personnel files.
A 7-year-old girl from Guatemala died on Dec. 8 after being taken into Border Patrol custody. Jakelin Caal and her father, Nery Gilberto Caal, were taken into custody near Lordsburg, New Mexico, as part of a group of 163 people who approached U.S. agents to turn themselves in after illegally crossing the border. According to government records, the child began having seizures more than eight hours after being taken into custody, at around 6:25 a.m. She "reportedly had not eaten or consumed water for several days," the U.S. Customs and Border Protection statement read. She was transported to a hospital in El Paso, Texas, where she ultimately died.
A partial federal government shutdown began on Dec. 21. At press time, media reports were projecting the shutdown to stretch into January 2019.
_____________________________________________________________________________________________
Recordando el 2018: de Julio – Diciembre
El año en noticias principales
Julio
El candidato izquierdista Andrés Manuel López Obrador fue declarado el ganador de las elecciones presidenciales de México, llevada a cabo el 1 de julio. Según los resultados reportados por el Instituto Nacional Electoral, Obrador recibió el 53 por ciento de los votos, seguido de Ricardo Anaya con el 22.5 por ciento, José Antonio Meade con 16.2 por ciento y Jaime Rodríguez Calderón con 5.2 por ciento.
El fotoperiodista latino Alan Díaz murió el 3 de julio. El trabajo de Díaz incluyó cubrir la historia de Elián González, un niño cubano que fue encontrado a la deriva y en el mar y llevado a Florida antes de ser capturado por las autoridades de inmigración y devuelto a su tierra natal.
El 26 de julio, Augustina Ramírez-Arreola, una mexicana de 62 años, se convirtió en la novena persona en morir bajo custodia de la Oficina de Inmigración y Control de Aduanas de EE.UU. (ICE, por sus siglas en inglés) durante el año fiscal. En el momento en que se emitió un comunicado de prensa sobre su fallecimiento, la presunta causa de la muerte fue una complicación de la cirugía.
Agosto
Un informe del gran jurado en Pennsylvania publicado el 14 de agosto reveló que obispos y otros líderes de la Iglesia Católica en Pennsylvania habían encubierto el abuso sexual por parte de más de 300 sacerdotes durante 70 años. El informe abarcó seis de las ocho diócesis católicas en el estado y encontró más de mil víctimas identificables. También dijo que probablemente había miles de víctimas más que tenían demasiado miedo a denunciar o cuyos registros se habían perdido.
La cantante venerada internacionalmente Aretha Franklin murió el 16 de agosto. Entre quienes lloraron su muerte se encontraban los cantantes latinos Ricky Martin y Gloria Estefan.
El senador John McCain murió el 25 de agosto. McCain también era conocido por haber servido como piloto de combate durante la Guerra de Vietnam. Fue retenido como prisionero de guerra por más de cinco años en Vietnam. Además, McCain fue candidato a la presidencia dos veces.
Septiembre
Arthur Mitchell, un pionero bailarín y coreógrafo afroamericano que también fue conocido por su papel en el lanzamiento del programa Dancing Through Barriers para jóvenes en áreas urbanas, murió el 19 de septiembre.
El 26 de septiembre, la Oficina de Inmigración y Control de Aduanas de EE.UU. (ICE, por sus siglas en inglés) y varios medios de comunicación informaron del arresto de 98 personas en el norte de Texas y Oklahoma durante una operación de 10 días para perseguir a inmigrantes indocumentados. Según un comunicado de prensa de ICE, los arrestados tenían entre 19 y 62 años y eran ciudadanos de países como México, El Salvador, Honduras, las Islas Marshall, Pakistán y Perú. Las personas detenidas tenían antecedentes penales. Sus delitos incluían asalto, robo, violencia doméstica, tráfico de drogas, accidentes de fuga, homicidios, robos y actos lascivos con un menor de edad.
Octubre
Juan Romero murió el 1 de octubre. Un inmigrante mexicano que estaba trabajando en el Hotel Ambassador en 1968, Romero fue conocido por sostener al candidato presidencial Robert Kennedy mientras Kennedy moría. Sus esfuerzos por consolar al asesinado líder político fueron capturados a través de fotografías.
Un tiroteo masivo tuvo lugar el 27 de octubre en una sinagoga en Pittsburgh, dejando 11 muertos y siete heridos. El culpable, quien fue detenido, enfrenta cargos penales federales.
Noviembre
Las elecciones de medio término de Estados Unidos fueron el 6 de noviembre. Los ganadores incluyeron a la demócrata Laura Kelly, quien derrotó al candidato republicano Kris Kobach en la carrera por gobernador de Kansas; y la demócrata de Kansas Sharice Davids, quien derrotó al republicano titular Kevin Yoder por un puesto en la Cámara de Representantes. Otros ganadores incluyeron el republicano de Missouri Josh Hawley, quien derrotó a la titular Claire McCaskill por un puesto en el Senado.
Stan Lee, el hombre detrás de los héroes de comics como Los Vengadores, X-Men y El Hombre Araña, murió el 12 de noviembre a los 95 años. Lee estaba enfermo y fue llevado de su casa en Los Ángeles al Hospital Monte Sinaí, donde murió.
El 13 de noviembre, el juicio para el narcotraficante mexicano Joaquín "El Chapo" Guzmán Loera comenzó en Brooklyn, Nueva York. El gobierno de Estados Unidos acusó a "El Chapo" de asesinato en México, contrabando de drogas a los Estados Unidos y lavado de dinero. El abogado defensor Jeffrey Lichtman afirmó que "El Chapo" fue víctima de una conspiración y que Ismael Zambada García, socio del narcotraficante, dirigía el cartel de Sinaloa asociado con "El Chapo".
A partir de octubre, una caravana de inmigrantes marchó desde Honduras y Guatemala hacia los Estados Unidos para buscar asilo, atrayendo la atención de los medios internacionales. En un momento dado, la caravana era tan grande como 7,000 personas, según The New York Times. El 23 de noviembre, los viajeros de las caravanas llegaron a la ciudad fronteriza mexicana de Tijuana. El 25 de noviembre, enfrentamientos estallaron entre los viajeros y agentes de la Patrulla Fronteriza, lo que llevó al presidente Trump a tuitear el 26 de noviembre que cerraría la frontera de Estados Unidos con México si fuera necesario.
El Tratado de Estados Unidos-México-Canadá fue firmado el 30 de noviembre para reemplazar el Tratado de Libre Comercio de América del Norte.
El ex presidente de EE.UU. George H.W. Bush murió el 30 de noviembre.
Diciembre
El 1 de diciembre, Andrés Manuel López Obrador (conocido como "AMLO") prestó juramento como presidente de México en el Palacio Legislativo San Lázaro en la Ciudad de México. Muchos líderes de todo el mundo asistieron. El gobierno estadounidense envió a Ivanka Trump, la hija del Presidente Donald Trump, y al vicepresidente Mike Pence.
Docenas más de sacerdotes católicos que sirvieron en el sur de California fueron acusados de abusar sexualmente de niños, según dos informes emitidos el 6 de diciembre, como lo reportaron varios medios de comunicación. Por primera vez en una década, la Arquidiócesis de Los Ángeles, que cubre los condados de Los Ángeles, Ventura y Santa Bárbara, actualizó su lista de miembros del clero acusados de abusar de niños.
Los nombres de seis sacerdotes católicos y hermanos con conexiones a Rockhurst High School y Rockhurst University en Kansas City, Missouri, aparecieron en una lista de jesuitas con "acusaciones creíbles" de abusar sexualmente a menores. El 7 de diciembre, una lista emitida por la Provincia de Jesuitas en los estados centrales y del sur incluía denuncias contra 42 miembros antiguos y actuales de la provincia. Fue compilado y publicado después de una revisión interna de los archivos de personal.
Una niña de 7 años de Guatemala murió el 8 de diciembre después de ser puesta bajo custodia de la Patrulla Fronteriza. Jakelin Caal y su padre, Nery Gilberto Caal, fueron detenidos cerca de Lordsburg, Nuevo México, como parte de un grupo de 163 personas que se acercaron a agentes de los Estados Unidos para entregarse después de cruzar ilegalmente la frontera. De acuerdo con los registros del gobierno, la niña comenzó a sufrir convulsiones más de ocho horas después de ser detenida, alrededor de las 6:25 a.m. Ella "al parecer no había comido ni consumido agua durante varios días", se lee en el comunicado de Aduanas y Protección Fronteriza de los Estados Unidos. Fue trasladada a un hospital en El Paso, Texas, donde finalmente murió.
El 21 de diciembre comenzó un cierre parcial del gobierno federal. Al momento de la publicación, informes de los medios de comunicación proyectaban que el cierre se prolongaría hasta enero de 2019.