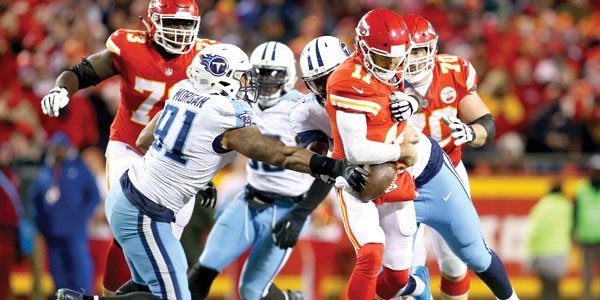 January
The Kansas City Chiefs' season ended with a 22-21 loss to Tennessee on Jan. 6 in the AFC playoffs at Arrowhead Stadium.
In a game that started on Jan. 8 and ended in the early hours of Jan. 9 (Eastern Time), the University of Alabama defeated the University of Georgia 26-23 in overtime at Mercedes-Benz Stadium in the College Football Playoff National Championship game. It gave the Crimson Tide its fifth national title in nine seasons.
On Jan. 12, legendary American sportscaster Keith Jackson died.
Basketball Hall of Famer Jo Jo White – a native Missourian who was a standout player at the University of Kansas before going on to become a gold medal-winning Olympian and standout NBA point guard – died on Jan. 16.
February
Philadelphia defeated New England 41-33 on Feb. 4 at U.S. Bank Stadium to win Super Bowl LII, giving the Eagles their first NFL championship in almost 60 years. The Eagles' personnel included quarterback Nick Foles and head coach Doug Pederson, both of whom had spent stints with the Chiefs.
From Feb. 9 to 25, South Korea hosted the Winter Olympics. The United States finished fourth in the overall medal count. Medalists included Latino skier Alex Ferreira.
March
Sporting Kansas City lost its MLS regular-season and home opener to New York City FC 2-0 on March 4 at Children's Mercy Park.
In indoor soccer news, the Kansas City Comets' 2017-18 season ended with a 10-6 March 4 home win over the Florida Tropics. The Comets (7-15) finished third in the MASL Central Division and failed to make the Ron Newman Cup playoffs.
The Big 12 Conference postseason men's basketball tournament took place March 7-10 in the Sprint Center in Kansas City, Missouri. The University of Kansas (KU) won the tournament, capping the championship run with an 81-70 win over West Virginia University.
Graceland University of Lamoni, Iowa, defeated LSU Alexandria 83-80 in overtime on March 20 in Kansas City, Missouri's Municipal Auditorium to win the NAIA Division I men's national basketball tournament.
On March 23 and 25, the Sprint Center hosted games in the NCAA Division I national women's basketball tournament. Mississippi State University punched its ticket to its second straight women's Final Four on March 25 with an 89-73 win over UCLA.
The Kansas City Royals opened the season by losing to the Chicago White Sox 14-7 on March 29 at Kauffman Stadium.
KU's men's basketball season ended with a 95-79 loss to Villanova University on March 31 in the Final Four of the NCAA Division I national tournament in San Antonio.
April
On April 1, the University of Notre Dame edged Mississippi State 61-58 in Columbus, Ohio, for its second NCAA Division I national women's basketball title and first since 2001.
Villanova cruised past the University of Michigan 79-62 on April 2 in San Antonio for the NCAA Division I men's basketball title. It was the Wildcats' second national title in three seasons and third overall.
In golf, American Patrick Reed won the Masters Tournament, which concluded on April 8 in Augusta, Georgia. The field included Spaniard Jon Rahm, who finished fourth.
May
In horse racing news, Justify won the Kentucky Derby on May 5 at Churchill Downs.
On May 7, Sporting Kansas City announced the signing of Peter Vermes to a five-year contract extension as manager and technical director.
NASCAR staged races May 11-12 at Kansas Speedway. On May 11, Noah Gragson won the 37 Kind Days 250, a Camping World Truck Series Race. Kevin Harvick won the KC Masterpiece 400, a Monster Energy Cup Series race, on May 12.
On May 19, Justify won the Preakness Stakes at Pimlico Race Course.
The Kansas City T-Bones opened their regular season with an 8-2 May 18 road loss to the Wichita Wingnuts.
In Mexican soccer news, Santos Laguna defeated Toluca 3-2 on aggregate goals for the Clausura 2018 Liga MX title. Santos Laguna won the first game of the two-stage final on May 17 at Estadio Corona. The second leg, held on May 20 at Estadio Nemesio Diez, ended 1-1.
The T-Bones won their home opener, defeating the Gary SouthShore RailCats 6-2 on May 22 at CommunityAmerica Ballpark in Kansas City, Kansas.
June
Tennis pioneer and native Brazilian Maria Bueno, a champion player during the 1950s and '60s, died on June 8.
In hockey news, the Washington Capitals won their first NHL Stanley Cup title by defeating the Las Vegas Golden Knights in the Stanley Cup Finals. Washington capped the best-of-seven series on June 7 with a 4-3 Game 5 win in overtime at T-Mobile Arena.
The Golden State Warriors won their third NBA title in four seasons by sweeping the Cleveland Cavaliers, whose roster included Spaniard Jose Calderon, in the NBA Finals. Golden State capped the best-of-seven series on June 8 with a 108-85 win at Quicken Loans Arena.
Following up victories in May at the Kentucky Derby and the Preakness Stakes, Justify won the Belmont Stakes on June 9 at Belmont Park to become horseracing's latest Triple Crown winner.
July
France defeated Croatia 4-2 on July 15 in Moscow for the World Cup in men's soccer.
Sporting Kansas City's quest for a second straight U.S. Open Cup title ended with a 4-2 July 18 road loss to the Houston Dynamo in the quarterfinals.
On July 26, Children's Mercy Park was the host venue for two games in the Tournament of Nations, a four-team round-robin women's soccer tournament. Australia defeated Brazil, and the U.S. national team defeated Japan 4-2.
British cyclist Geraint Thomas won the Tour de France title. The 21-stage race concluded on July 29 in Paris, with Norwegian Alexander Kristoff winning the final stage. Top 10 finishers in the general classification standings included Spaniard Mikel Landa, who placed seventh; and Colombian Nairo Quintana, who placed 10th.
August
The Chiefs opened the preseason with a 17-10 loss to Houston on Aug. 9 at Arrowhead. They finished the preseason 2-2, capping their preseason schedule by defeating Green Bay 33-21 on Aug. 30 at Arrowhead.
September
The Chiefs opened the NFL regular season on Sept. 9 by withstanding a fourth-quarter surge by the Los Angeles Chargers for a 38-28 win at the StubHub Center.
The T-Bones won their first American Association of Independent Professional Baseball title by defeating the St. Paul Saints in the league championship series 3-1, capping the series with a 5-3 win on Sept. 15 at CommunityAmerica Ballpark.
Golfer Celia Barquin Arozamena, a national champion in her native Spain and this year's European Ladies Amateur Championship titlist, died on Sept. 17 in Ames, Iowa, where she was attending Iowa State University. Her death was ruled a homicide.
On Sept. 23, the Chiefs withstood a second-half surge by the San Francisco 49ers for a 38-27 win at Arrowhead in their home opener.
In men's soccer, Houston defeated the Philadelphia Union 3-0 on Sept. 26 at BBVA Compass Stadium to win the U.S. Open Cup.
The Royals' season ended on Sept. 30 with a 2-1 loss to Cleveland at Kauffman Stadium. They finished 58-104 – their second straight losing season and their first 100-loss season since 2006.
October
There were three races the weekend of Oct. 19-21 at Kansas Speedway. Sheldon won the Kansas ARCA 150 on Oct. 19. John Hunter Nemechek won the Kansas Lottery 300, a 300-mile, 200-lap NASCAR XFINITY Series race, on Oct. 20. Chase Elliott won the Hollywood Casino 400 on Oct. 21. Drivers in the Hollywood Casino 400 included Latino Aric Almirola, who advanced to the Round of 8 in the Monster Energy Cup Series playoffs.
Sporting Kansas City finished regular-season play by defeating Los Angeles FC 2-1 on Oct. 28 at Children's Mercy Park.
In baseball news, the Boston Red Sox won their ninth World Series title and their first since 2013. They capped their championship run on Oct. 28 by defeating the Los Angeles Dodgers 5-1 at Dodger Stadium to win the best-of-seven game series 4-1. Their manager was Alex Cora, a native Puerto Rican.
Baseball Fall of Famer Willie McCovey died on Oct. 31.
November
NASCAR driver Joey Logano won the Monster Energy Cup championship by winning the Ford EcoBoost 400 on Nov. 18 at Homestead-Miami Speedway.
On Nov. 19 and 20, the Sprint Center hosted championship round games of the Hall of Fame Classic. Texas Tech University defeated the University of Nebraska 70-52 for the title.
Sporting Kansas City's season ended in the Western Conference final of the MLS Cup playoffs. Sporting played Portland to a 0-0 result on Nov. 25 at Providence Park in the first leg of the two-leg series. Sporting then lost the second leg 3-2 on Nov. 29 at Children's Mercy Park.
December
Park University of Parkville, Missouri, won the NAIA national women's volleyball title on Dec. 1 in Sioux City, Iowa. That day, Central Methodist University of Fayette, Missouri, won the NAIA national men's soccer title in Irvine, California.
In indoor soccer news, the Kansas City Comets opened their 2018-19 season with a 10-6 Dec. 1 road loss to the Milwaukee Wave.
Baseball players Jose Castillo and Luis Valbuena, who had both played in the United States in the major leagues, died on Dec. 6 in their native Venezuela following a motor vehicle accident.
In men's basketball news, KU edged New Mexico State University 63-60 on Dec. 8 at the Sprint Center.
Atlanta United capped its second season by defeating Portland 2-0 on Dec. 8 at Mercedes-Benz Stadium to win the MLS Cup. The announced attendance was 73,019 – an MLS record for a final.
K-State defeated Vanderbilt University 69-58 on Dec. 22 in men's basketball at the Sprint Center.
As press time, the Chiefs had qualified for the AFC playoffs. Following their 38-31 loss to Seattle Sunday night (Dec. 23) at CenturyLink Field, however, their seeding was pending the final week of the regular season. They will finish the regular season – and close 2017 – this Sunday (Dec. 30) against Oakland at Arrowhead.