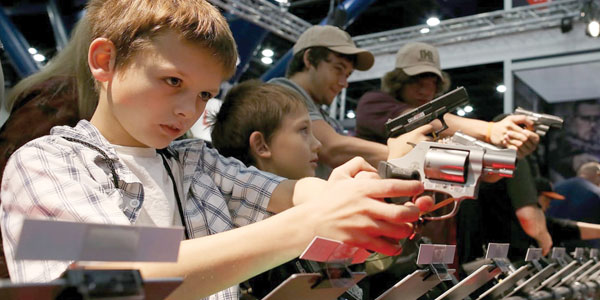 By Chara
Gun-related related deaths in America continue to increase, according to data published recently by the U.S. Centers for Disease Control and Prevention (CDC).
In 2017, 39,773 people died because of a gun, the CDC reported – 10,000 more deaths than in 1999. The CDC also reported that 2017 had the highest rates of gun-related deaths in almost four decades.
In addition, the data showed that more than a third of the nearly 40,000 deaths were homicides. More than half were suicides. Almost 500 deaths were unintentional.
Former presidential candidate Hillary Clinton responded to the data by tweeting: "There's new CDC data out about gun deaths in America. Last year saw the most gun deaths in 40 years, nearly 40,000 people. What is wrong with us? This is not a problem we should have at all, let alone one that's getting worse."
Adelyn Allchin, director of public health research at the Educational Fund to Stop Gun Violence, also shared her concerns about the data.
"We must immediately enact and implement evidence-based interventions – like permit-to-purchase policies and extreme risk laws," Allchin said in a statement.
The National Rifle Association shared its position on the data, too, stating that gun control laws are not the answer.
"If we want to prevent more horrific acts of violence, our leaders need to stop demonizing the men and women of the @NRA and find solutions that will save lives," the organization tweeted.
The data was released after the six anniversary of the Sandy Hook Elementary mass shooting in Connecticut. The shooting resulted in 26 deaths, both adults and children. Those who died included the shooter, who committed suicide.
_____________________________________________________________________________________________
Muertes por armas de fuego alcanzan récord alto
Las muertes relacionadas con armas de fuego continúan aumentando, según datos publicados recientemente por los Centros para la Prevención y el Control de Enfermedades de Estados Unidos (CDC, por sus siglas en inglés).
En 2017, 39,773 personas murieron a causa de un arma de fuego, informó el CDC, 10,000 más muertes que en 1999. El CDC también reportó que 2017 tuvo los índices más alto de muertes por armas de fuego en casi cuatro décadas.
Además, los datos muestran que más de un tercio de las casi 40,000 muertes fueron homicidios. Más de la mitad fueron suicidios. Casi 500 muertes fueron involuntarias.
La ex candidata a la presidencia, Hillary Clinton, respondió a los datos tuiteando: "Hay nueva información del CDC sobre las muertes por armas de fuego en Estados Unidos. El año pasado se registraron la mayor cantidad de muertes por armas de fuego en 40 años, casi 40,000 personas. ¿Qué está mal con nosotros? Este no es un problema que deberíamos tener, y mucho menos uno que esté empeorando".
Adelyn Allchin, directora de investigación de salud pública en el Fondo Educativo para Detener la Violencia con Armas, también compartió sus preocupaciones sobre la información.
"Debemos promulgar e implementar de inmediato intervenciones basadas en la evidencia, como políticas de permiso de compra y leyes de riesgo extremo", Allchin dijo en un comunicado.
La Asociación Nacional de Rifle compartió su posición sobre los datos, indicando que las leyes de control de armas no son la respuesta.
"Si queremos prevenir más actos de violencia más horrorosos, nuestros líderes necesitan parar de demonizar a los hombres y mujeres de la @NRA y encontrar soluciones que salvarán vidas", la organización tuiteó.
Los datos fueron publicados después del sexto aniversario del tiroteo masivo de la Escuela Primaria Sandy Hook en Connecticut. El tiroteo resultó en 26 muertes, tanto adultos como niños. Los que murieron incluyen al que disparó, que se suicidó.