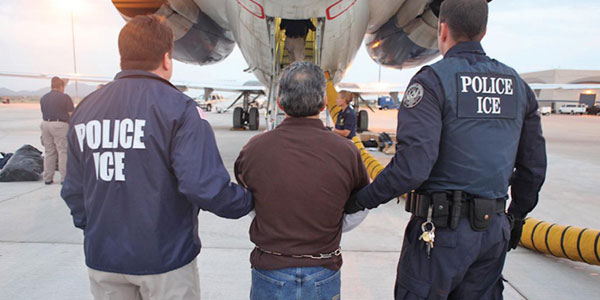 By chara
The number of deportations and arrests of undocumented immigrants increased during the last fiscal year, according to data released recently by the U.S. government.
Provided by Immigration and Customs Enforcement (ICE), the data stated that around 256,000 people were deported from the United States in 2018. Ronald D. Vitiello, ICE deputy director, said the number of deportees increased by 13 percent from 2017.
According to the report, of 158,581 people who were arrested, 90 percent had criminal convictions. Sixty six percent of people who were arrested had pending criminal charges.
Moreover, 5,872 people were gang members, and 42 were believed to have been terrorists.
"We've continued to achieve gains in all meaningful enforcement measurements. With the continued surge and without congressional action to fund the agency at adequate levels, ICE may be forced to make difficult choices that could hamper our ability to fulfill our public safety or national security mission," Vitiello was quoted by The Washington Post and other media outlets as saying.
The arrest and deportation statistics, however, are still lower than they were during the record year of 2012. That fiscal year, 419,384 people were deported, according to the Pew Research Center. ICE reported 409,849 people were reported that year.
_____________________________________________________________________________________________
ICE reporta aumentos en arrestos y deportaciones en el año fiscal 2018
El número de deportaciones y arrestos de inmigrantes indocumentados aumentó durante el último año fiscal, según datos publicados recientemente por el gobierno estadounidense.
Proporcionado por la Oficina de Inmigración y Control de Aduanas (ICE, por sus siglas en inglés), los datos indicaron que alrededor de 256,000 personas fueron deportadas de los Estados Unidos en 2018. Ronald D. Vitiello, subdirector de ICE, dijo que el número de deportados aumentó en un 13 por ciento desde 2017.
Según el informe, de 158,581 personas que fueron arrestadas, el 90 por ciento tenía condenas penales. El 66 por ciento de las personas arrestadas tenían cargos penales pendientes.
Además, 5,872 personas eran pandilleros, y se creía que 42 eran terroristas.
"Hemos continuado logrando ganancias en todas las medidas de cumplimiento significativas. Con el aumento continuo y sin acción del Congreso para financiar a la agencia a niveles adecuados, ICE puede verse forzada a tomar decisiones difíciles que podrían obstaculizar nuestra capacidad de cumplir con nuestra misión de seguridad pública o seguridad nacional", citó a Vitiello el Washington Post y otros medios de comunicación como diciendo.
Las estadísticas de arresto y deportación, sin embargo, aún son más bajas de lo que eran durante el año récord de 2012. Ese año fiscal, 419,384 personas fueron deportadas, según el Pew Research Center. ICE informó que 409,849 personas fueron deportadas ese año.