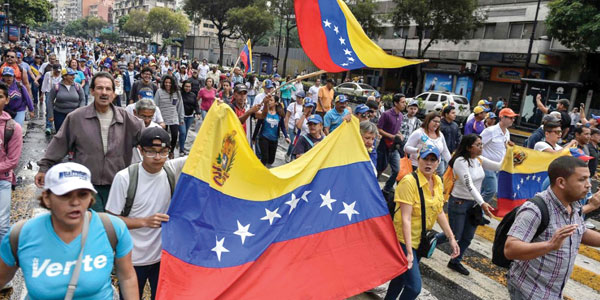 By Angie Baldelomar
Venezuelan President Nicolas Maduro gave U.S. diplomats 72 hours to leave Venezuela, after the Trump administration called him a "usurper" and recognized opposition leader Juan Guaidó as the nation's interim president on Wednesday (Jan. 23).
Earlier on Wednesday, Guaido, the National Assembly president, swore himself in as Venezuela's legitimate president, cheered on by tens of thousands of supporters in Caracas.
The move came amid anti-Maduro protests that drew hundreds of thousands of people into the streets of Venezuela.
Before Guaido's announcement, he had been recognized by Brazil and the head of the Organization of American States as Venezuela's rightful leader. He has promised to be interim president and call for elections. The United States and dozen other nations have recognized Guaido's as Venezuela's rightful president.
Maduro was sworn in for his second term less than two weeks ago after elections that were internationally condemned as a fraudulent power grab.
Felix Seijas, a Caracas-based political analyst, told The Washington Post that the outcome on Wednesday would show whether the opposition was able to "generate enough pressure" to escalate its bid to unseat Maduro.
__________________________________________________________________________________________
Maduro rompe relaciones con los Estados Unidos
El presidente de Venezuela Nicolás Maduro le ha dado 72 horas a los diplomáticos estadounidenses para dejar Venezuela, después de que la administración de Trump lo llamara un "usurpador" y reconociera al líder de la oposición, Juan Guaidó, como el Presidente interino de la nación el miércoles (23 de enero).
Más temprano el miércoles, Guaidó, el Presidente de la Asamblea Nacional, se juró como el presidente legítimo de Venezuela, animado por decenas de miles de simpatizantes en Caracas.
La medida se produjo en medio de protestas contra Maduro que atrajeron a cientos de miles de personas a las calles de Venezuela.
Antes del anuncio de Guaidó, ya había sido reconocido por Brasil y el jefe de la Organización de Estados Americanos como el líder legítimo de Venezuela. Prometió ser Presidente interino y convocar elecciones. Los Estados Unidos y una docena de otras naciones han reconocido a Guaidó como el legítimo Presidente de Venezuela.
Maduro asumió su segundo mandato hace menos de dos semanas después de elecciones que fueron condenadas internacionalmente como una apropiación fraudulenta de poder.
Félix Seijas, un analista político con sede en Caracas, dijo a The Washington Post que el resultado del miércoles mostraría si la oposición es capaz de "generar suficiente presión" para escalar su intento de destituir a Maduro.