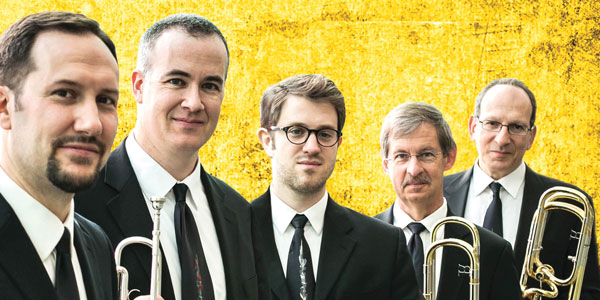 The Carlsen Center at Johnson County Community College presents Seraphic Fire vocal ensemble, conducted by Artistic Director Patrick Dupré Quigley, with the American Brass Quintet, on Friday, Feb. 22 at 8:00 p.m. in Yardley Hall. 'A Spanish Pilgrimage' presents a musical journey across Camino de Santiago to works by Renaissance composers Tomás Luis de Victoria, Antonio de Cabezón and Sebastián de Vivanco.
"This program is innovative, though, at the same time, it pays homage to Spanish composers of the 16th Century," said Emily Behrmann, general manager of Carlsen Center Presents. "These two ensembles come together to prove that chamber music is indeed thriving and growing in the world of classical music."
Seraphic Fire, Florida's GRAMMY nominated vocal ensemble, brings together professional vocal and instrumental artists from around the country to perform repertoire ranging from Medieval chant and Baroque masterpieces, to Brahms and commissions by leading living composers.
The American Brass Quintet is internationally recognized as one of the premier chamber music ensembles of our time, celebrated for peerless leadership in the brass world. As 2013 recipient of Chamber Music America's highest honor, the Richard J. Bogomolny National Service Award for significant and lasting contributions to the field, ABQ's rich history includes performances in Asia, Australia, Central and South America, Europe, the Middle East and all fifty of the United States; a discography of nearly sixty recordings; and the premieres of over one hundred fifty contemporary brass works.
For more information and to purchase tickets, go to www.jccc.edu/CarlsenCenter or phone 913-469-4445.
---
Conjunto vocal Seraphic Fire con el Quinteto American Brass se presentará en el Carlsen Center
El Carlsen Center en Johnson County Community College presenta el conjunto vocal Seraphic Fire, dirigido por el director artístico Patrick Dupré Quigley, con el Quinteto American Brass, el viernes 22 de febrero a las 8:00 p.m. en Yardley Hall. 'Una peregrinación española' presenta un viaje musical desde el Camino de Santiago hasta obras de los compositores del Renacimiento Tomás Luis de Victoria, Antonio de Cabezón y Sebastián de Vivanco.
"Este programa es innovador, aunque al mismo tiempo rinde homenaje a los compositores españoles del siglo XVI", dijo Emily Behrmann, gerente general de Carlsen Center Presents. "Estos dos conjuntos se unen para demostrar que la música de cámara está prosperando y creciendo en el mundo de la música clásica".
Seraphic Fire, el ensamble vocal nominado al GRAMMY de la Florida, reúne a artistas vocales e instrumentales profesionales de todo el país para interpretar un repertorio que va desde el canto medieval y las obras maestras barrocas hasta Brahms y las comisiones de los principales compositores vivos.
El Quinteto American Brass es reconocido internacionalmente como uno de los principales conjuntos de música de cámara de nuestro tiempo, celebrado por un liderazgo sin par en el mundo del latón. Galardonado con el mayor honor de Chamber Music America en 2013, el Richard J. Bogomolny National Service Award, por sus importantes y duraderas contribuciones al campo, la rica historia del quinteto incluye actuaciones en Asia, Australia, América Central y del Sur, Europa, Medio Oriente y los cincuenta estados de los Estados Unidos; una discografía de casi sesenta grabaciones; y los estrenos de más de ciento cincuenta obras contemporáneas de latón.
Para obtener más información y para comprar boletos, visite www.jccc.edu/CarlsenCenter o llame al 913-469-4445.