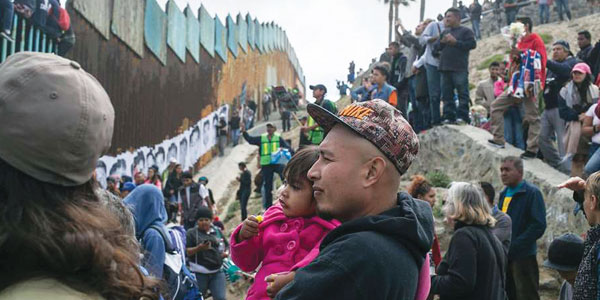 By Eulogio JP
A crisis at the U.S.-Mexico border has nothing to do with "violent" immigrants.
It has to do with a lack of U.S. border office resources.
The Customs and Border Protection office in Eagle Pass, Texas, claimed in early February that it could process fewer than 20 migrants a day, multiple news agencies reported. As a result, hundreds of migrants might have to wait in northern Mexico for months before their cases can be handled by the United States.
Over the past few weeks, more than 1,800 migrants have arrived in Piedras Negras, Mexico, just across the Rio Grande from Eagle Pass. If everything in the Customs and Border Protection office remains unchanged, it will take more than 100 days to process their asylum cases, provided no new migrants arrive.
According to U.S. officials, there are no plans to beef up the number of officers available.
The first step toward seeking asylum is a credible-fear interview, in which the asylum-seeker tries to establish reasons to fear returning home. The process can take from two to five hours to conduct.
With more than 1,000 individuals waiting, immigration advocates are concerned about the migrants' well-being, given they are forced to wait in Piedras Negras, a small town with little capacity to care for large numbers of newcomers. Immigration activists have called for the Trump administration to deploy more resources, including asylum officers, to the border to help process more immigrants per day.
Almost all the asylum-seekers are from Guatemala, Honduras or El Salvador.
____________________________________________________________________________
Menos de 20 casos de asilo procesados ​​al día en la oficina de la frontera
La crisis en la frontera entre Estados Unidos y México no tiene nada que ver con inmigrantes "violentos".
Tiene que ver con la falta de recursos de la oficina fronteriza de los Estados Unidos.
La oficina de Aduanas y Protección Fronteriza en Eagle Pass, Texas, afirmó a principios de febrero que podía procesar a menos de 20 migrantes por día, informaron varias agencias de noticias. Como resultado, cientos de migrantes podrían tener que esperar en el norte de México durante meses antes de que Estados Unidos pueda manejar sus casos.
En las últimas semanas, más de 1,800 inmigrantes han llegado a Piedras Negras, México, justo al otro lado del Río Bravo de Eagle Pass. Si la situación en la oficina de Aduanas y Protección Fronteriza permanece sin cambios, demorará más de 100 días procesar sus casos de asilo, siempre y en cuanto no lleguen nuevos migrantes.
Según los funcionarios de EE. UU., no hay planes para aumentar la cantidad de oficiales disponibles.
El primer paso hacia la búsqueda de asilo es una entrevista de temor creíble, en la cual el solicitante de asilo trata de establecer razones para temer regresar a su hogar. El proceso puede tardar de dos a cinco horas en realizarse.
Con más de 1.000 personas esperando, los defensores de la inmigración están preocupados por el bienestar de los migrantes, ya que se ven obligados a esperar en Piedras Negras, una pequeña ciudad con poca capacidad para atender a un gran número de recién llegados. Los activistas de inmigración han pedido a la administración de Trump que despliegue más recursos, incluidos oficiales de asilo, a la frontera para ayudar a procesar a más inmigrantes por día.
Casi todos los solicitantes de asilo son de Guatemala, Honduras o El Salvador.