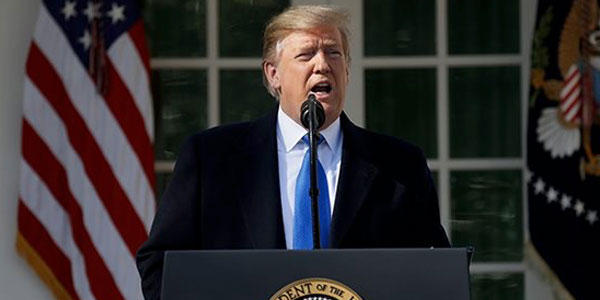 By Angie Baldelomar
After President Trump declared a national emergency on Feb. 15 to try to access money to build a U.S.-Mexico border wall, 16 states filed a lawsuit challenging it on Monday (Feb. 18) evening, multiple news agencies reported.
On Feb. 15, Trump claimed that the flow of drugs, criminals and illegal immigrants from Mexico constituted a profound threat to national security that justified the declaration. Led by California, the 16 states are suing Trump on the declaration, using Trump's words during the announcement against him.
"I didn't need to do this," Trump said. "But I'd rather do it much faster."
The Center for Biological Diversity, Border Network for Human Rights and the American Civil Liberties Union also all have announced lawsuits.
At the core of the lawsuits is the argument that Trump is bypassing Congress to fund the border wall by declaring an emergency. The National Emergencies Act allows the president to declare a national emergency and unlock a stash of funds by invoking certain statutory authority. It also gives the president wide discretion over what constitutes an emergency.
Under Trump's declaration, the administration will tap $2.5 billion of military narcotics funding and $3.6 billion in military construction funding to build the wall.
But the Trump administration also might face a joint resolution by House Democrats to terminate the declaration. It would first have to be voted on by both chambers before heading to the president's desk.
____________________________________________________________________________
Estados demandan a Trump sobre su declaración de emergencia nacional
Después de que el presidente Trump declarara una emergencia nacional el 15 de febrero para intentar acceder a dinero para construir un muro fronterizo entre México y Estados Unidos, 16 estados presentaron una demanda impugnándola el lunes (18 de febrero) por la noche, informaron varias agencias de noticias.
El 15 de febrero, Trump afirmó que el flujo de drogas, criminales e inmigrantes ilegales desde México constituía una profunda amenaza para la seguridad nacional que justificaba la declaración. Dirigidos por California, los 16 estados están demandando a Trump sobre la declaración, usando las palabras de Trump durante el anuncio en su contra.
"No necesitaba hacer esto", Trump dijo. "Pero prefiero hacerlo mucho más rápido".
El Centro para la Diversidad Biológica, la Red Fronteriza por los Derechos Humanos y la Unión Americana de Libertades Civiles también han anunciado demandas.
El núcleo de las demandas es el argumento de que Trump está eludiendo al Congreso para financiar el muro fronterizo al declarar una emergencia. La Ley de Emergencias Nacionales le permite al Presidente declarar una emergencia nacional y desbloquear un monto de fondos invocando cierta autoridad estatutaria. También le da al presidente una amplia discreción sobre lo que constituye una emergencia.
Bajo la declaración de Trump, la administración utilizará $2.5 mil millones de dólares de fondos para narcóticos militares y $3.6 mil millones en fondos de construcción militar para construir el muro.
Pero la administración de Trump también podría enfrentar una resolución conjunta de los demócratas de la Cámara de Representantes para terminar la declaración. Primero tendría que ser votado por ambas cámaras antes de dirigirse al escritorio del Presidente.