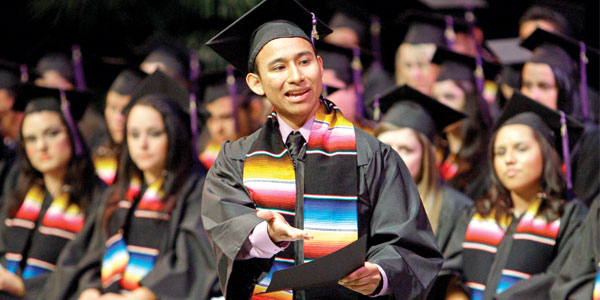 Commentary by Eulogio JP
A concerning educational trend has emerged during Trump's presidency
Recently, while walking through the halls of my alma mater, Park University, I noticed a huge change: There are few international students.
My wife, a Park alumna, once told me that the one thing she enjoyed the most about Park was that you could encounter someone from halfway across the globe at any moment. However, it seems this is no longer so.
I decided it was time for an investigation. I did a Google search for international students numbers in the United States. To my surprise, there were thousands of news stories on the subject. Some of the headlines read, "New international student enrollments continue to decline in U.S.," "Fewer foreign students coming to U.S. for second year in a row" and "Fewer international student heading to American universities."
There is at least one reason for this trend: President Trump.
The statistics show that new enrollments of international students in the United States have declined during the two academic years since Trump took office. Meanwhile, other countries have experienced an increase.
Various other factors have impacted the enrollment numbers, including a significant reduction in scholarship programs sponsored by foreign governments. However, according to many higher education professionals, the biggest factor is concerns about physical safety. Since Trump took office, the rest of the world has changed the way it sees America and believes the United States is less welcoming to foreign nationals under his administration.
Considering many of Trump's actions, this is not far-fetched. During a recent meeting with a group of CEOs, for example, Trump called "almost every" Chinese student in America a spy. Furthermore, the Trump administration has placed new restrictions on the duration of visas for Chinese graduate students, making it more difficult for colleges and universities to recruit them.
Other nations have taken advantage of this situation to recruit students to their own schools. The country that has taken the most advantage of America's mismanagement of international students in higher education has been Canada. From 2016 to 2017, the number of international students in Canada increased by 20 percent as a result of branding the country as a proudly multicultural, welcoming destination.
Thus, when Canadian students walk the campus at, say, York University in Toronto, there is an excellent chance they will encounter someone from halfway across the globe at any moment – the way my alma mater and my wife's alma mater used to be.
_________________________________________________________________________
Durante la presidencia de Trump ha surgido una tendencia educativa preocupante
Recientemente, mientras caminaba por los pasillos de mi alma mater, Park University, noté un gran cambio: hay menos estudiantes internacionales.
Mi esposa, una ex alumna de Park, una vez me dijo que lo que más disfrutaba de Park era que podías encontrarte con alguien de la mitad del mundo en cualquier momento. Sin embargo, parece que esto ya no es así.
Decidí que era hora de una investigación. Hice una búsqueda en Google sobre la cantidad de estudiantes internacionales en los Estados Unidos. Para mi sorpresa, habían miles de noticias sobre el tema. Algunos de los titulares decían: "Las inscripciones de nuevos estudiantes internacionales siguen disminuyendo en los EE.UU.", "Menos estudiantes extranjeros vienen a los EE.UU. por segundo año consecutivo" y "Menos estudiantes internacionales se dirigen a universidades estadounidenses".
Existe al menos una razón para esta tendencia: el presidente Trump.
Las estadísticas muestran que las nuevas inscripciones de estudiantes internacionales en los Estados Unidos han disminuido durante los dos años académicos desde que Trump asumió el cargo. Mientras tanto, otros países han experimentado un aumento.
Varios otros factores han impactado el número de inscripciones, incluida una reducción significativa en los programas de becas patrocinados por gobiernos extranjeros. Sin embargo, según muchos profesionales de la educación superior, el factor más importante es la preocupación por la seguridad física. Desde que Trump asumió el cargo, el resto del mundo ha cambiado la forma en que ve a Estados Unidos y cree que Estados Unidos es menos acogedor para los ciudadanos extranjeros bajo su administración.
Teniendo en cuenta muchas de las acciones de Trump, esto no es exagerado. Durante una reunión reciente con un grupo de directores ejecutivos, por ejemplo, Trump llamó a "casi todos" los estudiantes chinos en Estados Unidos un espía. Además, la administración de Trump ha puesto nuevas restricciones en la duración de las visas para los estudiantes de postgrado chinos, lo que dificulta la contratación en universidades.
Otras naciones han aprovechado esta situación para reclutar estudiantes para sus propias escuelas. El país que más ha aprovechado la mala gestión de los estudiantes internacionales en educación superior en los Estados Unidos ha sido Canadá. De 2016 a 2017, el número de estudiantes internacionales en Canadá aumentó en un 20 por ciento como resultado de calificar al país como un destino orgullosamente multicultural y acogedor.
Por lo tanto, cuando los estudiantes canadienses caminan por el campus en, digamos, la Universidad de York en Toronto, hay una excelente posibilidad de que encuentren a alguien de la mitad del mundo en cualquier momento, como solían ser mi alma mater y la alma mater de mi esposa.