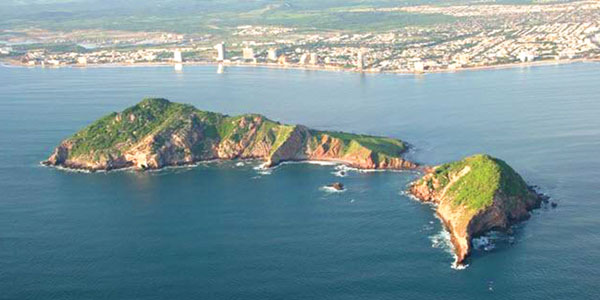 By Tom Sawyer
Welcome tourists! In this edition, we will talk about Mazatlan, Mexico, a beautiful coastal city of our neighboring country Mexico. The place where the largest mural in the world made by a single person is located. City founded in 1531 and that currently has around 700 thousand residents.
Due to the great natural beauty, its facilities to receive tourists, paradisiacal beaches, the wealth of its marine fauna and the beauty of its historic center, the city is known as "The pearl of the Pacific."
Round flights from Kansas to Mazatlan have an average price of $500 and have at least 1 layover. The best way to get around the city is to rent a car or take an Uber. There are different types of taxis within Mazatlan, including golf carts that have a higher cost. For accommodation, there is a wide variety of hotels to choose from. The average price of a room in a 3-star hotel is $70 per night and $300 per night in a 5-star hotel. The gastronomy of Mazatlan is based mainly on seafood. If you love the spicy taste, you should try the aguachile, which is shrimp bathed in green chile and lemon, accompanied by red onion and cucumber. If you are not so fond of spicy I advise you to try the marlin in its many presentations, pickled, empanadas, stew etc. The average price per meal is $13 with dessert included.
Below I describe some of the places you should not miss during your visit to Mazatlan:
Thanks to its beauty and antiquity of the buildings, some of them have almost 200 years of history, the Historic Downtown was called Historical Heritage of the Nation. You should visit the Plaza Machado which was built in 1837. The beautiful gardens and kiosk offer live music, surrounded by a variety of excellent restaurants and some of the most important historical buildings. I advise you to visit the neoclassical style Ángela Peralta theater, a beautiful place where international ballet and opera groups have performed. Cathedral Basilica of Mazatlan is another building that you can't miss. The Cathedral took more than 50 years of construction, mixing the Baroque, Neoclassical and Mudejar style that will leave you speechless.
Their Malecón, with more than 7 km, is the second largest pier in the world. The best way to cross it is from south to north and from the Lighthouse to the Valentino's disco, so you can experience the urbanization process over the years. It's a place where you can enjoy the beauty of the coasts that surround the city. You can also find several sculptures throughout this beautiful boardwalk. You can find the best views at night, the ideal time to enjoy the fresh air and the company of locals and foreigners.
Mazatlan Aquarium is undoubtedly the ideal place to take the smallest of the family. You can enjoy a wide variety of marine species, and spectacles of divers interacting with marine animals, and predatory animals. The admission fee is $7 for adults and $5 for children.
The "Historical, economic and tourist development of the Sea of Cortez" is the largest mural in the world made by a single person. It has more than 24 meters high by almost 70 meters long. The most interesting fact of this mural is that it includes painting, quarry, mosaics, ceramics, blacksmithing and also high relief. Earning the Guinness Record in 2009. The 2 main figures are Hernán Cortés and a large mermaid, seeking to tell a story inspired by the first Spanish missionaries and the current era of Mazatlan, highlighting the ecosystem, fishing, economy, and tourism. It is located in the Convention Center of Mazatlan.
Playa Olas Altas is one of the most emblematic beaches of the city. It has shipped and unloaded goods from around the world, as well as friendly and enemy troops. Sand makes rocks look like they change positions, depending on the time of year.
Isla Venados is a beautiful place where you can enjoy crystal clear waters that allow you to snorkel, dive and do other water activities in an extraordinary way. This is a place disconnected from civilization, there are no electrical outlets, a very low telephone signal and it only has one restaurant, which is almost like a virgin place to relax. The easiest way to get there is in a panga, a type of jet ski. Transportation price range between $8 and $15. The restaurant on the island is not always open, so don't forget to take your own food since. As a way to preserve this beautiful place, make sure to pick up and take back your garbage
Without more for the moment I hope that you enjoyed the article and have a good trip.
__________________________________________________________________________
Conoce Mazatlán
Bienvenidos turistas, en esta edición nos toca hablar de una bella ciudad costera de nuestro país vecino México, lugar en donde se encuentra el mural más grande en el mundo elaborado por una sola persona, nos referimos a Mazatlán, México. Ciudad fundada en el año 1531 y que actualmente cuenta con alrededor de 700 mil habitantes.
La ciudad también es conocida por muchos por el sobrenombre de "La perla del Pacífico", esto debido a la gran belleza natural, a sus instalaciones para recibir a los turistas, a sus paradisíacas playas, a la riqueza en su fauna marina y a la belleza de su centro histórico.
Los vuelos redondos de Kansas a Mazatlán tienen un costo promedio de $500 y cuentan con al menos 1 escala. La mejor manera de moverse dentro de la ciudad es rentando un automóvil, pero en dado caso de que no te guste manejar la siguiente opción es tomar uber; existen distintos tipos de taxis dentro de Mazatlán, entre los que destacan por su singularidad son los pulmonías ya que son carritos de golf o similares pero al ser más turísticos tienen un costo más elevado. En cuanto a hospedaje existe una gran variedad de hoteles para elegir, el costo promedio de una habitación en un hotel 3 estrellas es de $70 por noche y en un hotel 5 estrellas es de $300 por noche. La gastronomía de Mazatlán está basada principalmente en mariscos, si eres amante del picante te recomiendo pruebes el aguachile, el cual se trata de camarones bañados en chile verde y limón, acompañados de cebolla morada y pepino; si no eres tan amante del picante te recomiendo pruebes el marlin en sus muchas presentaciones, en escabeche, en empanadas, en estofado etc.Los costos promedios por comida son de $13 con postre incluido.
A continuación te describo algunos de los sitios que no deberás perderte al visitar Mazatlán:
Centro Histórico, sitio denominado Patrimonio Histórico de la Nación. Esto se debe a la belleza y antigüedad de sus edificaciones, teniendo algunas de ellas casi 200 años de historia. Al estar ahí no deberás perderte de conocer la Plaza Machado la cual fue construida en 1837 y cuenta con sus hermosos jardines y su quiosco siempre amenizado por música en vivo, además de que está rodeada por una gran variedad de restaurantes de excelente calidad y por algunos de los edificios históricos más relevantes. Si tienes oportunidad te recomiendo conozcas el teatro Ángela Peralta, un hermoso lugar en el que se han presentado grupos de ballet y ópera de talla internacional y que tiene un estilo neoclásico. Catedral Basílica de Mazatlán es otro de los edificios que no deberás perderte, de estilo barroco, neoclásico y mudéjar que sin duda te dejará boquiabierto, con sus más de 150 años de construcción.
Malecón, el segundo más largo en el mundo con más de 7 km de distancia. La mejor manera de recorrerlo es de sur a norte y desde el Faro hasta la discoteca Valentino´s, así podrás disfrutar del proceso de urbanización a lo largo de los años. Sin duda un lugar para disfrutar de la belleza de las costas que rodean a esa ciudad. Además podrás disfrutar de varias esculturas a lo largo y ancho de este bello malecón. El momento en donde podrás verlo más ambientado es en la noche, momento ideal para disfrutar del aire fresco y de la compañía de locales y extranjeros.
Acuario Mazatlán, sitio sin duda ideal para llevar a los más pequeños de la familia, aquí podrán disfrutar de una gran variedad de especies marinas, además de los espectáculos de lobos marinos, buzos interactuando con animales marinos, aves y animales depredadores. El costo de entrada es de $7 adultos y $5 niños.
Mural "Desarrollo histórico, económico y turístico del Mar de Cortés", se trata del mural más grande a nivel mundial realizado por una sola persona; cuenta con más de 24 metros de altura por casi 70 metros de largo. Lo más interesante de este mural es que incluye pintura, cantera, mosaicos, cerámica, herrería y además altorrelieve, todo esto lo hizo ganador indiscutible del Récord Guinness en el año 2009. Las 2 figuras principales son Hernán Cortés y una sirena de gran tamaño, buscando contar una historia inspirada en los primeros misioneros españoles en fusión con la época actual de Mazatlán, resaltando el ecosistema, la pesca, la economía y el turismo. Se encuentra en el Centro de Convenciones de Mazatlán.
Playa Olas Altas, es una de las playas más emblemáticas de la ciudad. Aquí se embarcaba y desembarcaba mercancía de todo el mundo, así como tropas amigas y enemigas, la peculiaridad de esta playa es que dependiendo de la época del año es el acomodo de la arena que aquí se encuentra dando la apariencia que las rocas cambian de posición.
Isla Venados, hermoso lugar en el que podrás disfrutar de unas cristalinas aguas que te permitirán realizar snorkel, buceo y otras actividades acuáticas de una manera extraordinaria. Uno de los puntos principales para ir a conocer esta isla es que es un lugar desconectado de la civilización, no hay tomas de corriente eléctrica, la señal de telefonía es casi nula y además solo cuenta solo con un restaurante, por lo cual es casi como un lugar virgen en el que relajarse es una de las grandes opciones. La forma más sencilla de llegar es en panga, un tipo de moto acuática, los costos de transportación van desde los $8 a los $15. No olvides llevar tu propia comida ya que no siempre se encuentra abierto el restaurante de la isla, además no deberás olvidar recoger y llevar de regreso tu basura para conservar este bello lugar.
Sin más por el momento me despido esperando hayan disfrutado de un artículo más, saludos y buen viaje.