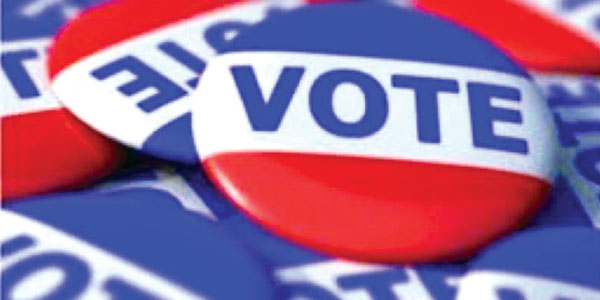 Next Tuesday, Kansas City voters will signal a new direction for the city and Kansas City Public Schools. April 2 is Primary Election Day. Residents will cast their ballots to replace the term-limited mayor, councilmembers who are term-limited or running for mayor and school board members, and decide whether to approve a 3/8-cent sales tax to fund PreK-education.
Eleven candidates are running to replace two-term Mayor Sly James. The two candidates with the most votes will face off in the June 18 general election. Six candidates are Kansas City councilmembers. The others are Clay Chastain, engineer and part-time Kansas City resident; Phil Glynn, small business owner; Henry Klein, bank branch manager; Vincent Lee, businessman; and Steve Miller, construction attorney. There are 27 candidates in the races for 10 council seats.
The new mayor and city council will oversee construction of the new single-terminal Kansas City International airport and proposed 3.5-mile extension of the streetcar line as well as replacement/repair of the Buck O'Neil bridge and myriad other projects.
The new mayor and council will also have to grapple with an escalating violent crime rate, deteriorating infrastructure and a housing affordability crisis.
There's much to be optimistic about, though, as a debate last week showed. KCPT-TV's Nick Haines moderated the debate, which was broadcast on KCPT March 22 and March 24. The eight participating mayoral candidates provided specific plans and proposals for addressing violent crime and affordable housing that were impressive.
The new Kansas City school board will be called on to shepherd the district through crucial changes. Two school board positions – one at-large, one sub-district – will be eliminated. Missouri State law requires that school boards have seven members. All six sub-district boundaries will have to be redrawn, and incumbent board members will likely represent a different sub-district.
Mayor James' PreK-education tax proposal – Question 1 on the April 2 ballot — faces widespread resistance. Opponents include the 15 public school districts within Kansas City limits; Urban League; local NAACP chapter; League of Women Voters; Freedom, Inc.; American Federation of Teachers, KC Chapter; Clay County Economic Development Council; Platte County Economic Development Council; and others.
Their chief concerns are the plan's constitutionality. It would provide public funding to private and parochial schools, something state constitution prohibits. The funds would be administered by a mayor-appointed board, not by school districts. Only a small percentage of revenue generated would directly benefit children at first; most would go toward administration and construction, critics claim. And finally, the sales tax is regressive.
The outcome of the April 2 election will directly affect the lives of all of us who live or work in Kansas City and to some extent, neighboring communities. It's critical to study the candidates and issue and know enough to make sound, thoughtful decisions in the voting booth. 
__________________________________________________________________________
Una elección crítica en Kansas City
El próximo martes, los votantes de Kansas City señalarán una nueva dirección para la ciudad y las Escuelas Públicas de Kansas City. El 2 de abril es el día de las elecciones primarias. Los residentes depositarán sus papeletas de voto para reemplazar al alcalde de término limitado, a los concejales que tienen un mandato limitado o se están postulando para alcalde y a los miembros de la junta escolar, y decidirán si aprueban un impuesto a las ventas de 3/8 centavos para financiar la educación preescolar.
Once candidatos están postulándose para reemplazar al alcalde Sly James, de dos mandatos. Los dos candidatos con más votos se enfrentarán en las elecciones generales del 18 de junio. Seis candidatos son concejales de Kansas City. Los otros son Clay Chastain, ingeniero y residente a tiempo parcial de Kansas City; Phil Glynn, propietario de una pequeña empresa; Henry Klein, gerente de una sucursal bancaria; Vincent Lee, hombre de negocios; y Steve Miller, abogado de la construcción. Hay 27 candidatos en las carreras para 10 asientos del concejo.
El nuevo alcalde y el concejo municipal supervisarán la construcción del nuevo aeropuerto internacional de Kansas City de terminal única y la extensión propuesta de 3.5 millas de la línea de tranvías, así como el reemplazo/reparación del puente Buck O'Neil y una miríada de otros proyectos.
El nuevo alcalde y concejo también tendrán que lidiar con una escalada de delitos violentos, el deterioro de la infraestructura y una crisis de asequibilidad de la vivienda.
Sin embargo, hay mucho de qué ser optimistas, como mostró un debate la semana pasada. Nick Haines, de KCPT-TV, moderó el debate, que se transmitió el 22 de marzo y el 24 de marzo. Los ocho candidatos a alcalde participantes proporcionaron planes y propuestas específicas para abordar el crimen violento y la vivienda asequible que fueron impresionantes.
La nueva junta escolar de Kansas City será convocada para pastorear el distrito a través de cambios cruciales. Se eliminarán dos posiciones de la junta escolar, una en general y un sub-distrito. La ley del estado de Missouri requiere que las juntas escolares tengan siete miembros. Los seis límites de los sub-distritos deberán volver a dibujarse, y los miembros de la junta directiva representarán un sub-distrito diferente.
La propuesta impositiva de educación preescolar del alcalde James — Pregunta 1 en la boleta electoral del 2 de abril — enfrenta una resistencia generalizada. Los opositores incluyen los 15 distritos escolares públicos dentro de los límites de Kansas City; la Liga urbana; sede local de NAACP; Liga de Mujeres Votantes; Freedom, Inc.; Federación Americana de Maestros, sede de KC; Consejo de Desarrollo Económico del Condado de Clay; Consejo de Desarrollo Económico del Condado de Platte; y otros.
Sus principales preocupaciones son la constitucionalidad del plan. Proporcionaría fondos públicos a escuelas privadas y parroquiales, algo que prohíbe la constitución estatal. Los fondos serían administrados por una junta nombrada por el alcalde, no por los distritos escolares. Al principio, sólo un pequeño porcentaje de los ingresos generados beneficiaría directamente a los niños; la mayoría iría hacia la administración y la construcción, afirman los críticos. Y finalmente, el impuesto a las ventas es regresivo.
El resultado de la elección del 2 de abril afectará directamente las vidas de todos los que vivimos o trabajamos en Kansas City y, en cierta medida, las comunidades vecinas. Es fundamental estudiar a los candidatos y los problemas y saber lo suficiente como para tomar decisiones sensatas y reflexivas en la cabina electoral.