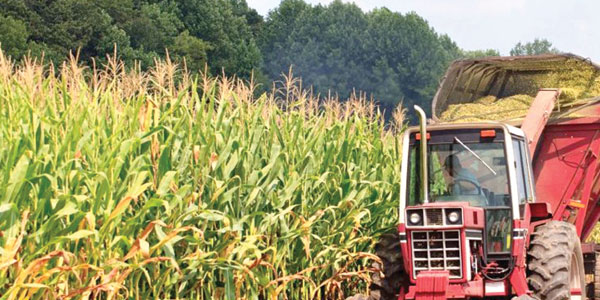 Donald Trump didn't forget he promised Iowa's corn growers he'd be there for them if they helped send him to Washington. He's told the U.S. Environmental Protection Agency to start the process of permitting the sale of E15 – a gasoline blend that's 15 percent ethanol — year-round.
Increasing demand for corn-based ethanol is the exact opposite of what should be done. It constitutes a massive handout to special interest groups and E15 imposes serious costs on the average American family while providing virtually zero environmental benefit.
The Renewable Fuel Standard, which dictates that a defined percentage of biofuels be blended into the gasoline supply already funnels some E15 into our tanks.
The fact that technological advances in biofuel production didn't materialize meant, under the RFS, an even heavier reliance on ethanol. That's cost Americans dearly at the pump, and in everyday life — as anyone who forgot to drain fuel out of their lawnmower knows.
Ethanol production consumed 40 percent of all corn harvested in 2014. This has driven up the price of anything made from corn or which has corn in its food chain. The wholesale prices of corn-fed beef, pork, and chicken have increased by at least 200 percent since the RFS was adopted. That reverberates down through the distribution chain, driving up food costs for consumers and businesses alike. Chain restaurants have watched their food expenses go up by over $3 billion.
Gasoline with high ethanol content is also incompatible with most American cars. The engines and fuel systems in three out of four cars aren't made to run on E15. And automakers are warning that E15 could even invalidate car warranties.
"Ford does not support the introduction of E15 into the marketplace for the legacy fleet. Fuel not approved in the owner's manual is considered misfueling and any damage resulting from misfueling is not covered by the warranty," the automaker told the EPA.
Congress initially imposed ethanol requirements to curb our nation's reliance on foreign oil and to reduce greenhouse gas emissions. Ironically, these problems have largely been solved — not by ethanol, but by the oil and natural gas sector.
Our reliance on oil imports has been curbed. The United States now produces more petroleum and natural gas than any other country. And since 2009, American crude production has spiked almost 80 percent and we're once again a net exporter.
Up until 2018, American carbon emissions had significantly fallen, thanks to the rapid expansion of domestic natural gas production. Its widespread adoption has cut energy-related emissions to their lowest level in 25 years. The addition of ethanol and biodiesel to the fuel supply has almost nothing to do with it.
Ethanol production has huge environmental costs that far outweigh its paltry emissions benefits. According to a study in the American Journal of Agricultural Economics, companies have been digging up once-pristine prairie habitats and converting them into corn fields to meet ethanol production targets. The United Nations has warned that such conversions "pose risks to ecosystems and biodiversity."
Secretary of Agriculture Sonny Perdue, a key player in this debate, says President Trump's attitude toward year-round E15 sales has always been "let's get this done." We'll all be the better if we don't.
Peter Roff is a former senior political writer for UPI and former U.S. News and World Report contributing editor who appears regularly as a commentator on the One America News network. He can be reached by email at RoffColumns@GMAIL.com. Follow him on Twitter @PeterRoff. This piece originally ran in The Washington Examiner.
---
Ponga el maíz en el menú, no en el tanque de gas
Donald Trump no olvidó que prometió a los cultivadores de maíz que estaría allí para ellos si lo ayudaban a enviarlo a Washington. Le dijo a la Agencia de Protección Ambiental de Estados Unidos (EPA, por sus siglas en inglés) que inicie el proceso de permitir la venta de E15, una mezcla de gasolina que contiene un 15 por ciento de etanol, todo el año.
La creciente demanda de etanol a base de maíz es exactamente lo contrario de lo que se debe hacer. Constituye una entrega masiva para grupos de intereses especiales y E15 impone costos serios en la familia estadounidense promedio al tiempo que proporciona un beneficio ambiental prácticamente nulo.
El Estándar de Combustible Renovable (ECR), que dicta que un porcentaje definido de biocombustibles se mezcle con el suministro de gasolina, ya incluye una cierta cantidad de E15 en nuestros tanques.
El hecho de que los avances tecnológicos en la producción de biocombustibles no se materializaran significó, bajo el ECR, una dependencia aún mayor en el etanol. Eso le cuesta mucho a los estadounidenses en el surtidor y en su vida cotidiana, como lo sabe cualquiera que haya olvidado drenar el combustible de su cortadora de césped.
La producción de etanol consumió el 40 por ciento de todo el maíz cosechado en 2014. Esto ha hecho subir el precio de cualquier cosa hecha de maíz o que tenga maíz en su cadena alimenticia. Los precios al por mayor de carne de res, cerdo y pollo alimentados con maíz han aumentado en al menos un 200 por ciento desde que se adoptó el ECR. Eso repercute en la cadena de distribución, aumentando los costos de alimentos para los consumidores y negocios por igual. Cadenas de restaurantes han visto cómo sus gastos de alimentos aumentan en más de $3 mil millones.
La gasolina con alto contenido de etanol también es incompatible con la mayoría de los autos estadounidenses. Los motores y los sistemas de combustibles de tres de cada cuatro autos no están diseñados para el E15. Y los fabricantes de automóviles advierten que el E15 podría incluso invalidar las garantías de los automóviles.
"Ford no apoya la introducción de E15 en el mercado para la flota heredada. El combustible no aprobado en el manual del propietario se considera como falta de combustible y cualquier daño resultante de la falta de combustible no está cubierto por la garantía", le dijo el fabricante de autos a la EPA.
El Congreso inicialmente impuso requisitos de etanol para frenar la dependencia de nuestra nación en el petróleo extranjero y para reducir las emisiones de gases de efecto invernadero. Irónicamente, estos problemas se han resuelto en gran medida, no por el etanol, sino por el sector del petróleo y el gas natural.
Nuestra dependencia de las importaciones de petróleo ha sido frenada. Estados Unidos ahora produce más petróleo y gas natural que cualquier otro país. Y desde 2009, la producción de crudo estadounidense ha aumentado casi un 80 por ciento y somos otra vez un exportador neto.
Hasta el 2018, las emisiones de carbono estadounidenses habían disminuido significativamente, gracias a la rápida expansión de la producción nacional de gas natural. Su adopción generalizada ha reducido las emisiones relacionadas con la energía a su nivel más bajo en 25 años. La adición de etanol y biodiesel al suministro de combustible casi no tiene nada que ver con eso.
La producción de etanol tiene enormes costos ambientales que superan con creces sus escasos beneficios de emisiones. Según un estudio en el American Journal of Agricultural Economics, las compañías han estado excavando hábitats de praderas prístinas y convirtiéndolas en campos de maíz para cumplir con los objetivos de producción de etanol. Las Naciones Unidas han advertido que tales conversiones "plantean riesgos para los ecosistemas y la biodiversidad".
El secretario de Agricultura, Sonny Perdue, un actor clave en este debate, dice que la actitud del presidente Trump hacia las ventas de E15 durante todo el año siempre ha sido "vamos a hacer esto". Todos estaremos mejor si no lo hacemos.