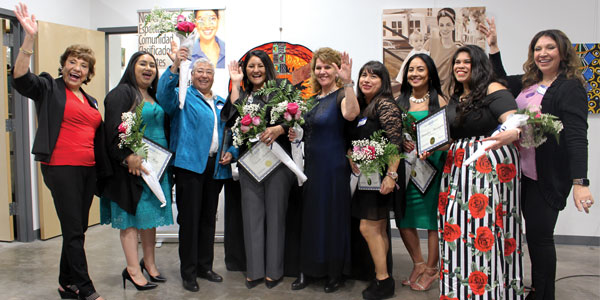 By Roberta Pardo
To close off a month of celebration, Dos Mundos hosted its Celebration of Women event to honor the women featured in the newspaper during March, in observance of March as Women's History Month.
The March 29 event, held at the InterUrban Art House in Overland Park, Kansas, brought the community together to celebrate the inspiring work of eight women —Bibiana Ruiz, Marielena Marroquin, Kansas Rep. Susan Ruiz, Katie Castro, Nicole Goodman, Gina Coronado, Ofelia Acosta and Jessica Ayala. They were chosen from more than 50 nominations that Dos Mundos received in February, when the call for nominations was issued.
Clara Reyes, Dos Mundos editor and president, said she is hopeful about the future because of women like them.
"I was so happy to read about these women and see how eager they are to help the community," Reyes said. "They are setting a great example for generations to come."
Each honoree was presented with a certificate and a bouquet of flowers. Each gave a brief speech expressing their surprise at getting such recognition and thanked the newspaper — and all the Latina leaders that had come before them and paved the way for them.
"We can see far because we stand on the shoulders of giants," Marroquin said.
To close the ceremony, acting Kansas Secretary of Labor Delia Garcia gave a brief speech about civic engagement and the importance of seeing Hispanics, and particularly Hispanic women, as leaders in the community.
This year's Celebration of Women also was co-hosted by the Johnson County Latina Leadership Network, whose goal is to establish a strong network of Latinas to support each other, and to build and strengthen relationships with civic leaders.
_________________________________________________________________________
Dos Mundos organiza evento en homenaje a mujeres extraordinarias de la comunidad
Para terminar un mes de celebración, Dos Mundos organizó su evento Celebración de Mujeres para homenajear a las mujeres que aparecieron en el periódico durante marzo, en conmemoración de marzo como el Mes de la Historia de la Mujer.
El evento del 29 de marzo, que tuvo lugar en el InterUrban Art House en Overland Park, Kansas, reunió a la comunidad para celebrar el inspirador trabajo de ocho mujeres: Bibiana Ruiz, Marielena Marroquín, Representante de Kansas Susan Ruiz, Katie Castro, Nicole Goodman, Gina Coronado, Ofelia Acosta y Jessica Ayala. Fueron elegidas entre más de 50 nominaciones que Dos Mundos recibió en febrero, cuando se emitió la convocatoria de candidaturas.
Clara Reyes, editora y presidente de Dos Mundos, dijo que tiene esperanzas sobre el futuro debido a mujeres como ellas.
"Me sentí feliz de leer sobre estas mujeres y ver lo ansiosas que están por ayudar a la comunidad", dijo Reyes. "Están dando un gran ejemplo para las generaciones venideras".
Cada homenajeada recibió un certificado y un ramo de flores. Cada una dieron breves palabras expresando su sorpresa al recibir tal reconocimiento y agradecieron al periódico, y a todas las líderes latinas que vinieron antes de ellas y que hicieron camino para ellas.
"Podemos ver lejos porque nos paramos sobre los hombros de gigantes", dijo Marroquín.
Para cerrar la ceremonia, la Secretaria de Trabajo de Kansas, Delia García, dio un breve discurso sobre el compromiso cívico y la importancia de ver a las hispanas, y en particular a las mujeres hispanas, como líderes en la comunidad.
La Celebración de Mujeres de este año también fue organizada conjuntamente por la Red de Liderazgo para Latinas del Condado de Johnson, cuyo objetivo es establecer una red sólida de latinas para apoyarse mutuamente y para construir y fortalecer las relaciones con los líderes cívicos.