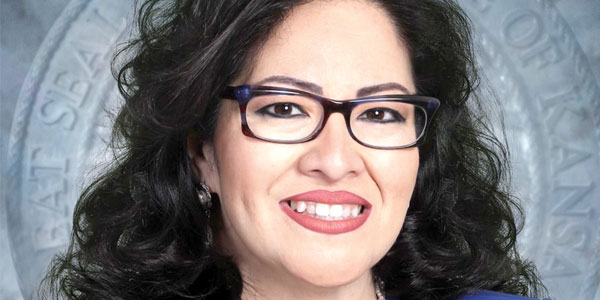 By Chara
A Latina's desire for self-improvement has led her to overcome multiple obstacles in life – and has led her to a prominent position in Kansas politics.
She is Delia Garcia, the new state secretary of labor. A Wichita native, Garcia was surrounded by her hard-working family, which owned Connie's Mexico Cafe, considered to be Kansas' oldest family-owned Mexican restaurant. Working there as a cashier and a hostess, she learned about customer service and helping people, she recalled.
Garcia went on to earn a bachelor's degree in political science and ethnic studies from Wichita State University, and a master's degree from St. Mary's University in San Antonio. In 2004, at age 27, she made history when she was elected to the Kansas House of Representatives, becoming the first Latina and youngest woman to serve in the Kansas Legislature, where she served from 2005 to 2010.
Garcia got into politics thanks to her family.
"My family used to host fundraisers at their restaurants," she said. "When my mom was pregnant, my family hosted a fundraiser for Nick Carter, so I got into politics … (when) I was in my mother's belly."
Garcia was named secretary of labor in January. In her new job, she runs an agency that supports employees and employers.
"It is exciting," she said. "Each governor picks … (his or her) own secretary of labor, so I'm very happy to be serving in Kansas."
Garcia has a few challenges in her job, she admitted.
"I need to make sure that parties don't underestimate me and my agency, and that they take me seriously," she said.
Garcia's life is not all about politics. Her hobbies include swimming and Zumba. She also is a Los Tigres del Norte fan, her favorite song being "La Puerta Negra." She describes her personality as a composite of tradition, family and new possibilities.
Garcia advises Latinas to focus on five things.
"Find and consistently engage (with) mentors (at least five, who are not related to you)," she said. "Embrace failure, because at the time it may seem like failure, when really it serves as a lesson to take where you really should go. Self-love is a must, because if you do not keep yourself healthy and loved, then you will not be able to fully show and give the powerful love you have. Be comfortable with being uncomfortable, because that is when we grow and learn what is possible within ourselves. And have fun living and learning and teaching every day."
Anyone interested in doing an internship, fellowship or shadowing Garcia is encouraged to contact her office at (785) 296-7474 or email Joyce.Bishop@ks.gov.
_________________________________________________________________________
Secretaria de Trabajo latina enfocada en empoderar a las mujeres
El deseo de superación de una latina la ha llevado a superar múltiples obstáculos en la vida, y la ha llevado a una posición prominente en la política de Kansas.
Ella es Delia García, la nueva secretaria de trabajo del estado. Una nativa de Wichita, García estaba rodeada de su familia trabajadora, propietaria del Café Connie's Mexico, considerado el restaurante mexicano más antiguo de Kansas. Trabajando allí como cajera y anfitriona, aprendió sobre el servicio al cliente y cómo ayudar a las personas, recordó.
García luego obtuvo su licenciatura en ciencias políticas y estudios étnicos de Wichita State University, y una maestría de la Universidad St. Mary's en San Antonio. En 2004, a los 27 años, hizo historia al ser elegida para la Cámara de Representantes de Kansas, convirtiéndose en la primera mujer latina y más joven en servir en la Legislatura de Kansas, donde sirvió desde 2005 a 2010.
García se metió en la política gracias a su familia.
"Mi familia solía organizar eventos para recaudar fondos en sus restaurantes", dijo. "Cuando mi mamá estaba embarazada, mi familia organizó una recaudación de fondos para Nick Carter, así que me metí en la política… (cuando) estaba en el vientre de mi madre".
García fue nombrada secretaria de trabajo en enero. En su nuevo trabajo, dirige una agencia que apoya a los empleados y empleadores.
"Es emocionante", dijo. "Cada gobernador elige … (su propio secretario de trabajo), así que estoy muy feliz de estar sirviendo en Kansas".
La vida de García no es sólo política. Sus pasatiempos incluyen la natación y la zumba. También es fan de Los Tigres del Norte, su canción favorita es "La Puerta Negra". Describe su personalidad como una composición de tradición, familia y nuevas posibilidades.
García aconseja que las latinas se enfoquen en cinco cosas.
"Encuentra y participa (con) mentores (al menos cinco, que no estén relacionados con usted)", dijo. "Abraza el fracaso, porque en ese momento puede parecer un fracaso, cuando realmente sirve como una lección para llevarte a donde realmente debes ir. El amor propio es un deber, porque si no te mantienes sano y amado, entonces no podrás mostrar y dar plenamente el poderoso amor que tienes. Siéntete cómodo con sentirse incómodo, porque es cuando crecemos y aprendemos lo que es posible dentro de nosotros mismos. Y diviértete viviendo, aprendiendo y enseñando todos los días".
Cualquier persona interesada en hacer una pasantía, beca o seguir a García se le recomienda que se comunique con su oficina al (785) 296-7474 o envíe un correo electrónico a Joyce.Bishop@ks.gov.